It seems that every week brings news of another
Uber
executive stepping down.
Many key employees, most notably CEO Travis Kalanick, have left the beleaguered ridehailing company since the end of February. Considering Uber's highly publicized struggles of late—the company has been accused of sexual harassment by a former engineer and been named in a lawsuit that claims it stole self-driving technology from Google's Waymo, among several other hits—it's difficult to imagine a scenario in which the trends aren't related.
Here's a recap of the high-profile Uber executives who have left the company in recent months:
June 20: Travis Kalanick, CEO and co-founder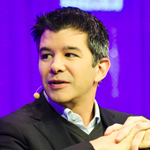 After months of controversy, Kalanick officially stepped down as CEO of the company he helped found amid intense pressure from investors. In a statement obtained by several media outlets, Kalanick said, "I love Uber more than anything in the world and at this difficult moment in my personal life I have accepted the investors request to step aside so that Uber can go back to building rather than be distracted with another fight." His ultimate exit came a week after he announced a leave of absence, a development that came with Uber releasing recommendations put forth by Covington & Burling, the law firm that completed an independent investigation into Uber's culture.
June 12: Emil Michael, SVP of business

Michael, who was known as CEO Travis Kalanick's second in command, left the company after a board meeting in which Uber's directors discussed the findings of an investigation led by former US Attorney General Eric Holder and his legal partner Tammy
Albarr

á

n
. The report recommended that Michael leave the company. The board is said to have accepted all of the recommendations that arose from the report.
June 7: Eric Alexander, president of Asia Pacific business
The company fired Alexander after he mishandled records related to a rape case. Reports alleged that Alexander obtained medical records of a woman who was raped during an Uber ride in India several years ago because he doubted her story. He then showed the records to CEO Travis Kalanick and another executive; the three of them reportedly speculated that rival Ola was behind the incident and became suspicious that the rape hadn't actually happened.
May 31: Gautam Gupta, head of finance
Gupta will officially depart his role as head of Uber's head of finance in July. In early June, reports surfaced that he will join real estate services provider Opendoor as its first COO. Gupta had worked for Uber since 2013, when he joined the company's finance department.
May 30: Anthony Levandowski, head of self-driving car division
Uber officially terminated Anthony Levandowski at the end of May, about a month after the company demoted him from his role as head of its self-driving car unit. Levandowski is at the center of the ongoing Waymo lawsuit:
A former
Waymo
engineer, Levandowski allegedly stole thousands of confidential files before he left his job and eventually brought them to
Uber
. As part of the lawsuit, a judge ruled that
Levandowski
must hand over the files in question; his termination was reportedly in connection with his failure to comply.
May 23: Jim Callaghan, general counsel, EMEA

The day after news broke of Uber's decision to hire a new general counsel amid its ongoing legal issues, Jim Callaghan, who headed up legal operations for the company's operations in Europe, stepped down. Uber told Recode that Callaghan departed after a little more than a year to focus on his family.
April 17: Sherif Marakby, VP of global vehicle programs

Marakby had joined Uber last April to help launch its self-driving car program after spending most of his career at Ford. Uber's self-driving vehicle initiative has been at the center of a lot of the controversy surrounding the company, particularly with the ongoing Waymo lawsuit. Marakby will reportedly take a break before deciding what he does next.
April 11: Rachel Whetstone, head of communications and policy
Whetstone, a Google alum, headed up communications for Uber, which had likely become a difficult job. Reports indicated that one reason Whetstone left was because she'd grown tired of the drama surrounding the ridehailing company. Jill Hazelbaker, a VP in Uber's communications and policy department, took over the position.
March 20: Brian McClendon, VP of maps and business platform

Officially, McClendon left Uber to explore politics in his home state of Kansas. Unofficially, it's possible his resignation had something to do with the fact that he was named in the lawsuit filed by Google, his former employer. McClendon has since joined the University of Kansas as a research professor in electrical engineering and computer science. He will advise Uber on a part-time basis.
March 19: Jeff Jones, president

The company lost its No. 2 executive when Jones left his position after just seven months. His exit was directly related to the ongoing controversies at the company. In a statement to Recode, Jones said he could no longer serve as Uber's president because he disagreed with the company's beliefs and approach to leadership.
March 8: Gary Marcus, director of AI labs

Marcus stepped down after just a few months at Uber, a tenure that began when the company acquired his startup, Geometric Intelligence, and put him in charge of its AI division. At the time, he said in a Facebook post that he left to return to his family in New York and that he would remain an advisor to Uber.
March 6: Ed Baker, VP of product and growth

Baker, a Facebook alum, stepped down from his position as vice president of product and growth after more than three years at Uber. In an email seen by Recode, Baker said he resigned to focus on working in the public sector—but rumors also surfaced that he left because he was seen engaged in a sexual encounter with another employee.
March 3: Charlie Miller, senior engineer
Miller, who's known as an expert hacker and security expert, left Uber to join rival Didi Chuxing's self-driving car division. He spent the last part of his tenure at Uber on its Autonomous Transportation Security (ATG) team, which has also lost several lower-level engineers.
February 28: Amit Singhal, SVP of engineering

Singhal, who worked at Uber for just one month, was asked to resign because he failed to disclose that he'd left Google a year previously due to allegations of sexual harassment. He had spent 15 years at Google, where he was an early employee at the tech giant and served as a leader in its search division.
February 23: Raffi Krikorian, senior director of engineering
Krikorian joined Uber in March 2015 after the ridehailing company acquired Otto, a self-driving trucking startup, to help lead its efforts in autonomous vehicle technology. A former Twitter executive, Krikorian reportedly said in an email to employees that he left Uber to focus on his family during their move to California.
Click here for more of our Uber coverage, and check out the comprehensive timeline we've put together to keep track of recent events at the embattled company.