In the first quarter of 2016, the median PE buyout in the U.S. healthcare sector hit $139.3 million in size, topping the previous high of $123 million in 2012. Even if 2016's numbers slide as the year goes on, transaction sizes shouldn't decline by much, owing to the unique confluence of factors still driving the surge of investment in healthcare.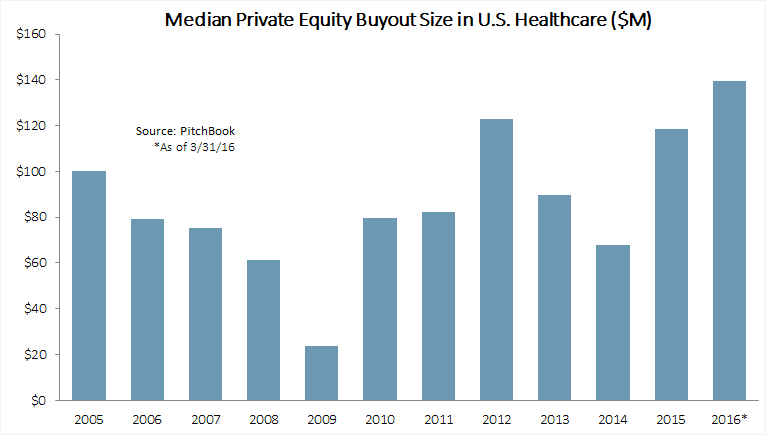 In the wake of the Affordable Care Act, related regulations around bundling payments and broader industry trends—e.g. aging populations, rising cost of specialty treatments and consumer demand for transparency—providers are increasingly focused on being able to actually achieve a fee-for-value model. This often entails the sale or closing of lower-performing centers across healthcare chains, as well as the acquisition and integration of better-performing centers to expand geographic reach and scale to manage larger patient populations. In addition, many sellers are still coming to market, looking to take advantage of fairly high purchase prices while available.
Consequently, PE investors continue to capitalize on rolling up providers in fragmented niches, as well as tackling various practices that are in distress or looking to grow to a sufficient size in order to attract a hospital-chain acquirer down the road. Of course, this contributes to a fairly competitive dealmaking environment, which has helped push median buyout sizes so high. On top of that, the broader backdrop of significant levels of dry powder, fierce competition for fewer quality targets and relatively high purchase multiples hasn't helped.
Looking forward, matters are unlikely to change for some time. Even as the buyout cycle at large is winding down slowly and steadily, the healthcare sector should prove to be somewhat uniquely resistant as specialty investors stay active and the space's own dynamics lend to current investment theses persisting. But nothing stays in fashion forever—note the slide in popularity of investing in urgent care over the past few years—as particular niches work through consolidation cycles, so eventually, the median size of buyouts should decline.
Note: This column was previously published in The Lead Left.
Download the latest RSM US & PitchBook Spotlight on Healthcare: click here.