It seems remarkable now, but in 2006, PE mega-funds (funds with $5 billion or more) had almost 10 years of cash on hand to invest at that year's investment pace. A decade of dry powder is a lot, even for private equity. To see the average drop down so quickly in 2007 to 2008 is just another testament to how crazy the pre-crisis years were. The 9.1-year average in 2006 was down to 4.3 years' worth of dry powder by 2008. Say what you will about PE managers at the time, but they certainly didn't sit on their hands.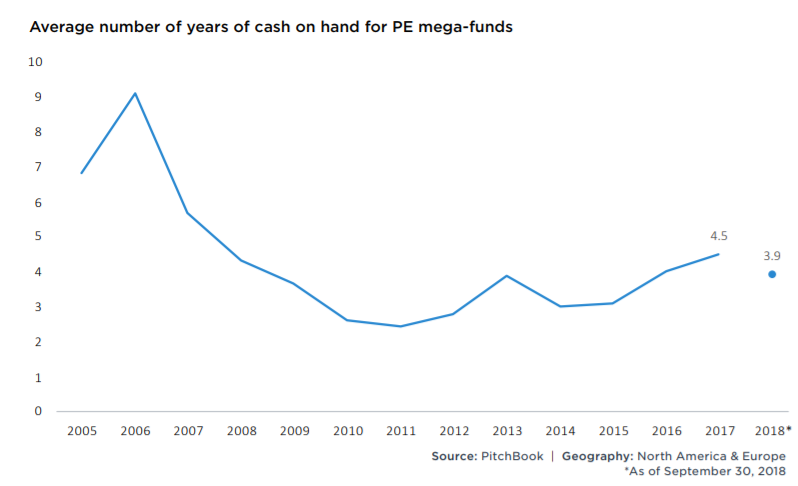 Headlines in recent years have heralded the return of the mega-fund, justifiably.
Apollo Global Management
broke the all-time fundraising record in 2017, raising $24.7 billion for its ninth flagship fund. Other firms are back in a big way, too. But despite the records, cash-on-hand levels are actually below where they were pre-crisis. What's more, drawdown rates have been consistent and reasonable going back to 2010, oscillating between 2.5 years to 4.5 years of cash on hand in that timeframe, according to a recent
PitchBook analyst note
.
The mega-market (if we can call it that) significantly increased its stockpile between 2015 and 3Q 2018, with the amount of dry powder rising from $177.8 billion to $322.3 billion. To square all these data points, the largest PE managers are investing at an efficient (and apparently effective) pace, despite a rush of new capital and relatively few investment targets. It helps to have large teams in place to handle all that money, and in some cases more than one mega-fund under the same roof. Still, though.
One possible interpretation of all these rosy data points? That this is probably the best of times for mega-funds, and not necessarily in the bubbly sense. The current climate is certainly much more stable than pre-crisis days. Somehow we got acclimated to all those multibillion-dollar headlines.
There were 27 US deals of at least $5 billion completed in 2007 alone, per the PitchBook platform, while there have only been seven so far in 2019, despite mega-fund dry powder levels being substantially higher this time. The animal spirits are gone, even if the dry powder came back.
Featured image via bluejayphoto/iStock/Getty Images Plus
This column originally appeared in The Lead Left.
Read more about mega-funds in our recent analyst note on PE mega-fund strategy.