Israel already enjoys an outsized reputation for its innovative tech industry, earning Tel Aviv and the country's coastal plain the nickname "Silicon Wadi." As a series of financial and political hacks (and the measures taken to prevent them) have dominated headlines for much of 2016, investment interest has grown in the cybersecurity sector. The industry was at the center of Dell's acquisition of EMC, which closed last week as the largest tech deal in history.
Add it up, and it's hardly a surprise that three Israeli startups dedicated to network management software announced separate VC financings on Tuesday that together total $87 million, further cementing both the nation's reputation as a tech haven and the integral role cybersecurity plays in Israel's venture ecosystem.
Since the start of 2010, Israeli companies have completed 158 deals in the space, according to the PitchBook Platform. The past 20 months account for nearly half of that, with 71 transactions. And in terms of capital raised, 2016's to-date figure of $597 million has already surpassed easily last year's total of $350 million.
VC deal flow for network management software startups in Israel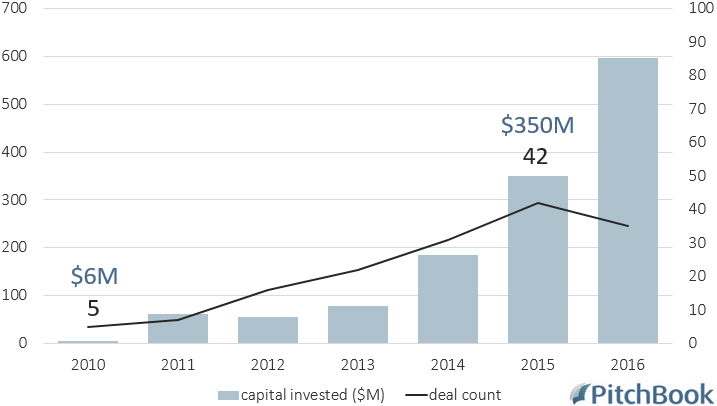 Let's take a look at the three companies in question one at a time:
Claroty
Claroty has exited stealth mode to announce a new $32 million financing from backers that include Bessemer Venture Partners, Eric Schmidt's Innovation Endeavors, Marker, ICV, Red Dot Capital Partners and Mitsui & Co. The company was established in 2014 as part of Israeli cybersecurity business Team8 to provide operational technology network protection, including security of critical infrastructure at power grids, oil refineries and other industrial assets. In addition to the round, the company also unveiled its Claroty Platform, which uses models and algorithms to provide security for industrial networks.
Cato Networks
Shlomo Kramer and Gur Shatz's cybersecurity startup has raised $30 million in Series B funding led by Greylock Partners, with participation from Singtel Innov8, US Venture Partners, Aspect Ventures and Kramer and Shatz themselves. The financing brings Cato's total raised to $50 million and will be used to fund the go-to-strategy for the Cato Cloud, the company's platform that offers network security as a service (part of a larger global trend of bringing cloud computing's transformative power to networking and security).
CTERA Networks
CTERA Networks has secured a $25 million round led by Bessemer Venture Partners, with additional participation from Cisco and new investor Vintage Investment Partners. In 2014, the firm raised the exact same figure for its Series C, also led by Bessemer Venture Partners and including participation from Benchmark and Venrock. CTERA is a provider of cloud storage and data protection; the company's primary offering is the CTERA Enterprise File Services Platform, which facilitates file storage, collaboration and data protection for secure and distributed enterprise organizations. The company is working with cloud and storage technology partners—including AWS, HPE, EMC and NetApp—to provide integrated and certified solutions.