Number of active PE firms up 143% since 2000: A global breakdown
June 10, 2015
The private equity industry has seen substantial growth over the last 30 years. As the industry model has proven to be a very lucrative venture, more and more firms have crowded the PE marketplace, vying for the choicest targets. As you can see below, during the 15-year period from 2000 to 2014, there has been a 143% rise in active* firms globally.
During this meteoric rise, the majority of attention has gone to the North American and Western European markets, as these areas spawned the industry as we know it—and have shown the most activity. However, this focus may soon see a shift, as the PE industry has gained momentum in other geographies.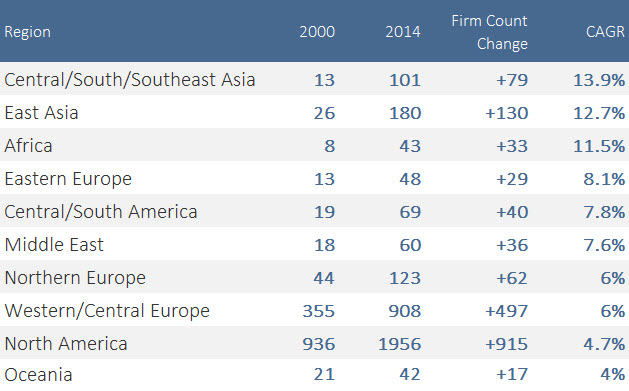 The table above shows the change in active PE firms by their headquarter region over the past 15 years, and we have ranked each region by the compound annual growth rate (CAGR) of active firms. You can see from the data above that Asia has seen the most rapid increase in active PE firms, followed closely by Africa. Clearly, emerging economies are creating opportunity for the private equity model to take hold. Of course, the absolute numbers are still much smaller than other geographies, but it will be interesting to watch these areas over the coming years to see how they further develop.
Featured image courtesy of Wikimedia Commons user Ramon FVelasquez.
Interested in this data or other trends in emerging markets? Contact us today for a free trial of the PitchBook Platform.
Join the more than 1.5 million industry professionals who get our daily newsletter!