Four months through the year, our
1Q 2018 European Venture Report
provides a primer for the continent's VC landscape.
Check out our selected charts below for a snapshot.
Money still pouring in
It may not be matching last year's record-breaking figures, but European venture capital is still keeping up quite a frenetic pace. European companies raised €4.4 billion in 1Q, projecting a €17.6 billion yearly figure—just shy of 2017's €18.3 billion. Deal numbers are still waning however, with just 571 in the first quarter.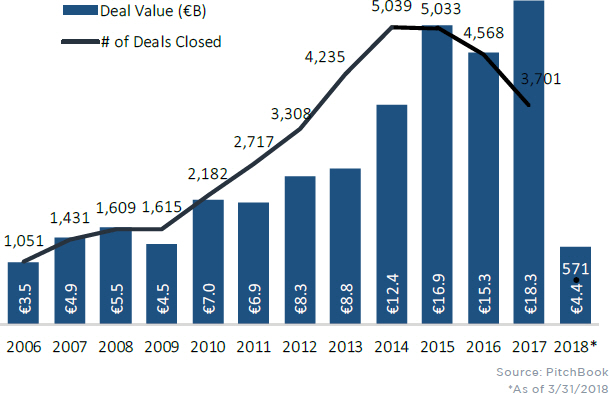 Decline down to falling angels
The slipping deal numbers are in part down to the continued fall in early-stage deals. Startups are taking longer to secure angel and seed rounds, up to 1.1 years from just six months in 2014. This move to larger and later initial rounds is a near two-year trend.

Round sizes level up
The median size of Europe's VC rounds continues to inflate, with median late-stage deals breaching the €8 million mark. Europe's median angel and seed deal size is also reaching new highs, crossing the €1 million threshold this year for the first time.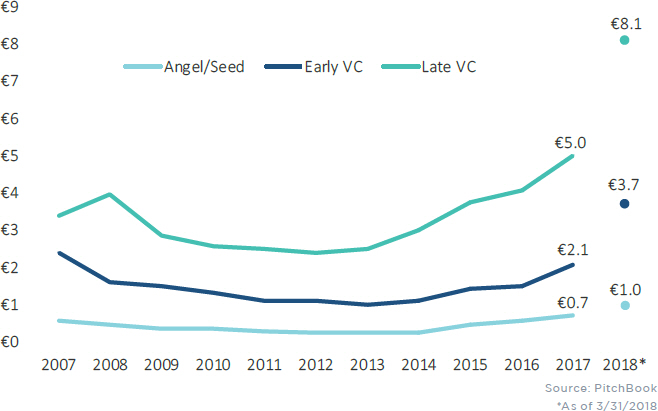 A look at life sciences
The European life sciences sector is on pace to blow past its 2017 level of VC activity, with €1 billion invested over 1Q compared to €3 billion for the whole of last year. Areas including oncology and drug discovery have attracted particular interest, including BioNTech's $270 million Series A in January. Like the wider venture landscape, however, deal numbers are trending way down.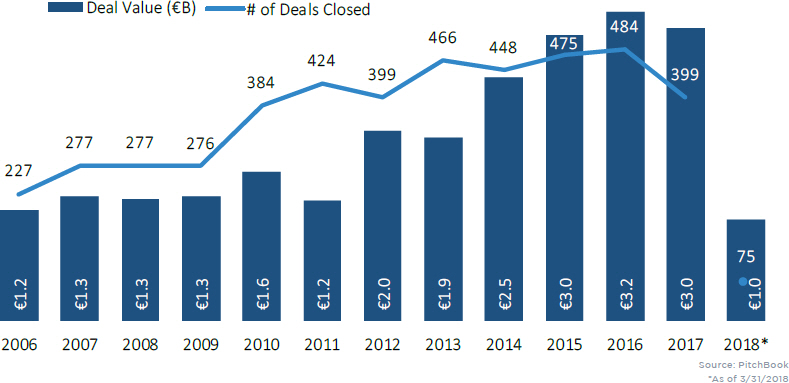 CVC participation cranking up
After a strong 2017, corporate venture firms look set to continue a four-year gaining streak when it comes to capital invested in Europe. The €2.2 billion of CVC money pumped into European startups puts the continent on pace for an €8.8 billion year—more than €1 billion over last year's record.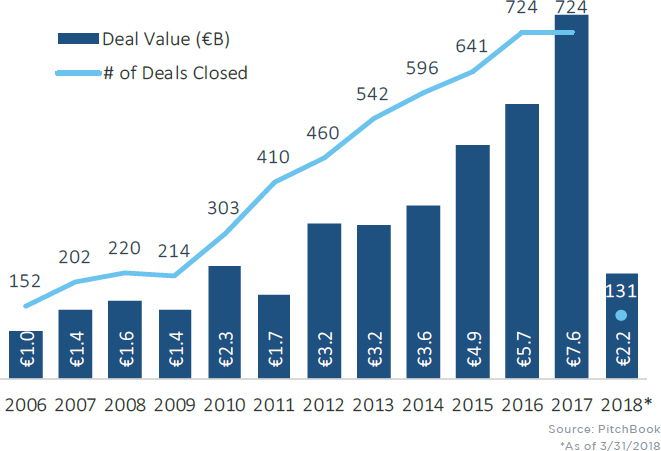 Germany spotlight
The €1.2 billion of VC money spent in Germany in 1Q constitutes more than a quarter of Europe's total investment for that period. Early signals, however, suggest that deal volume in the country will fall for the fourth straight year, with just 62 VC deals registered in the first quarter.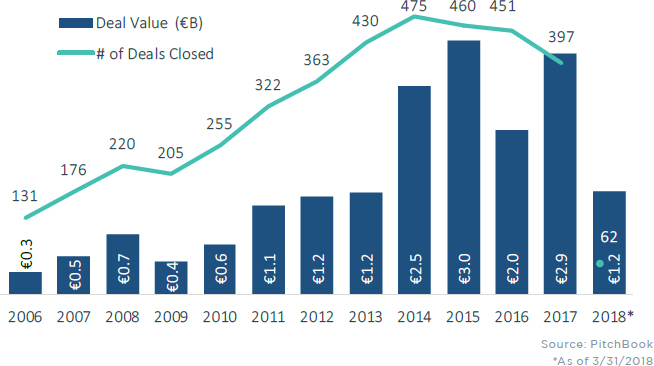 German fundraising
2017 was a banner year for German VC fundraising, with €1.7 billion in commitments collected. Even discounting a $1 billion fund from Rocket Internet, the capital raised in the country would approach the previous single-year high of €1 billion.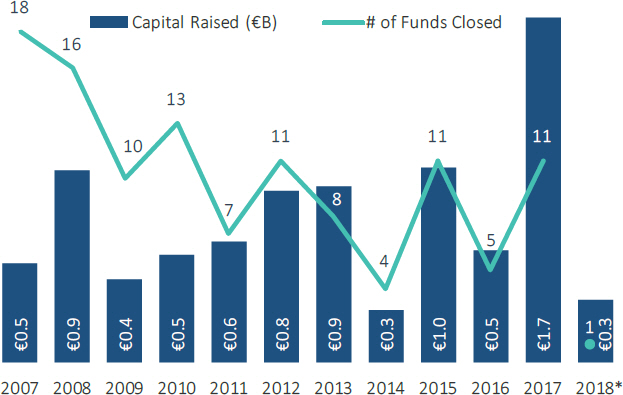 Exits continue to slow
VC-backed sales in Europe slipped in 1Q, continuing a general malaise over the last nine months. This was despite Spotify's direct listing on the NYSE, one of the more high-profile floats in recent years.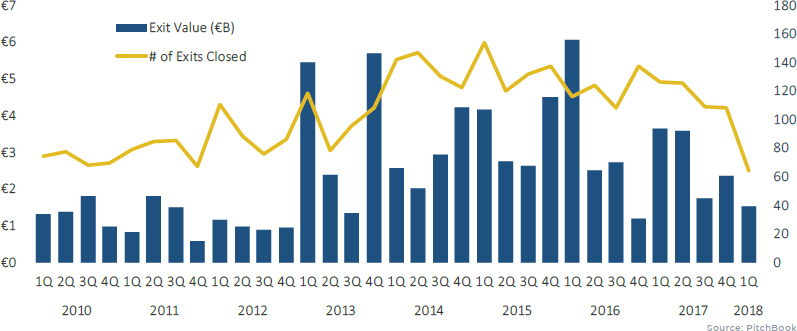 Bigger exits dominate
The majority of exit value has come from deals worth between €500 million and €1 billion, a big shift to the upper echelon of exit sizes. By comparison, last year saw a much more even split between the €500 million to €1 billion bracket and deals below that threshold.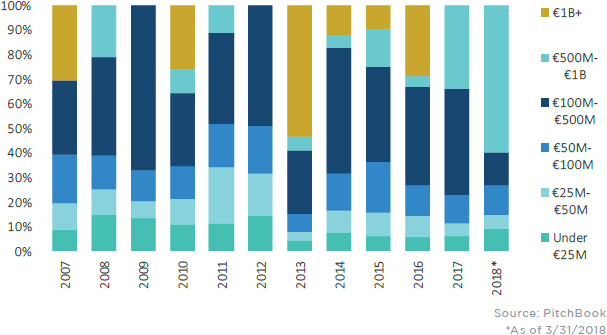 Fundraising frenzy
More than €30 billion has been raised by European VCs since the beginning of 2015, marking three years of impressive capital accumulation. And while this year is on pace for a second straight fall in value, the current rate still suggests a fourth consecutive year with fundraising above €8 billion.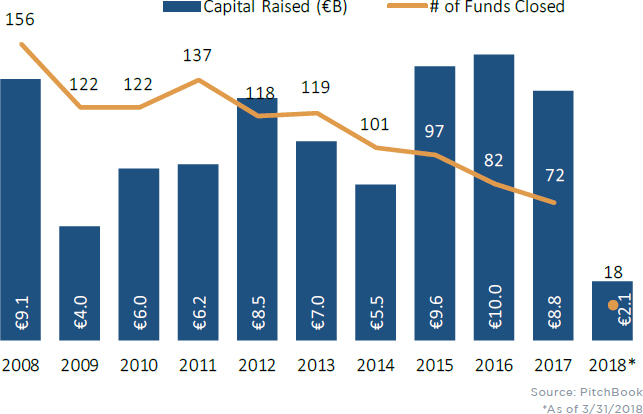 Fund size
The arrival of larger funds in Europe's venture scene has helped to push up the continent's median size for vehicles, with three funds this year already closing on between €250 million and €500 million. This is already almost half of 2017's full-year total.