Portfolio Management
PE firms aren't keeping portfolio companies as long as they used to
January 24, 2020
The median holding time of private equity assets continues to decline. As of the end of 2019, it's down to 4.9 years, the first sub-five-year reading since 2011, according to PitchBook's
2019 Annual US PE Breakdown
. During the time period since 2011, PE holding times saw a peak of 6.2 years back in 2014.
Much of the overall downfall is due to top-quartile hold times, which were down to 7.1 years on a median basis last year. In 2016, top-quartile hold times peaked at almost nine years. That's a fairly quick collapse in just a few years, probably a healthy one. We'll likely see an increase in top-decile holding times because of the growing proliferation of long-dated funds hitting the market.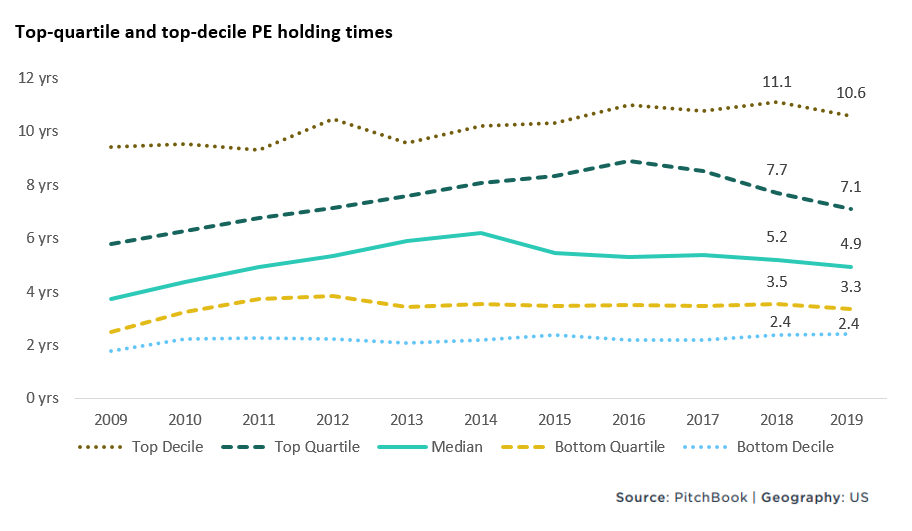 Knowing when to sell, however, isn't always straightforward.
Portfolio companies aren't "positions" that can be pared down or modified if market conditions change. Whole companies are big and clunky compared with tradable shares, and buy-side love is in the eye of the beholder. But exits have been a bit easier to achieve in recent years amidst a broader M&A boom. That's made it easier to offload companies a bit sooner than in the past. There's also a motivation to spend more time on the fundraising trail, which, perhaps coincidentally, has been on fire since 2016.
Less coincidental is a rise in exit committees across the industry. Formalized investment committees date back to PE's earliest days, and each portfolio company tends to have a cheerleader who spearheads the firm's investment.
For a long time, investment decisions have passed through a more rigorous approval process while exit decisions are made by one or two senior directors who were responsible for that investment. Emotions get involved at the exit stage, and an increasing number of firms are formalizing those decisions and taking away individual decision-making. That trend is probably contributing to shorter holding times—likely making many LPs happy twice over.
This column originally appeared in The Lead Left.
Featured image via Michael Lee/Moment/Getty Images
Join the more than 1.5 million industry professionals who get our daily newsletter!