PE hold times keep going up
November 15, 2017
LPs take heed: Private equity firms aren't turning around their US investments like they used to.
As the number of PE-backed exits in the US declines for the second consecutive year, the average PE holding period for US-based companies has increased to 6.17 years, according to PitchBook data. Barring a series of quick turnarounds in 4Q, that would be the highest mark since 2014 finished with an average PE holding period of 6.24 years, which was itself the highest annual average since at least 2010.
Below is a look at the average PE investment holding period in US companies during that time span: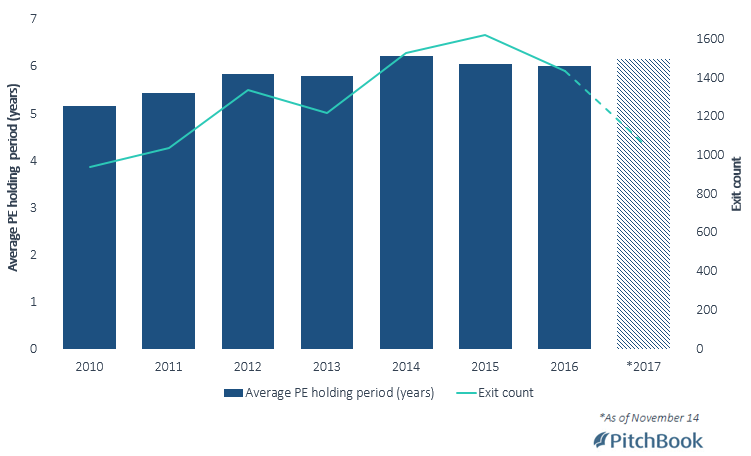 The prolonged hold times are reflective of a dealmaking environment that's become more challenging, even as private equity firms round up record amounts of capital, according to the
PitchBook 3Q 2017 US PE Breakdown
. Overall, the average PE holding period for US buyouts is on pace for 6.38 years, the highest-mark since 2014. The rise in deal prices has made generating returns for LPs increasingly difficult—especially given that the selection of quality targets remains limited. The decrease in overall PE dealmaking after it reached record heights in the past three years likely hasn't helped matters either.
Here's a look at how long the top PE "exiters" have held their respective US investments: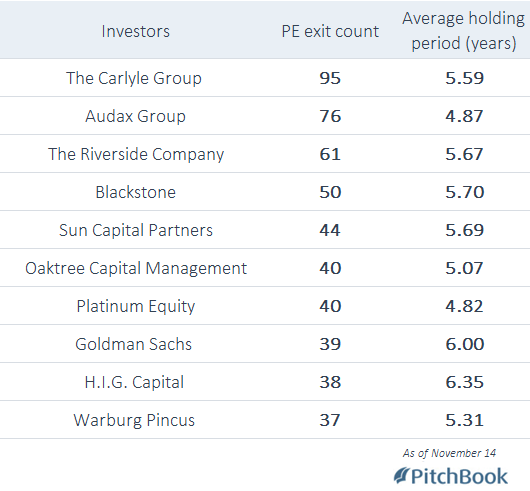 The biggest jump in PE holding periods in 2017 has occurred in the IPO space, where the average hold time is now 6.89 years—a 24% increase compared to 2016.
A prime example of a delayed PE exit came in April when Floor & Decor, a hard-surface flooring and tile retailer, raised $185 million in an IPO by selling 8.8 million shares at $21 per share. Ares Management and Freeman Spogli & Co., which had backed the company since 2010, initially filed to go public in 2014 but shelved those plans in 2016, before finally cashing in on their investment this spring.
Interested in other PE-backed IPOs in the US? PitchBook subscribers can check out the full dataset.