PE Spotlight: Great Lakes' activity sinking faster than overall US decline
August 16, 2016
To many, the Great Lakes ports of Detroit and Cleveland represent American industrialism in decline. Cities that were the engines of the US economy during the 19th and early 20th centuries have fallen to the periphery in the popular imagination. Today, more life-changing innovations seem to come from a Harvard dorm room or a garage in Silicon Valley than the Rust Belt.
But the Great Lakes region is, of course, still a key part of the US financial ecosystem, particularly when it comes to private equity. The region was home to 632 PE deals during 2015, according to the PitchBook Platform, the most of any year over the past decade. That's about 16% of all US activity, about what you would expect for an area that accounts for 17% of the total US population, per 2010 census data.
On the whole, investment trends in the Great Lakes have mirrored those across the country, with a significant dip in activity in 2009 followed by years of steady uptick. During the past calendar year, though, the decline in deal flow in the region has outpaced that of the entire US. While overall American PE activity dropped 2% QoQ in 4Q 2015, 9% in 1Q 2016 and 7% in 2Q 2016, figures in the Great Lakes have dropped more precipitously: 13%, 18% and 9%, respectively. In sum, the region saw a 35% drop in activity from 3Q 2015 to last quarter—compared to 17% for the entire US.
The states that make up the Great Lakes area each carry fairly equal shares of the load. Illinois, with Chicago leading the way, has been home to 31% of all deals since the start of 2007, a clear plurality. But after that, Ohio, Michigan, Minnesota, Wisconsin and Indiana are all clustered fairly close together.

Compared to the country as a whole, the six states in our sample are wildly reliant on the B2B sphere. Deals in that sector made more than 45% of all deals in the Great Lakes region—just 37% across the US. To make up for it, the region is home to a decreased share of investment in IT and energy.
Check out the complete sector-by-sector breakdown below: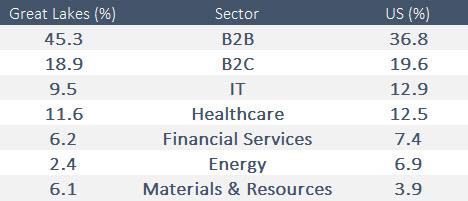 There's lot more information to explore—PitchBook Platform users can access all our PE data on the Great Lakes, or change the search parameters to target any other region around the globe.
Think your business could benefit from this kind of data? Contact us today.