M&A
PE's prominence in the M&A scene continues to grow
August 2, 2019
PE-led acquisitions accounted for almost 40% of North American M&A volume in 1H. That's a remarkably high share for the asset class, which has historically led less than 30% of all acquisitions. And that percentage has been creeping up over the past few years, according to
PitchBook's 2Q 2019 North American M&A Report
.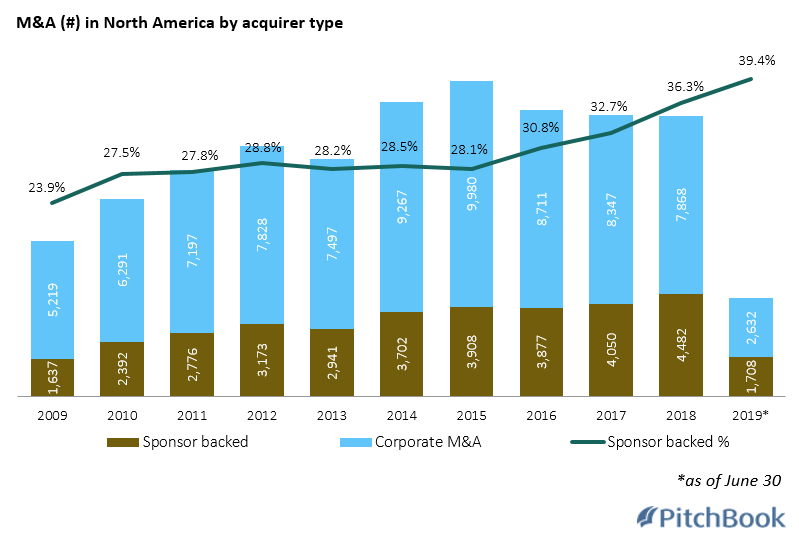 PE's place at the M&A table has usually been relegated—it's hard to compete with synergy estimates from eager-beaver corporate buyers.
One change of late has been PE's focus on growth instead of cost-cutting in particular industries, such as tech. We ran a breakdown for software M&A and found similar percentages, with PE now accounting for nearly 39% of all software acquisitions. In fact, PE did more $1 billion-plus software deals in 2Q than strategics did. All those massive PE funds are starting to compete head-on with the Oracles and Microsofts of the world.
We may see more of this going forward. It's hard to ignore the success story of
Marketo
, which see-sawed as a public company for three years before it was acquired by
Vista Equity Partners
for $1.8 billion. Marketo spent a little more than two years under Vista's control before
Adobe
snapped it up for $4.75 billion last October.
Public company executives surely took notice of the gains realized—lots of executives complain, often legitimately, that public market investors undervalue their share prices because they don't fully understand their business models. Case studies like Marketo may result in public company executives becoming more receptive to buyout shops, which have more money than they know what to do with at the moment.
Featured image via Dmitrii_Guzhanin/iStock/Getty Images Plus
This column originally appeared in The Lead Left.
Read more about PE-led acquisitions in our latest North American M&A Report.