Mega-Funds
PE's race for mega-funds is leaving a mountain of dry powder
July 17, 2019
It's official: The mega-fund is making a comeback. After falling out of favor in the immediate aftermath of the financial crisis, private equity funds with $5 billion or more in commitments have once again begun to proliferate. Such enormous vehicles accounted for 45.3% of the total capital raised by PE firms between 2016 and 2018, per
a recent PitchBook analyst note
, the first in a series breaking down mega-fund strategy.
And since the sector's dealmaking pace isn't keeping up, that means the PE industry is sitting on a swelling pile of cash. Between North America and Europe, firms had $322.3 billion in dry powder locked up in mega-funds as of the end of 3Q 2018, according to our analysts'
latest note on the space
, contributing to $785.8 billion in total mega-fund AUM. Here's a closer look at how levels have climbed over the past decade-plus: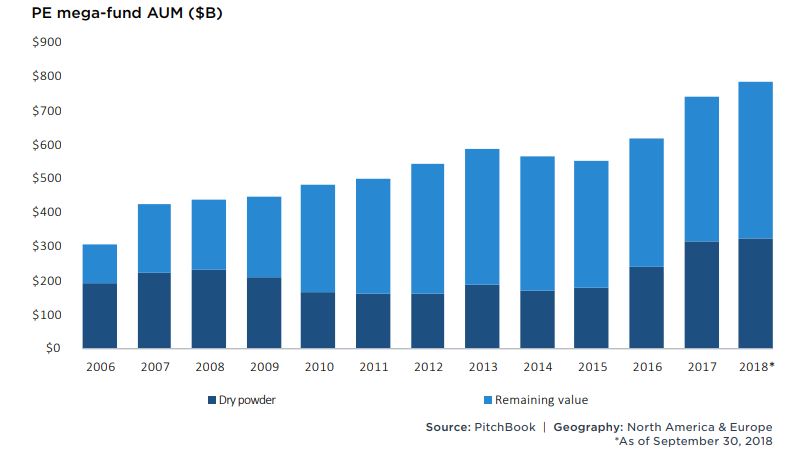 Part of the reason for the increase in dry powder is that mega-fund managers get back onto the fundraising trail quicker than firms focused on smaller vehicles—a trend that's flip-flopped during the past 15 years. It would seem to indicate that the firms choosing to raise mega-funds are well-positioned to do so, with large, experienced teams used to juggling multiple deals (and funds) at once.
One might think that mounting dry powder levels and the speed with which firms are raising new mega-funds would combine to leave large amounts of cash languishing unspent for years. But that hasn't been the case. In fact, 2018 brought a decrease in the average amount of time that PE mega-funds keep their cash on hand. The increase in dry powder is more about the huge new sums being brought in than any severe backlog: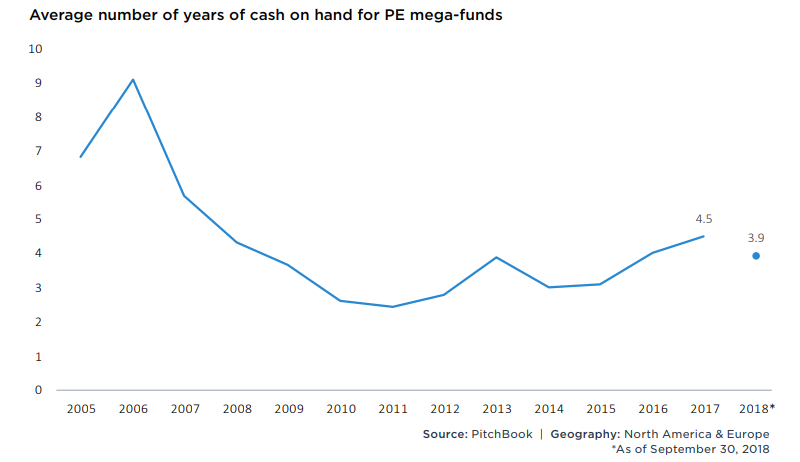 No matter how long firms are keeping their cash on hand, they certainly aren't struggling to raise more of it. Over the past decade, it's taken the average mega-fund less than a year to reach a final close, per PitchBook data, significantly less time compared to pre-crisis levels. Conversely, the average time to close for PE funds with less than $5 billion in commitments has been on the increase, climbing to about 16 months for the period from 2009 to 2019.
Here's one more chart from our recent analyst note with the details: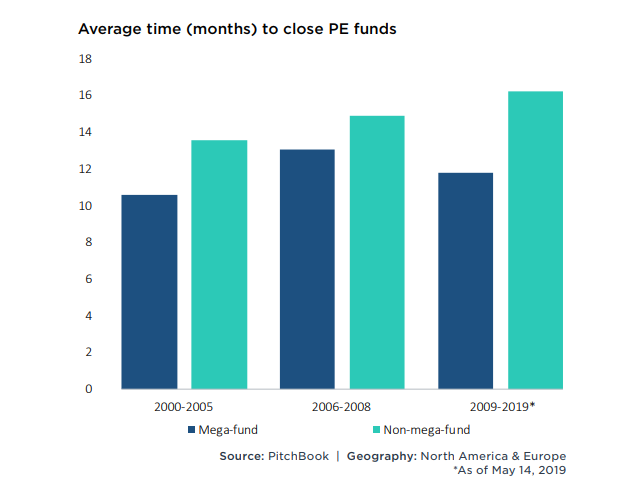 What does it all mean? Mega-fund dry powder levels are certainly rising, but that may be for good reason. The recent uptick in massive buyout funds will likely continue for as long as private equity firms are able to continue turning huge pools of capital into plentiful profits.
Featured image via RyanKing999/iStock/Getty Images Plus
Check out our full analyst note examining cash flows and timing for PE mega-funds