Danish pharma giant Novo Nordisk has bid €2.6 billion for biotech Ablynx. The move, made public by Novo after Ablynx refused to enter negotiations, would value the company at up to €30.50 per share. The Belgian drugmaker specialises in treatments for rare blood disorders.
The takeover offer comes at a busy time for deals and investments in the sector, which are off to a quick start in the new year. Last week, Japan's Takeda Pharmaceutical agreed to acquire TiGenix for €520 million, while US-based Celgene also struck a deal to buy cancer drugmaker Impact Biomedicines for $1.1 billion up front and a potential $1.25 billion extra depending on performance.
This recent flurry of M&A activity in pharmaceuticals and biotech
has prompted analysts to predict
a robust year for M&A across life sciences—a thesis underpinned in part by the massive overhaul to the US tax code that passed last month, which will reduce some of the credits for R&D that drugmakers once enjoyed, while also drawing down the penalty against repatriating cash held overseas.
That combination of forces will likely encourage biotech and pharma companies to buy rather than build innovative new treatments over the coming year. And dealmakers in the space have already hit the ground running. Celgene's purchase of Impact, for example, comes just three months after the company raised a $22.5 million Series A from Medicxi.
Not to be outdone, neurology specialist Acorda Therapeutics is exploring a possible sale, with The Wall Street Journal reporting that the embattled drugmaker has retained investment bankers from Centerview Partners and MTS Health Partners to field takeover bids. The decision represents a concession to activist investor Scopia Capital Management, which holds more than 17% of the company's outstanding shares and, since August, has urged the drugmaker to find a partner to develop its new Parkinson's treatment.
If they prove accurate, the analysts' predictions for a big year in 2018 would mark a shift, as a closer look at M&A in pharma and biotech over the past few years reveals a steadily declining global trend. From a high of close to €200 billion on 432 deals in 2015, this figure fell to
€86.7 billion across just 351 deals
last year, per the PitchBook Platform.
Global M&A deals in pharma and biotech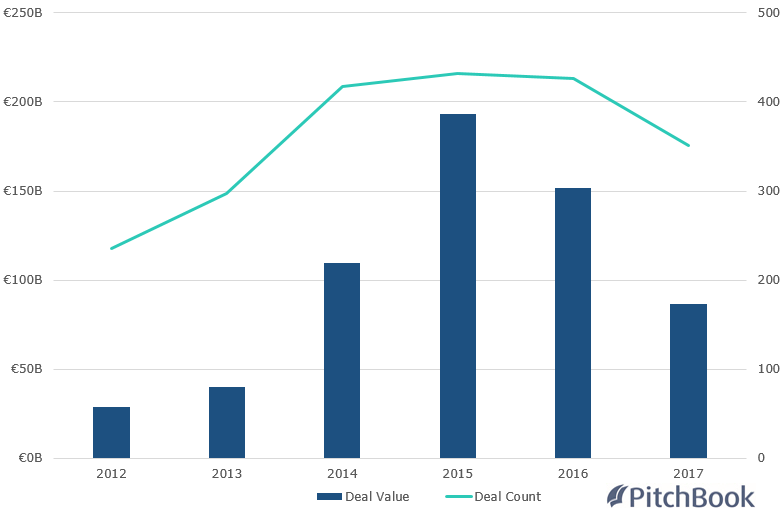 While 2015's deal count was high, an unusually large proportion of those deals, when compared with 2014 and 2016, was made up of divestitures, such as Abbot selling off its generics and non-US developed markets business for more than €10 billion. The largest divestiture of the year saw GSK ship its oncology business for nearly €15 billion.
Related read: M&A in biotech & pharma to heat up after fall of 'Trumpcare'

Related read: PE, M&A dealmakers react to shockwaves in European financial services