A decade after the near implosion of the financial services sector, some companies in the industry once again face a potential existential crisis.
New technologies are sending shockwaves through the space, leading to consolidation and a rise in funds focused on financial services. And that means changes for dealmakers in both PE and M&A.
Private equity
In private equity, dealmaking is following the global trend of higher prices for fewer transactions. During 2017, investors spent €61.1 billion on 199 PE investments in European companies in the financial services space, representing a 37.6% YoY increase in capital invested despite a 16% downturn in deals.
PE deals in Europe's financial services sector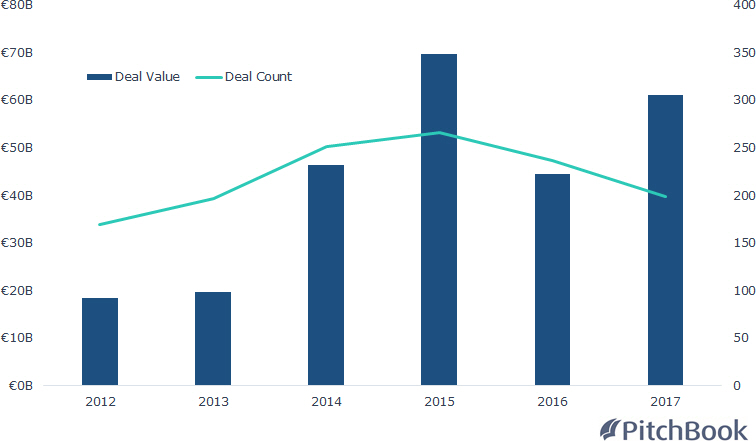 An aversion to the stock market has helped boost value, with a number of companies rumoured for flotation ending up in private hands. One example is OfficeFirst Immobilien, a property manager that spurned a potential IPO to be acquired by Blackstone last year for €3.3 billion.
Troubled financial institutions looking to offload assets have been another source of opportunities for PE, particularly when it comes to non-performing loans. One of last year's biggest financial services PE deals in Europe was the £11.8 billion acquisition of a Bradford & Bingley loan portfolio by a group that included Blackstone. Cerberus Capital Management is another US-based investor that's been active in the space, having recently acquired stakes in struggling lenders Commerzbank and Deutsche Bank.
Another possible reason for the increase in deal values is the manic fundraising environment in 2016, when 10 different Europe-based buyout funds focused on financial services combined to raise €11.7 billion—making for a major increase in the amount of capital available for transactions in the space.
Closed European buyout funds investing in financial services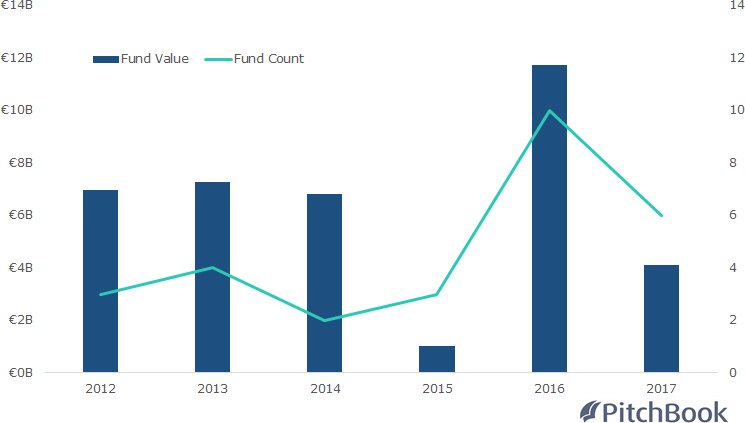 M&A
---
The number of financial service takeovers conducted in Europe by corporate acquirers has been in steady decline since 2015. Like with other deal types, though, transaction value is proving more resilient.
Completed financial services M&A in Europe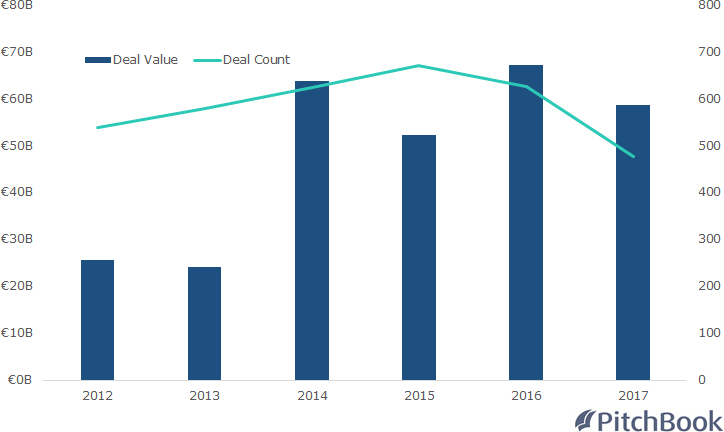 The payments sub-sector has been a popular dealmaking space, as established companies and startups alike come to grips with industry digitisation. Vantiv acquired Worldpay last year at an enterprise value of £9.3 billion, while Ingenico purchased Bambora, a provider of payments services for SMEs that was previously backed by Nordic Capital, for €1.5 billion.
Asset managers and insurers have also been active, led by the blockbuster tie-up of Aberdeen Asset Management and Standard Life, which created a company with a market cap of more than £11 billion. Other notable deals in the sub-sector include Amundi's €3.5 billion acquisition of Pioneer Investments and Aon Groep's €295 million purchase of Unirobe Meeùs.
Chaos in Europe's banking sector has
fuelled further dealmaking
—particularly in Southern Europe. Italy's Banco Popolare and Banca Popolare di Milano closed a merger last year that created a bank with a market value of some €5.5 billion. Elsewhere, the free-fall of Spain's Banco Popular led to Santander acquiring the ailing lender for just €1.
And more such deals may be on the way. The implementation of regulations allowing the EU to intervene with troubled banks—via the Single Resolution Board—may lead to banking M&A becoming a strong feature of financial services dealmaking over the coming years. With its ability to deem a bank failing or likely to fail and rip apart shareholder and debt-holder protection, the SRB could create several opportunities for stronger banks to acquire struggling peers at a knock-down cost. The recent launch of MiFID II could also factor into to future activity.
Check out our previous financial services coverage.