Potential Winners and Losers of CalPERS' PE Reallocation Plan
January 2, 2014
Numerous news sources have reported on CalPERS' recently announced plans to reduce the number of its private equity (PE) manager relationships by about two-thirds from its current 389 to about 120 in the future. A transition of this magnitude cannot happen overnight, of course, as CalPERS will undoubtedly use the secondary markets to cull some of its holdings while waiting for other funds to be fully liquidated and simply opting not to re-up with the manager. CalPERS is not alone in wanting to reduce the number of its PE relationships, as many investors have recently expressed a desire to make fewer, larger investments in the PE space in order to consolidate capital with the best performers and reduce back-office housekeeping. As CalPERS wrote in its annual review of its PE program last month, the "portfolio is over-diversified, creating challenges to generate returns above the median."
Performance from PE investments does not seem to be too big of an issue for CalPERS at the moment, however. InPitchBook's 4Q 2013 Global PE and VC Benchmarking Report, a special section on CalPERS revealed that the pension's alternative investments since 2000 have consistently outperformed public markets—even with the incredible rally witnessed in recent years. But this could change in coming years, as CalPERS notes that "low commitment levels in 2009-2011 [are] likely to impact the ability of the portfolio to achieve the target allocation in future years."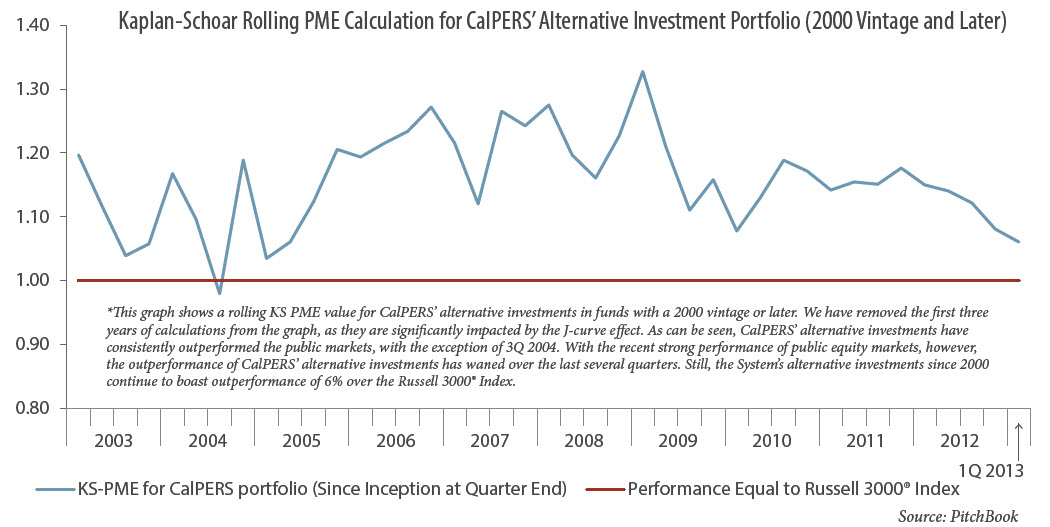 While CalPERS' future PE investment strategy of CalPERS is certainly speculation at this point, a look inside the pension's current portfolio will provide some insight into which firms have the best chance of maintain their relationship with one of the largest institutional investors in the country.
The PitchBook Platform currently tracks more than 1,000 commitments by CalPERS to alternative investment funds, including more than 400 commitments to buyout funds and nearly 300 VC fund commitments. The Carlyle Group has attracted more than three times as many commitments and about $1.1 billion more from CalPERS than its closest competitor thanks to its consistent performance and the fact that it offers a diverse array of fund types and operates around the globe. Other prominent PE firms, such as Apollo, TPG, Blackstone and Advent, enjoy a steady stream of commitments from CalPERS. In addition to benefitting from traditional fund commitments, firms of this size also stand to gain from CalPERS heightened focus on co-investments and separate accounts. In fact, the pension has already launched a $500 million separate account with Blackstone.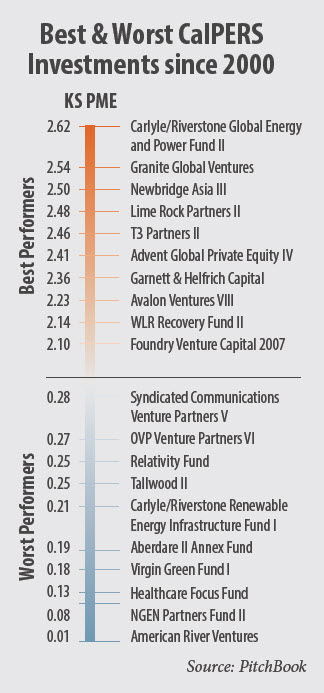 CalPERS also explicitly stated that "large commitments to funds-of-funds (12% of portfolio) are a drag on the portfolio." The performance from this asset class has certainly been disappointing for the pension; 10 of the 22 funds-of-funds that we have returns for are in the red and not one has an IRR in the double-digits. Data in the PitchBook Platform show that CalPERS has significantly reduced its investment in funds-of-funds in recent years, making just one commitment since 2009 after investing in at least 14 different funds-of-funds from 2006 to 2008.
Another group likely to lose out in CalPERS' new strategy will probably be VC firms, as the asset class has been the worst performer in its portfolio over the one-, three- and 10-year time horizons. Not only have VC funds been some of the worst performers, but it can be difficult to generate meaningful returns even from funds that perform well due to the sheer size of the pension and the relatively small size of VC fund commitments. Outside of its sizable commitments to four California-focused VC funds that Grove Street Advisors created exclusively for the pension, the PitchBook Platform shows CalPERS has made just 11 commitments of $100 million or more to VC funds, with the average commitment coming in at just $38 million. While these figures are large by VC standards, they are hardly meaningful for an investor with more than $277 billion in assets under management. For comparison, nearly half (44%) of CalPERS' commitments to buyout funds are at least $100 million, with an average commitment size of $131 million. And implicit in CalPERS' large VC commitments is the fact that it is committing to some of the largest VC funds in the market, which, while raised by more experienced investors, typically have a difficult time producing the astronomical returns expected of the VC asset class.
Aside from VC funds, there are 25 underperforming investment managers that received their first and only commitment from CalPERS between 2004 and 2009. With the pension looking to reduce the number of its relationships, it is unlikely these investors will be given a second chance.
Join the more than 1.5 million industry professionals who get our daily newsletter!