Opaque private equity is marketing to retail investors despite pushback
June 2, 2021
View comment

(1)
It's been a year since federal officials announced policies meant to crack open private equity funds for the first time to retail investors through 401(k) plans and other pensions.
Along the way, dueling views on the risks and returns of these products have sparked fierce debate over whether the asset class has driven the returns it claims to offer.
In the months following
last year's landmark decision by the Labor Department
, mutual fund companies have begun testing products that introduced mom-and-pop clients to the opaque and illiquid worlds of buyout funds. Brokerage giant
Vanguard
recently revealed plans to allow qualified investors, which includes individuals with more than $5 million in assets, to purchase stakes this summer in private equity funds through its retail investor division. This after
Charles Schwab
opened up a suite of alternative investment products last year for the brokerage's investment advisers.
Supporters say the opportunity to tap into PE-driven deals shouldn't be reserved exclusively for institutional investors.
"At Blue Owl, retail investors literally invest side by side in the same loans and other assets as the biggest pension funds, foundations and endowments," said Marc Lipschultz, who serves as Blue Owl Capital's co-president.
Over the past few years, private equity firms have pursued the retail market aggressively, with
Blackstone
among the cadre of PE giants lobbying the SEC for more access to retail clients. At the same time, there's been a broad push to allow retail investors in on the same benefits enjoyed by Wall Street insiders. For instance, stock-trading app
Robinhood
recently began offering retail investors a chance to buy at the IPO price before trading begins.
But critics have pushed back against private equity's self-described notion of "democratizing" the industry, arguing that the opaque nature of buyout funds and high fees are a bad fit for a retail investor.
"We don't want to democratize private equity," said Eileen Appelbaum, an economist at the Center for Economic and Policy Research, a Washington think tank.
Private equity has generally provided much higher returns compared with other private market strategies. Growth equity funds have posted a 13.3% 15-year IRR horizon, higher than private debt, funds-of-funds, real estate, infrastructure and more, according to PitchBook's latest
Global Fund Performance Report
. Meanwhile, buyout funds have posted the second-highest 15-year IRR horizon at 12.5%. During that same period, the S&P 500 has returned roughly 9.7% annually.
That performance held in 2020, when growth equity and buyout strategies ranked first and second in IRR, at 24.5% and 21.3%, respectively.
Here's the full performance breakdown for alternatives: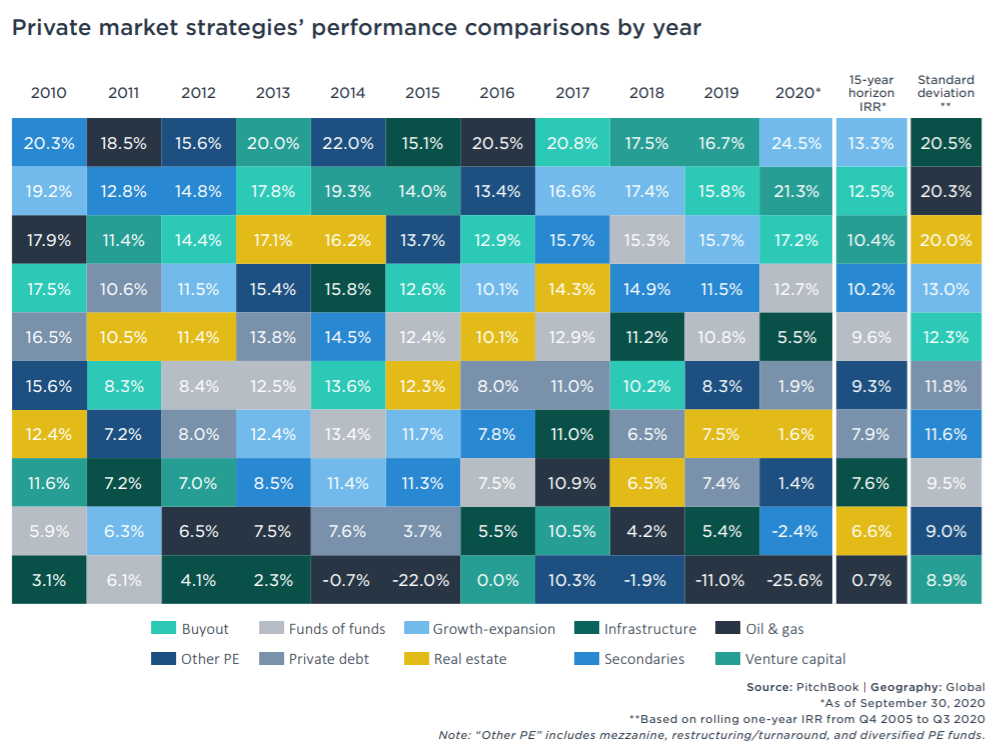 Meanwhile, private equity critics have cited the limited liquidity options until a general partner sells a portfolio company. They often hold companies between five and seven years, sometimes longer, before realizing investment gains. That structure may be too rigid for a retiree who wants to take money out of a 401(k) or IRA.
In addition, some private equity firms have artificially pumped up their IRR going back decades, in part by borrowing against LP capital and using the borrowed funds to invest in a portfolio company, according to critics. That shortens the overall time of investment, juicing performance data. In addition, after two years of ownership firms can enhance return figures through dividend recapitalizations, or taking out a loan to pay themselves and LPs, with the debt then assumed by the portfolio company.
"You can lie using IRR," Appelbaum said.
Private equity firms have also created a workaround by creating interval funds and real estate investment trusts which are publicly traded on major exchanges and generally open to non-accredited investors. For retail investors, they often have less burdensome fees and more options to get money out.
Not every workaround has been successful. Appelbaum noted in a recent paper that interval funds, which pay out quarterly, typically have 75% to 95% of capital tied up in illiquid vehicles. And she says firms haven't always marketed them honestly.
Blue Owl may have found a better solution in offering business development companies as part of its strategy, which also includes buying passive stakes in private equity firms. Blue Owl has already attracted 30,000 retail investors across its platforms. And the pitch is simple: Invest like an LP does; that includes anything from making bets on high-growth tech companies to investing in middle-market debt.
Lipschultz, a former KKR executive, has remained bullish on expanding access to private equity funds. But he noted not every fund for retail investors is created equal, whether it's an interval fund, BDC, REIT or buyout fund.
"Many alternative funds that are offered to retail invest in a different set of investments from the funds the institutions invest in," he said. "That is rather absurd. Why would a retail investor want that? The retail investors want and deserve the same great investment experience that institutions are having."
Unlike most private equity firms, 91% of Blue Owl's assets under management come from fee-generated revenue, not management fees. Lipschultz said the predictability of that permanent capital should reduce risk for retail investors, in part because they aren't dependent on general partners cashing out of their investments.
But that doesn't mean retirees should start pouring their retirements into opaque buyout funds, either.
"All investments involve risk and every investor needs to understand those risks and sort out what is appropriate for their portfolio," Lipschultz said. "But the systematic outperformance and lower volatility that the private equity and direct lending asset classes have delivered for many years to institutions demonstrate that there is a great role for alternatives as a part of many portfolios."
Featured image via Spencer Platt/Getty Images
Join the more than 1.5 million industry professionals who get our daily newsletter!