Q&A: Modsy's founder on how building a startup is different the second time around
February 8, 2018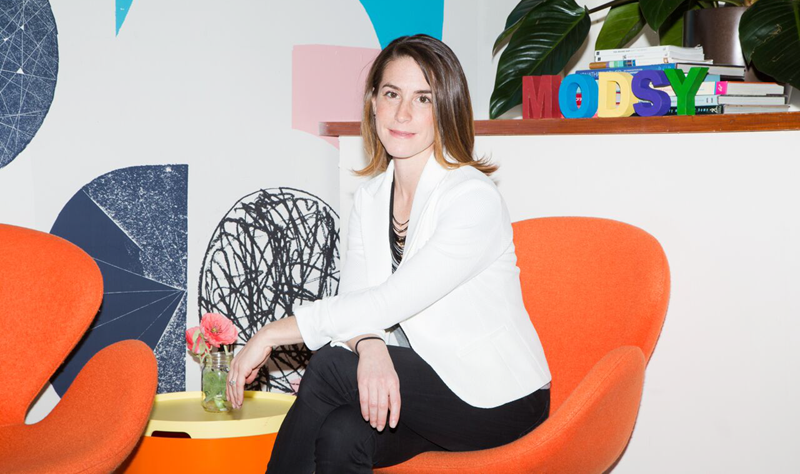 These days, Shanna Tellerman is best known as the founder of
Modsy
, a startup that helps users decorate their homes without spending a fortune on traditional interior designers. The company's tech allows customers to take photos of rooms they'd like to decorate, then uses 3D graphics and visualization technology to put together renderings of potential designs, complete with information on how to purchase the featured furniture and accessories. Modsy has now raised about $34 million in total VC funding, including a $23 million Series B, which closed this past December and valued the company at roughly $69 million.
But before launching Modsy, Tellerman founded another startup and had a stint as a VC investor. We chatted with her about how she successfully created two companies, what she learned from her time on the other side of the table and why it was so much easier to raise funding the second time around.
The interview below is edited for length and clarity.
You've founded two companies. Tell me about launching your first startup, Sim Ops Studios.
I discovered 3D and virtual reality early in life, well before it was popular. I took this incredible course at Carnegie Mellon University with an amazing professor, Randy Pausch, who was a strong believer in human-computer interaction. I took his VR class and I thought, this is the future.
From the university, I spun out my first company [
Sim Ops Studios
, which provided tech to help developers create and share 3D games online]. I knew nothing about startups at that time. I didn't even know that I should have been in Silicon Valley at that point. I really went through all the ins and outs of learning how to raise money. I ran that startup for five years, until it was acquired by
Autodesk
, a 3D software company. … Within nine months of the acquisition, we had helped to launch the cloud part of Autodesk.
How did you come up with the idea for your current company?
Well, I had a feeling that I should do another startup. I thought I would start a new company right away, but then I got recruited to Google Ventures [now GV]. I got the opportunity to sit on the other side of the table, which was really interesting.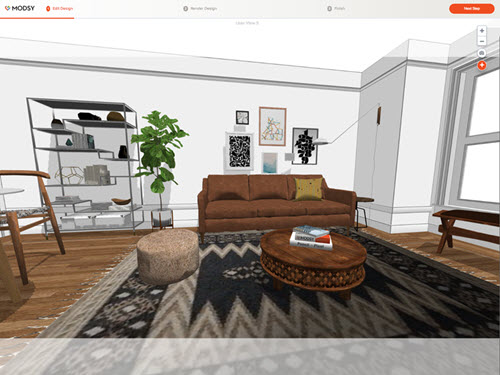 At the same time, I moved into a new home with my husband. We weren't planning to hire an interior designer; we thought we should be able to design everything on our own. But we just kept getting stuck because
we couldn't agree and we couldn't imagine what the space would look like. We ended up just doing nothing.
Then I had this lightbulb moment while I was flipping through a West Elm catalog. I thought, this is the experience I wish I was having. I want to be flipping through these beautiful, aspirational photos, but I want them to be featuring my own living room. And I knew the technology was coming, and I had this thought that this is probably the way we'll shop for our homes very soon. The vision was to automate the 3D visualization process and make it accessible to consumers [example pictured].
How was your experience raising your first round of funding for Modsy?
It was night and day between my first startup versus my second startup. I had a successful acquisition for my first company, and I was coming out of being a VC, so I had built a deep and valuable network by the time I started my second company. ... I called a few people, told them my idea, and they said, "Great, we'll back you."
What did you learn about fundraising during your time as an investor?
The most obvious thing you don't get as an entrepreneur but you see as a VC is just how many pitches get in front of venture capitalists. ... It feels extremely personal when you're the entrepreneur, but in reality, an investor is only going to make a few bets, but they're going to see hundreds and hundreds of entrepreneurs. It's a lot more than whether they like you and think your business is going to succeed. They're also thinking about their partnerships and dynamics—and that part was never obvious to me when I was pitching.
The other part is that it's really just about opportunity size. At the end of the day, venture capital is a specific form of funding. It only makes sense when the outcome can be billions of dollars, or 10 times to 50 times what the VC puts into the company. There's a specific formula to companies that can provide that kind of exit—you have to consider whether they can really scale to hundreds of millions in revenue. … And I think the speed is something that comes up that wasn't obvious to me before I became an investor. Some companies can be big but they take a long time to build out. Venture is designed to scale very, very quickly, which is almost unnerving. The exits have to happen within five to 10 years.
You probably thought a lot about those things when you were launching Modsy.
Definitely. You need to be leveraging tech to be able to disrupt an industry. ... You should come out the other end with something that's differentiated. When I was a VC, I had this three-part model to analyze the entrepreneurs coming in, and with [Modsy], I thought about whether those things applied to me.
The three questions I asked were: 1) Do they have a unique connection to the problem they're solving? 2) Do they have domain expertise?...[and] 3) What's the overall market and opportunity size?
I have to ask: How has being a woman, both on the founder and investor side, affected your career?
There's no way to deny that being a woman has affected my career. There's no question. Even if I didn't feel it, it was happening anyway. Any time you're in the minority, you're fighting subconscious stereotypes and very clear stereotypes. When you're on the VC side, you may be interested in businesses your partners aren't interested in, for example. And when you're pitching, there's a disconnect. I can't tell you how many times I've heard, "My wife would love that."
You just don't have the network. The female VC network is so light right now. … It's not like women can call up a college buddy and get a drink and all of a sudden they're helping you get a deal done. But for men, that's their friend, that's their buddy, that's who they hang out with on the weekends. Women VCs have to work much harder to get good proprietary deal flow. And founders have to work really hard to build those relationships. My less sophisticated way of saying it is this: There's no equivalent of the old boys' club for the girls.
Related read: Do female founders get better results?

Check out our Q&A with Hayley Barna, a partner at First Round Capital.