Recapping PE's roller coaster year in retail—and what it means for 2018
January 12, 2018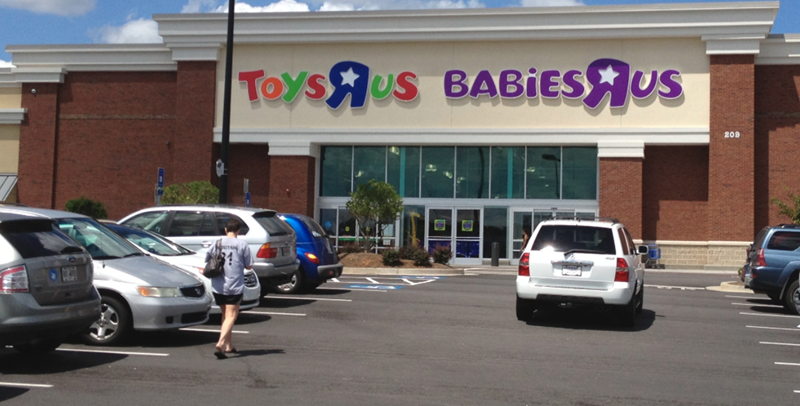 Even with US retailers posting
the biggest increase in holiday sales since 2011
, it's no secret that brick-and-mortar outfits struggled in 2017. Less clear was the role private equity owners played in an industry going through a fundamental shift in how it does business.
Yes, the meteoric rise of ecommerce has put immense pressure on traditional retailers trying to catch up with the times. But some have also been saddled with massive debt loads incurred through leveraged buyouts carried out by a few of the biggest names in PE. As it turns out, that debt hasn't exactly been good for business.
The private equity industry is increasing investments in ecommerce—and there are no signs of it slowing in 2018. What does that mean for the future? We'll get to that. But first, let's take a look at the year that was in PE-backed retail.
A spike in ecommerce
While PE investments in traditional retail companies have lagged, PE firms
completed 72 deals in the US ecommerce space
in 2017, a 31% YoY increase, according to the PitchBook Platform.
It marks a huge jump from 2010, when PE firms completed 28 deals in the US ecommerce sector in the wake of the recession. Transactions continued a mostly upward trajectory before dipping noticeably in 2016 and rebounding last year. Put another way, there was been a roughly 157% increase in PE investments in the US ecommerce sector in 2017 compared with 2010. That far exceeds the growth in PE dealmaking in the US, which showed a 39.7% increase in activity for the same period, and it runs counter to recent PE activity,
which has dropped in each of the past two years
.
Here's a look at the rise in PE activity in the US ecommerce sector: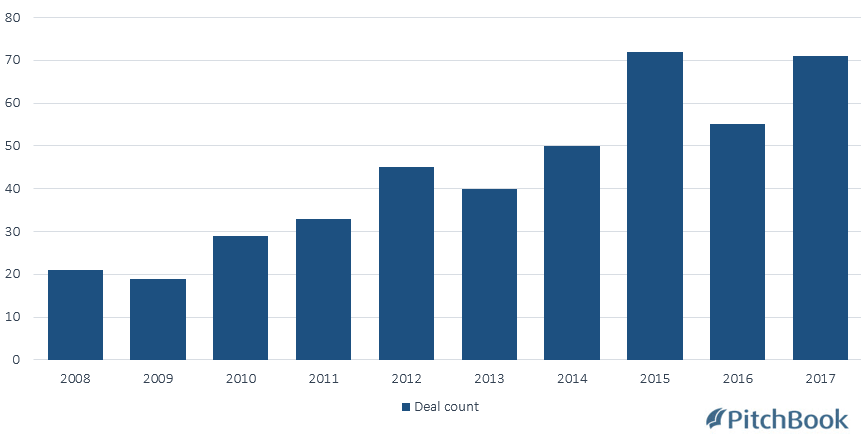 The top transaction last year came in May, when PetSmart, acquired by a consortium led by BC Partners in 2015, purchased online pet retailer Chewy.com in a reported $3.35 billion deal. It was dubbed the largest ecommerce transaction in history, topping the $3.3 billion price tag Wal-Mart doled out for online retailer Jet.com in 2016.
Bain Capital has
had trouble reviving struggling brick-and-mortar retailers
. Now, it's betting big on ecommerce. In February, the firm made famous by former presidential candidate Mitt Romney teamed with Bow Street to take online jewelry company Blue Nile private for a reported $500 million. Bain Capital paid $40.75 per share for the company, a 34% premium above its closing stock price. To fund the acquisition, the firm sought $180 million from Goldman Sachs in debt financing, or approximately 4x compared to the company's annual EBDITA of $45 million, per the Financial Times.
Brick-and-mortar goes bust
Retailers oft seen in shopping malls took a major hit in 2017. Among the companies to file for bankruptcy: shoe retailer Payless, along with The Limited, WetSeal, Gymboree, rue21, True Religion and Toys R Us. All were at some point in their history the target of a leveraged buyout that loaded the company with mountains of debt. And when sales began to dip thanks to a changing business landscape, those debts became impossible to pay back.
How bad did it get? There were
17 PE-backed distressed exits in the US retail sector last year
, according to the PitchBook Platform. That's six more than 2016 and the highest mark since 2009, when 25 PE-backed distressed exits occurred in the aftermath of the Great Recession.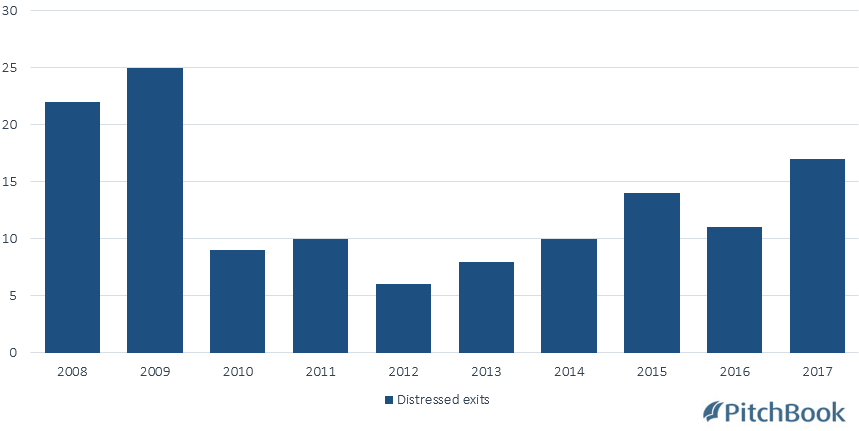 With other brick-and-mortar retailers like Sears already struggling in an environment of consumers empowered by a strong job market and looming tax cuts, imagine the tailspin should the economy actually hit a wall.
The sad ballad of Toys R Us
When Bain Capital, KKR and Vornado Realty Trust took Toys R Us private in 2005 for $6.6 billion plus debt, few could predict the seismic shift in consumer behavior yet to come. The firms reportedly invested $1.3 billion of their own capital for the deal, then
charged $470 million in management fees (including interest) and piled on roughly $5 billion in debt
. That massive debt load would leave any business, no matter how lucrative, susceptible to market changes.
The market has indeed changed, and in September, the toys retailer filed for Chapter 11 bankruptcy. Making the news more remarkable: Toys R Us produced $2.1 billion in sales in 3Q. Yes, that marked an $89 million decline from 2Q and a 7% YoY drop, but it's fair to question how a company with a revenue stream that substantial would be faring if it wasn't burdened with management fees and reckless debt practices.
Time will tell if holiday sales will do much to move the bottom line for Toys R Us.
Early indications were not good
. And the fall season certainly did not the move the proverbial needle. Company chairman and CEO Dave Brandon said in a conference call in December that the bankruptcy announcement may have hurt fall shipments and sales, as well as discouraged potential holiday shoppers, per USA Today. The company took a PR hit shortly thereafter when 17 top executives won approval from a US bankruptcy court for a combined
$16 million in bonuses
, should the company hit its holiday shopping goals.
Matters are not much better for the UK branch, despite its being exempt from the US bankruptcy proceedings. Late last month, the company needed a £9.8 million cash infusion from creditors to keep it from collapsing, per the BBC. Still, it will have to close 26 of its reported 105 locations. The company's US branch may ultimately have to close shops, too, as it tries to exit bankruptcy in 2018.
In the meantime, it reportedly plans to invest $400 million from the $3.1 billion it received in bankruptcy loans to re-invest in stores by offering "experiential shopping," where kids can play in stores, according to Reuters. All while creditors reportedly take a deeper look at the debt and leveraged buyout that came before the bankruptcy filing in September.
What does it mean for 2018?
Private equity firms completed 64 deals for US retail companies in 2017
, a roughly 18% YoY decline, per the PitchBook Platform. And it's hard to imagine buyout shops leading a resurgence in 2018. The few brick-and-mortar shops doing OK (see Wal-Mart, Nordstrom) currently don't have PE backers, though Nordstrom had announced plans to explore going private in late 2017. However, a deal between the high-end retailer and Leonard Green & Partners fell through when banks reportedly grew weary of the financing package, citing market conditions.
On a macro level, there is some reason for optimism. In December, Moody's projected that the US retail and apparel industries, as well as restaurants,
had a "stable" outlook for 2018
, thanks to higher income, sales growth, a healthy economy and projected improvement in consumer confidence. That doesn't necessarily mean brick-and-mortar stores are ready for a comeback, but losses will likely taper off for big department stores. Whether that applies to PE-backed retailers remains to be seen.
Given the past year of struggles, it would be a welcome development.
Check out our previous coverage of PE-backed retail companies here.