PE Fundraising
RiverGlade closes first fund as PE debuts falter
October 17, 2019
On Thursday,
RiverGlade Capital
closed its debut buyout fund with $325 million worth of commitments—surpassing its $300 million target.
The Chicago-based firm's inaugural fund isn't outsized or particularly notable in and of itself. However, its existence underscores a larger trend: the amount of US first-time private equity funds closing has plummeted in 2019, and the figure is most stark when looking at buyout-specific debuts. RiverGlade's fund is only the 12th debut vehicle to close in the country so far this year—and the sixth buyout fund.
That's a striking drop from 2018, which saw the close of 32 debut funds, including 26 focused on buyouts: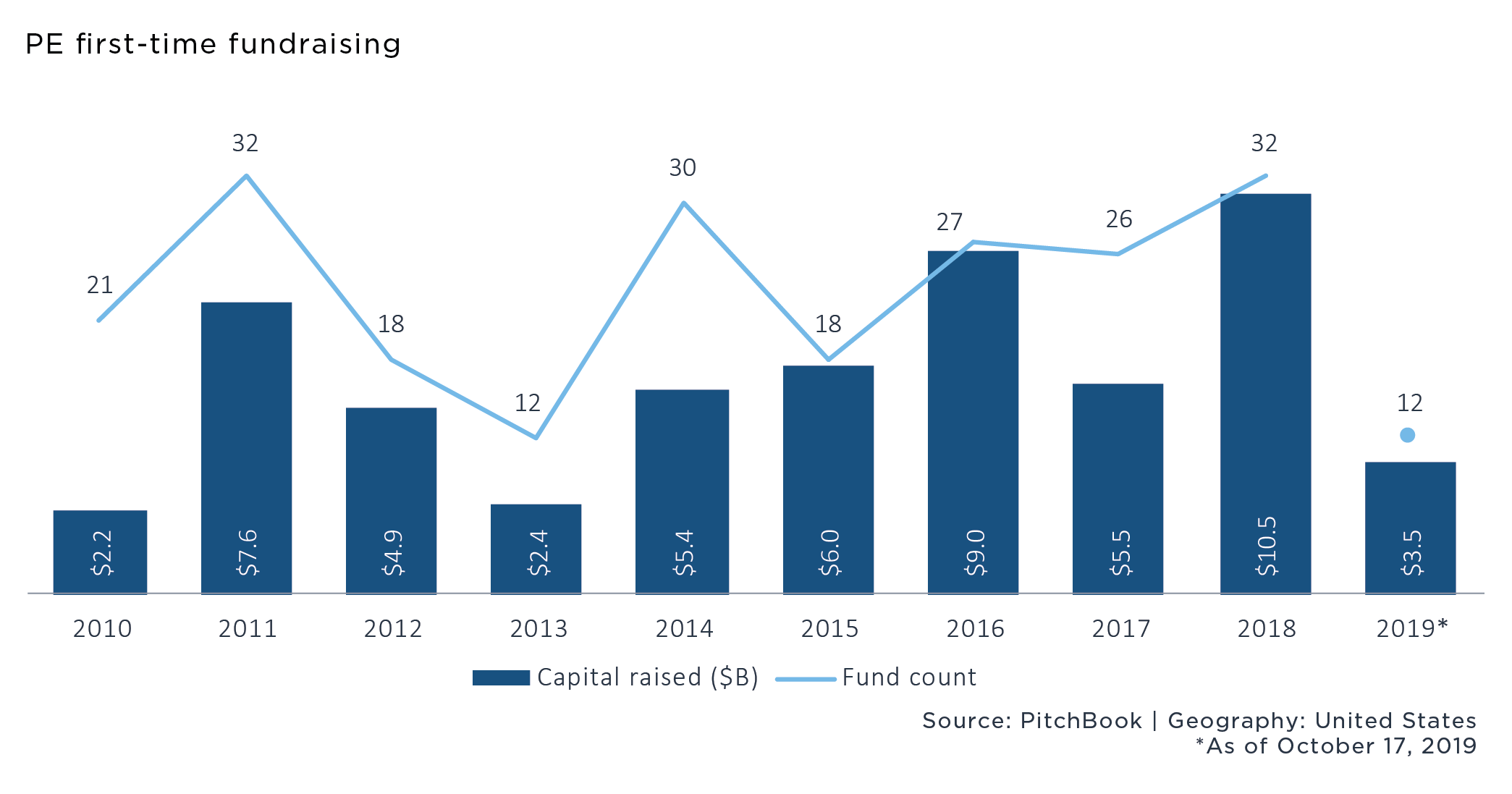 A medley of factors—including an ambiguous financial outlook—could be behind the debut fund drop, according to PitchBook analyst Wylie Fernyhough.
"We've definitely seen fewer first-time funds than last year. It may be the LPs are less willing to take risks in this uncertain environment. It may be that they're just choosing to cull GP relationships and allocate to the Blackstones of the world. It may also be some lumpiness in the data and something that will even out later," Fernyhough said. "I think it's a bit of all those things."
Indeed, 2019 still has a few months left to go. But at this rate, debut vehicles won't approach figures posted over the past five years. The value of debut efforts in 2019 is dropping as well, as the private equity industry becomes increasingly saturated and mega-funds raised by established firms continue to eclipse competitors.
Behind
Butterfly Equity
's first-timer—which reportedly amassed $520 million in July—RiverGlade's is the second-largest buyout-focused debut fund to close in the US this year. The firm primarily makes healthcare investments of between $25 million and $150 million; it declined to comment on its inaugural fund. Garrick Rice and Danny Rosenberg founded the firm in 2017 after working together at Chicago's
Sterling Partners
, which reportedly announced that year that it wouldn't be raising a new broad-based fund.
The wind down of
Navab Capital Partners
after the sudden death of its founder Alexander Navab in July also shifted 2019's debut scene. The
KKR
veteran was believed to be targeting $3 billion for his firm's first fund—an amount nearly equal to all inaugural fundraising for the year so far.
Featured image via sstop/E+/Getty Images