Say hello to the billion Dollar Shave Club
July 20, 2016
Dollar Shave Club has reached an agreement to be acquired by Unilever (LON: ULVR) for a reported $1 billion in cash. Perhaps best-known for its comical television commercials, DSC had raised about $164 million in venture capital since launching in 2012. Its most recent round—a $90.7 million Series D in November—valued the company at $630 million. Fair to say, this billion-dollar acquisition will make Dollar Shave Club's investors quite happy.
In the graph below, we highlighted the company's financing history to visualize the build-up to this blockbuster deal. We also calculated the multiple on invested capital (MOIC) for each financing to give an idea of how investors fared.

Seed-round participants will obviously be most happy, as they achieved an astounding 49.69x return on their investment. Those firms include Forerunner Ventures, Kleiner Perkins Caufield & Byers, Andreessen Horowitz, Shasta Ventures, Felicis Ventures, White Star Capital, Science and Cowboy Ventures. Venrock is another big winner after having led DSC's Series A and B rounds.
Multiple On Invested Capital (MOIC) per deal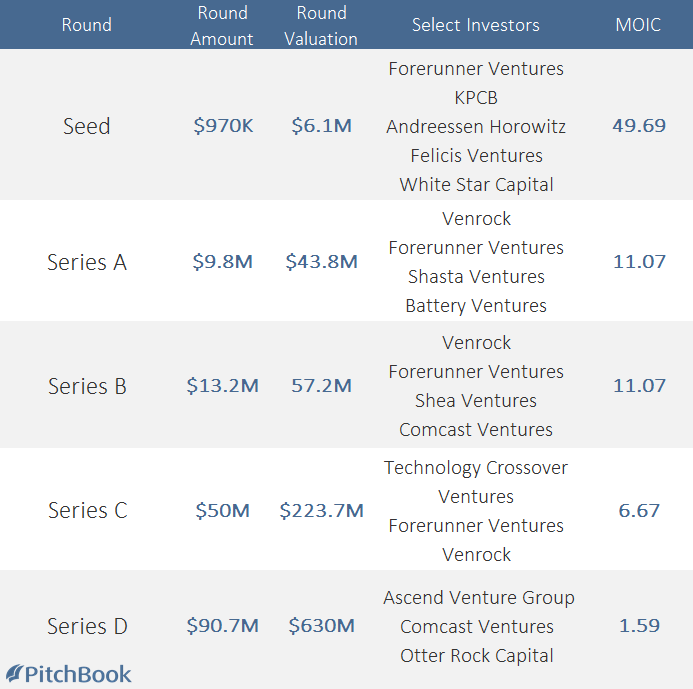 *A previous version of the above chart had an investor misattributed to the Series D round. It has been corrected and updated.
Check out Dollar Shave Club's public profile for other key details on the company's management, board members and more.