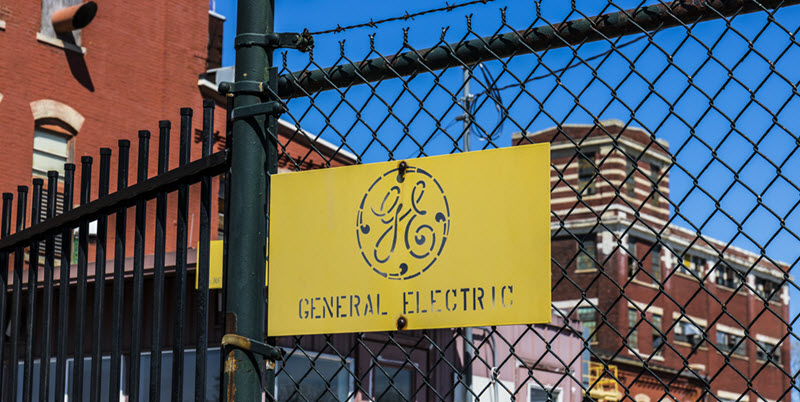 Earlier this month, GE (NYSE: GE) acquired Belgium-based software simulation specialist GeonX, rolling it into GE Additive, the unit launched last year to deploy industrial production tech such as 3D printing. The deal is the latest in a series of transactions intended to modernize and refocus GE as it exits legacy businesses like light bulbs and diesel locomotives (just as it exited consumer appliances, sold to Haier in 2016).
​
But will it be it enough to get the 125-year-old company back on track? Investors have lost patience: Shares are down some 40% YTD, hitting five-year lows amid management changeover, an underwhelming corporate turnaround plan, and news that the company was slashing its dividend by 50%—marking only the second time that GE has cut its dividend since it began paying one in 1899.
GE stock price performance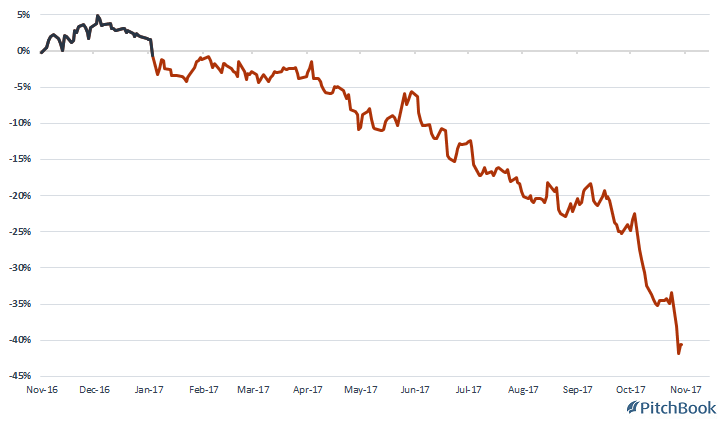 Earnings growth has stagnated, with the company reporting profits of $0.29 per share on October 20. This was $0.20 below estimates and $0.04 less than the year-ago period. For the full year, RBC Capital Markets is looking for earnings of $1.08 per share, compared with the $1.52 reported for 2016. Not since 2009 has GE earned less in a year.
What's worse is that new CEO John Flannery's strategic plan—featuring a streamlining of the company's portfolio down to Power/Renewables, Aviation and Healthcare—received a tepid response this week. RBC's Deane Dray, writing in a note to clients, observed that the details "fell short of the sweeping reset that investors were looking for" with "very little new or bold ideas among the divestiture targets announced and no meaningful changes to the business model ..."
​
Why? Because the businesses Flannery plans to keep comprise around 80% of GE's revenue mix—something that flies in the face of the company's "de-conglomeration" hype.
Seeking change
Still, planned sales of non-core assets are not trivial—they're expected to total more than $20 billion over the next one to two years including Lighting, Industrial Solutions and Transportation. The company is also looking at options for an exit from its remaining 62.5% ownership in the Baker Hughes-GE (BHGE) oil and gas business.
All this will help fuel the M&A activity GE will need as it focuses on new areas of growth like additive manufacturing.
In addition to February's acquisitions of controlling stakes in Germany's Concept Laser (75% holding) and Sweden's Arcam (76.15%) for $1.4 billion, GE has dropped another $1.5 billion on manufacturing and additive tech over the last decade. The result has been hundreds of patents in material science that represent long-term bets on the space.
And these are the sorts of moves to which those bullish on the future of the company like to point. Morningstar analyst Barbara Noverini pointed out in September, for instance, that GE's joint venture with French aerospace manufacturing specialist Safran gives it "an enviable position in narrow-body aircraft engines," a category poised for growth in the commercial aviation space.
In sum, GE has completed
42 acquisitions since the start of 2007
, according to the PitchBook Platform. But the company has been far more prolific as a seller of assets, exiting
a total of 76 businesses over the same time span
. And it'll have to sustain—if not increase—that pace to realize Flannery's vision of a leaner GE.
It'll take time for GE and its new CEO to integrate recent purchases and complete planned exits. But judging by the market's reaction, there is little patience for slowly getting GE down to its fighting weight. They want a crash diet.
Not a subscriber to our daily M&A newsletter? Sign up today.

PitchBook is a Morningstar company.