PlayBook 3Q 2018
Smarter cities: How private markets are reshaping the urban landscape
September 17, 2018
View comment

(1)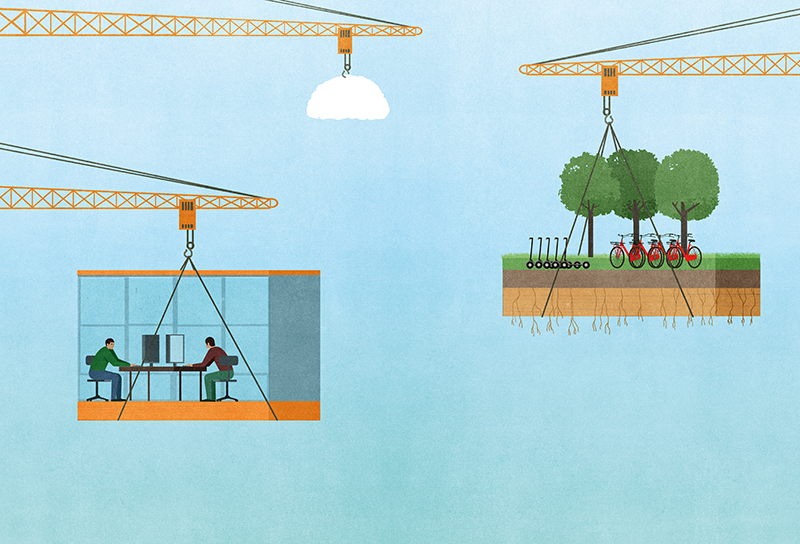 In Plato's "Republic," Socrates and his interlocutors have a conversation that was apparently typical in ancient Greece. Is the soul immortal? Should we live a life focused on justice? What is the path to true happiness? Heady stuff that's been pondered for ages.
Socrates suggests exploring those issues on a larger scale, that of an entire city, to more easily uncover the answers. Since a lack of self-awareness is apparently timeless, he concludes that the philosophers should be king.
But the reasoning behind his method was sound: Cities, both large and small, are a window into the human condition. They reflect the hopes and challenges of entire civilizations. And they are a collective reflection of the values held by their people.
Right now, the urban cityscapes can tell us a lot. In PitchBook's headquarters of Seattle, a menagerie of rideshare bikes dot the streets. The homeless cluster in tents. Sandal-clad tech workers buzz around in Ubers. Cranes fill the sky. Thoroughfares are seemingly always jammed. And city leaders are struggling to address problems that have been decades in the making.
These observations are a microcosm of larger issues in play, such as densification and infrastructure deficits. Examples of how innovative technologies are being used to solve old problems with the limited resources at hand. A reminder of the rise of Asia and the languishing of the West. And with brands such as Lime and Lyft growing more ubiquitous, a reminder that private market companies and investors are playing pivotal roles, within their own particular areas, to collectively push cities toward a more efficient and sustainable future.
The stakes are high.
The American Society of Civil Engineers (ASCE) gave the United States a "D+" in its most recent Infrastructure Report Card, warning, "Deteriorating infrastructure is impeding our ability to compete in the thriving global economy, and improvements are necessary to ensure our country is built for the future." In a 2016 economic study, the ASCE estimated that the dilapidated state of the nation's roads, bridges and other critical infrastructure will result in $3.9 trillion in losses to economic output, $7 trillion in lost business sales and 2.5 million lost jobs by 2025.
This infrastructure is concentrated in the urban cores, where airports, marine ports, public parks, wireless towers, petroleum pipelines, rail lines and power transmission assets are most densely distributed.
Much of that infrastructure was built in the middle of the 20th century when the nation's population was smaller and more widely dispersed. In 1960, there were roughly 181 million US residents, according to Census Bureau data, versus 309 million in 2010. Then, around 70% of the population lived in urban cores. By 2010, almost 81% did.
On a global scale, the United Nations estimates that the world population will swell: from 7.6 billion souls last year to 8.6 billion in 2030, 9.8 billion in 2050 and 11.2 billion in 2100. In a separate study, the UN estimated that while 55% of the world's population lives in urban areas now, that proportion will increase to 68% by 2050.
World urbanization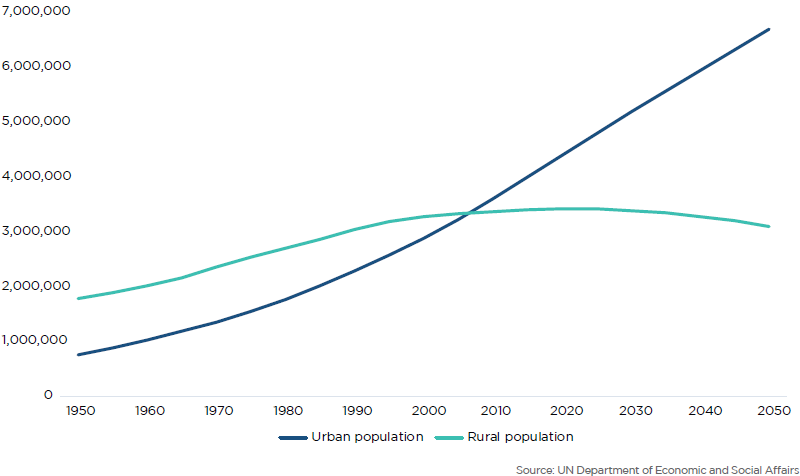 If you think your nearest city is bustling now, just wait.
According to Bank of America Merrill Lynch (BofAML), the United States alone faces an estimated $3.8 trillion infrastructure gap by 2040. They estimate that the current public infrastructure market is worth between $3 trillion and $4 trillion today and could double to $8 trillion by 2030. Globally, the infrastructure gap is estimated to total $18 trillion on a total investment of $79 trillion.
With those types of sums in play, capital is being increasingly drawn to an area where financing was typically borne by taxpayers via elected officials and not private enterprise. But that could be set to change.
Globally, the infrastructure gap is estimated to total $18 trillion on total investment of $79 trillion.
Private investment in infrastructure assets totaled just $337 billion last year, per BofAML, but 90% of institutional investors plan to increase their future allocation to the asset class. It's easy to see why: Amid a "reach for yield" dynamic, infrastructure assets offer attractive returns, stable cash flows, inflation protection, low default rates and diversification benefits via low correlations to other assets, according to the CAIA Association.
The playbook looks something like this: Leverage fundamental technologies developed over the last two economic cycles—smaller, more powerful computers with ubiquitous connectivity and cloud-based storage/processing—to ease acute burdens now via smarter, more efficient usage. Enabled by creative new "application layer" innovations like predictive policing, home automation systems, health wearables, autonomous vehicles, bike/scooter sharing and real-time public transit information.
Efforts in this layer have been mainly the focus of VC-backed companies and their investors.
As for the deeper layer of actual hard assets, PE-backed capital is ready to work to put shovels in the ground and widen roads, rebuild bridges and update dilapidated water systems. Because finding efficiencies will only get us so far, and trillions will still need to be spent.
Last year, Saudi Arabia's Public Investment Fund committed $20 billion toward Blackstone's $40 billion fund targeting investments mainly in US infrastructure, $5 billion of which closed recently and is "in deployment mode." Stonepeak Infrastructure Partners recently raised $7.2 billion for its latest fund. Macquarie Infrastructure and Real Assets, the world's largest infrastructure fund manager with nearly $100 billion in AUM committed to the space, also recently raised $2.5 billion for its Super Core Infrastructure Fund.
The need to change the way cities look, feel and operate isn't a modern innovation.
British urban planner Ebenezer Howard's "Garden Cities of To-morrow," published in 1898, was an effort to head off urban dystopia. The book inspired Walt Disney in the 1960s, who envisioned what is today's Epcot Center theme park to instead be a living, breathing "Experimental Prototype Community of Tomorrow" that would be an example to others and end the scourge of crowded, dirty and crime-filled cities.
Sidewalk Labs, an affiliate of Google parent Alphabet, is experimenting with urban innovation in Toronto and is looking to build a new American city "from the internet up" in the hope of lowering the cost of living by 14% for an average family.
In a recent analysis, a global team of analysts at McKinsey found that adding digital intelligence to existing urban systems could improve key quality-of-life indicators by 10% to 30%. Examples include shortening emergency response times, cutting commute times, lowering disease burdens and reducing greenhouse gas emissions.
A wide swath of research extolls the economic benefits of infrastructure investments, making it a rare issue on which Republicans and Democrats agree (and subsequently raising the specter of increased public funding, such as President Donald Trump's proposed $1.5 trillion infrastructure plan). For example, according to the International Monetary Fund, GI Hub and Oxford Economics, an increase of 1% of GDP in investment spending raises the level of output by about 0.4% in the same year and by 1.5% four years after the increase.
To better understand this theme, we've taxonomized the deployment of new digital solutions into six categories that we've dubbed the "Urban Technology Ecosystem." Mirroring Socrates' strategy, after zooming out to examine the problem writ large, it's time to focus in on how individual companies and investors are affecting the larger problem in their targeted areas— similar to his examination of the constituent parts and functional classes of the well-ordered city.
The overarching goal is to use technology to reduce congestion and foster faster, cheaper and more environmentally friendly ways to get around.
Mobility
Survey data cited by BofAML shows that, when people are asked about infrastructure, roads and highways are top of mind. They are also the site of the largest single component of the global infrastructure gap, at $8 trillion of the $18 trillion gap estimated by 2040. It's also top of mind when you think of private markets' most visible, current impacts on city centers, capturing everything from dockless bikes and shareable scooters to ridesharing services and ongoing efforts to deploy autonomous vehicles.
The overarching goal is to use technology to reduce congestion and foster faster, cheaper and more environmentally friendly ways to get around. Private market investment activity in the space has been red-hot, with $18.6 billion in capital invested through August, per the PitchBook platform, on track to nearly match the $26.4 billion posted in 2016.
Companies active in the space include ridesharing provider Lyft, bikeshare-to-scooter-share icon Lime, and GM's autonomous driving division Cruise Automation, which the automaker purchased in 2016 for $1 billion. Key investors include Chinese rideshare giant Didi Chuxing, as well as Tiger Global and Accel.
Overall, BofAML estimates the global transportation market—a $7 trillion industry—faces the threat of significant disruption from companies in this area amid crazy inefficiencies. 95% of cars are parked at any given time, cars cost up to $8,500 a year to own and operate, 1.2 million people die per year in vehicles, and automobiles generate 23% of total CO2 emissions.
BofAML believes "the convergent and mutually reinforcing trends of electrification, autonomous driving, the Internet of Cars (IoC) and the sharing economy will drive a fundamental shift from today's car-centric travel to a platform-centric model whereby transport becomes a utility." Resulting in savings of $3.8 trillion on everything from less emissions to fewer accidents, resulting in the creation of a new $1.5 trillion market in future mobility.
What does this future look like? Consider Lime, which is reportedly working on small electrical vehicles dubbed "transit pods" to slot between bikes and scooters and cars in urban cores. Maybe encouraging a few to leave their big SUVs at home.
Food and restaurant technology
We define food and restaurant technology as companies developing solutions to improve experiences around food selection and consumption. Everything from burger-making machines to vertical farming to restaurant reservation apps. Overall, capital invested in the space totaled $8.6 billion last year, up from $7 billion in 2016 and $5.1 billion in 2015, per PitchBook data. The most active investors in the space include 500 Startups and Kima Ventures. Key companies include Instacart and Upserve.
This category is best represented by efforts to automate the stereotypical job of the sleepy-eyed teenager: the fast-food burger-flipper. And VC-backed Creator's restaurant-sized burger-making robot is among those bringing that dream into reality.
Formerly known as Momentum Machines, the startup created a machine that can take the constituent components—raw beef, buns, whole tomatoes and onions that it slices itself—and pump out a $6 burger that the company's proponents claim would cost between $12 and $18 at an upscale restaurant.
Another is Toast, developer of a cloud-based restaurant management platform that facilitates quick tableside ordering, menu modifications and labor management to streamline operations and bolster revenues. The company raised a $115 million Series D in July led by T. Rowe Price, lifting its post-valuation to $1.4 billion.
Shared
spaces
By definition, space is limited in urban cores. Which is why as soon as the development of structural steel enabled buildings to reach to the heavens, skyscrapers have been inexorably increasing their floor counts. It started with the 10 floors of the Home Insurance Building in Chicago in 1885. Now, the Burj Khalifa in Dubai boasts 163 above-ground floors for a total architectural height of 2,717 feet.
But impressive, new, super-tall buildings are expensive and take time—and lots of capital—to raise. Which brings us to the shared spaces vertical, where companies are designing and operating co-working and co-living spaces to create environments that foster collaboration and connected living along with lower costs.
WeWork is a perfect example of a company innovating in this area, leasing space in major metropolitan areas, building out unique offices from Ho Chi Minh City to Lima to Portland, and then subleasing to gig economy and remote work warriors. The company completed its eighth capital raise last August in a $3 billion deal led by SoftBank's Vision Fund, pushing its post-valuation to just over $21 billion. Other companies in the space include Chinese co-working provider Ucommune and co-living provider Common, which rents out furnished and shared apartments to a members-only community.
Overall, $3.5 billion was invested in shared spaces last year in 31 deals, up dramatically from the $1.1 billion invested across 23 deals in 2016.
Smart infrastructure
When it comes to the nuts and bolts that make cities run, such as subway cars and bridges, companies operating in the smart infrastructure space are using the latest digital technology to ensure maximum efficiency can be extracted from current resources— flawed and insufficient as they are.
Consider that in New York City over 1,000 miles of water mains are more than 100 years old. Or that more than 200 of the city's public school buildings were built before 1920, according to the Center for an Urban Future.
Examples include sensors that detect the speed and number of vehicles on freeways, detecting traffic jams automatically and alerting drivers to take alternative routes. Or roads that have embedded temperature gauges to warn of ice. Or magnetic field sensors to determine whether a streetside parking spot is open or free. Or the deployment of responsive appliances that communicate with a smart electric grid to do their washing and drying during off-peak usage.
Companies operating in the smart infrastructure space are using the latest digital technology to ensure maximum efficiency can be extracted from current resources—flawed and insufficient as they are.
Another example of the technologies in this area are smart streetlamps that dynamically adjust brightness when movement is detected and change color when an ambulance or fire truck is approaching. Silver Springs Networks, which was purchased by Itron for $830 million in January, develops software that allows utilities to create networks of intelligent streetlamps.
Investment in the space totaled $2.5 billion last year and has already nearly exceeded that amount so far in 2018—a dramatic increase from the $1.1 billion in deal value seen in 2016. Active investors in the space include Plug and Play Tech Center and Kleiner Perkins.
Companies to watch include Mark43, a developer of public safety software that enables law enforcement officers to complete their paperwork quicker and more accurately. The company raised $38 million in a Series C round in March in a deal led by General Catalyst Partners and Breyer Capital for a post-valuation of $190 million.
Construction technology
There's simply no getting around the fact that there aren't enough homes.
According to McKinsey, by 2025 a third of urban dwellers—1.6 billion people—could struggle to secure decent housing, forcing many to decide between living in substandard dwellings or becoming financially stretched and cutting back on other essentials, such as healthcare. Replacing today's substandard buildings and creating the new units needed by 2025 would require $9 trillion to $11 trillion in construction spending. With land included, the total cost could be $16 trillion.
But there is room for innovation. By reducing construction costs, housing affordability could improve up to 16%. Examples include savings associated with value engineering (specifically, standardizing architectural designs) and using modular and prefabricated techniques. By unlocking additional land supply, through approaches like allowing higher density, costs could fall up to another 23%.
Companies in this vertical are building hardware and software solutions that increase the efficiency of operations related to construction and infrastructure. Dealmaking has been accelerating, with the 2018 year-to-date total of $989 million nearly matching 2011's $1.1 billion full-year result and marked acceleration from the $633 million posted in 2017. Active investors include Brick & Mortar Ventures and Borealis Ventures.
By reducing construction costs, housing affordability could improve up to 16%.
Companies in the space include Katerra, developer of a construction technology platform that eases material ordering and manufacturing, among other tasks, allowing builders to optimize building development, design and construction. Another is Method Homes, which makes modern prefabricated and pre-engineered homes that result in significant cost savings to traditional site-build structures.
Real estate technology
The process of buying and selling a home has become much easier with the advent of tools such as Redfin and Zillow. Both companies were VC-backed, borne in the midst of the housing bubble and have gone public during the current expansion. Redfin went public in 2017, and Zillow went public back in 2011 followed by several PIPE deals, including a 2014 investment by Tiger Global.
A number of startups share the aim of leveraging technology to help facilitate the purchase, management, maintenance and investment into both residential and commercial real estate. Capital invested in the sector totaled $6.6 billion last year across 343 deals, with 500 Startups and Thrive Capital being the most active investors.
Other companies active in the space include Compass, which adds hands-on curation by real estate agents to online listings as well as additional information on the characteristics of the neighborhoods homes are sitting within. The company raised a $550 million Series E in December led by SoftBank, for a post-valuation of $2.2 billion.
The role of private capital
BofAML believes that with public finances stretched across much of the developed world—including the United States, which is running a budget deficit of $781 billion that is adding to a $21.3 trillion national debt—public-private partnerships (PPPs) are likely to play a growing role in solving the infrastructure investment gap. These structures allow PE and other sources of non-taxpayer funding to contribute to what they estimate will be a total spend of $80 trillion on global infrastructure through 2040.
PPPs are defined as "long-term [contracts] between a private party and a government entity, for providing a public asset or service," according to the World Bank.
Examples of this strategy include China's "One Belt, One Road" plan, President Trump's proposed $1.5 trillion Infrastructure Plan and Europe's €500 billion (about $569 billion) Juncker Plan.
It's a mutually beneficial relationship. Politicians are attracted to the pools of capital. And investors are attracted to the strong risk-adjusted returns, reduced downside risks and enhanced diversification benefit it offers in relation to other asset classes.
Put more simply: PPPs lessen the financial burden on governments to provide funding for infrastructure in exchange, oftentimes, for allowing private enterprise to collect toll and usage revenues. The use of PPPs has increased in recent years, per World Bank data.
The latest dynamic is the rise of mega-funds, such as Blackstone's Infrastructure I fund, which is targeting $40 billion, including the aforementioned $20 billion anchor commitment from Saudi Arabia's PIF (the largest single contribution of any investor to an infrastructure fund).
From the city to the soul
Returning to Plato's "Republic," no doubt Socrates and his friends would be excited about the prospects for increased happiness and health as urban landscapes are modernized and made more efficient and sustainable. After all, the motivation for their philosophical exploration was a desire to improve quality of life. Both internally, for the soul, and externally, in our interactions with others.
For a city of 5 million, McKinsey estimates between 30 and 300 lives could be saved each year.
McKinsey believes smart cities, benefiting from the deployment of data and technology, can make things better across several domains: social connectedness, environment, health, time, safety, jobs and cost of living. For a city of 5 million, they estimate between 30 and 300 lives could be saved each year.
The task won't be easy. Socrates admits, "beautiful things are indeed difficult to attain." But it surely will be profitable for the private market entities playing a growing role in the ongoing saga of humans working toward greater harmony between themselves and the environment around them.