TA Associates, a Boston-based private equity firm that was founded in 1968, has marked the 50th anniversary of its founding by announcing the appointment of Patrick Sader as a managing director and the promotion of five other former vice presidents to senior vice president roles.
The moves come at the end of a 10-year stretch in which TA Associates steadily ramped up its activity: Between 2008 and 2017, the firm
nearly quadrupled its number of new investments
, per the PitchBook Platform, jumping from 11 deals all the way to 43.
Based in London, Sader focuses on investments in the consumer, financial and business services sectors; he's worked at TA Associates since 2011, when he transitioned from Argan Capital. The firm has also named Max Cancre, Lovisa Lander, John DiCola, Amara Suebsaeng and Alex Melamud senior VPs. Cancre and Lander are located in London, while DiCola and Suebsaeng are based in Boston and Melamud works in the firm's Menlo Park office.
The moves are perhaps a reflection of the firm's rising ambitions. Ten years ago, TA Associates wasn't even among the 50 busiest buyout shops based in the US. Now, the firm is on the brink of the top 10, as you can see in the below chart tracking the firm's annual deal count compared to its rank among all US-based firms, according to PitchBook data:
The recent promotions also indicate TA Associates' increasingly global nature. After never completing more than six investments in Europe during any one year between 2008 and 2014, the firm conducted nine deals in the region in 2015 followed by 11 in 2016 and 12 last year, per PitchBook data. In 2017, those transactions accounted for nearly 28% of its overall investments, the largest share since 2010.
Right now, TA Associates is investing its 12th flagship fund, which closed on a reported $5.3 billion in 2015. What sorts of companies will it back with all that capital? Here's a year-by-year look at how the firm's investments have broken down by sector during the past decade: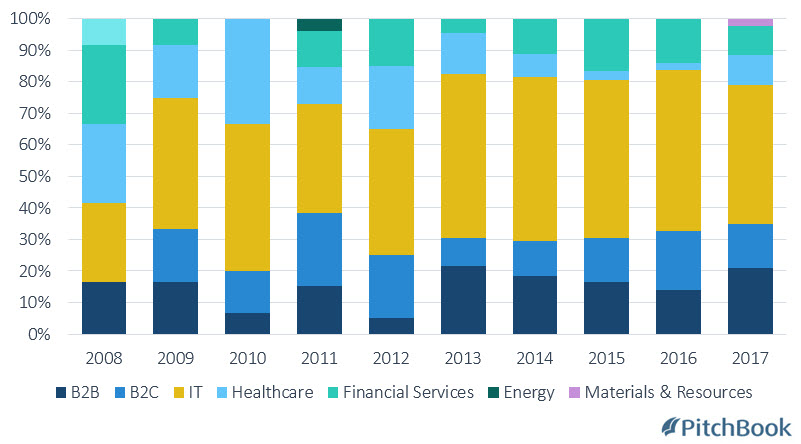 The firm's recent personnel moves also show that IT is taking up an increasing share of its employees' attention: Four of the six recently promoted investors focus on deals in industries directly related to tech.
PitchBook subscribers can explore the full data on TA Associates' recent investments.