A popular storyline of late has been the dearth of tech IPOs, though less widely commented on has been the fact that PE-backed take-private transactions involving US tech companies have already equaled last year's mark. So while members of the tech industry aren't particularly eager to enter the public markets, they sure seem happy to leave.
According to the PitchBook Platform, 22 US tech companies have announced or completed an IPO this year compared with 12 US tech companies that have announced or completed a PE-backed take-private transaction. The situation highlights the differences a decade can make.
Tech IPOs vs. take-private buyouts in the US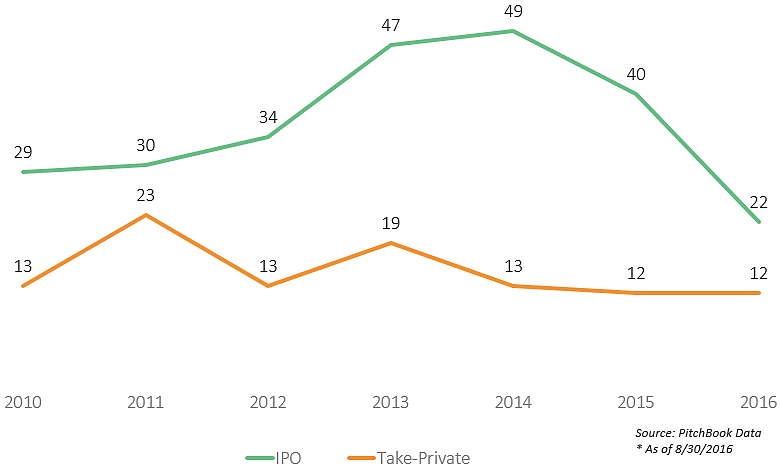 The latest example is Rackspace (NYSE: RAX). Last week, Apollo Global Management announced it would take the provider of cloud-computing services private for $4.3 billion. In the years since its 2008 IPO, Rackspace has struggled to compete against the likes of Amazon and Microsoft. And that's the instructive point here. The market environment in which a company like Rackspace could file its IPO is not the market environment in which a company would file today. Not only have a few major players come to dominate several different services, but shareholder expectations for tech companies have also matured over the past decade.
Plus, it's often easier for a company to achieve the sort of innovation that's necessary to keep up with the Amazons and Microsofts of the world while privately held. As a consequence, taking a company private has become more appealing in recent years, especially with PE firms still sitting on significant levels of dry powder. A holding period of four to eight years for most firms means companies have a much wider window in which to focus on improving or innovating their product offerings in response to customer demands, avoiding the quarter-to-quarter slog the public markets seem to promote.
In this way, going private looks a lot like going back to the future. Although it's hardly a return to startup status, going back to the private markets can give a publicly traded tech company the freedom it needs to retool and refocus its core business.