They say hope springs eternal. That certainly captures the spirit of the "reality distortion field" that surrounds Tesla and its CEO, Elon Musk.
He has willed into being a new vision for the automotive industry. Cars powered by electrons, not hydrocarbons. Sold by company stores, not dealerships. And often driven by onboard computers, not ornery and frequently distracted humans. Grand designs have been planned and hyped—a retooling of an old Toyota factory in California, the Gigafactory (set to be the world's largest building by footprint) in Nevada, the Tesla Semi, etc.—and ultimately accomplished, to the chagrin of Tesla skeptics. And the bears shorting Tesla's stock, whom Musk has found time to
troll on Twitter
.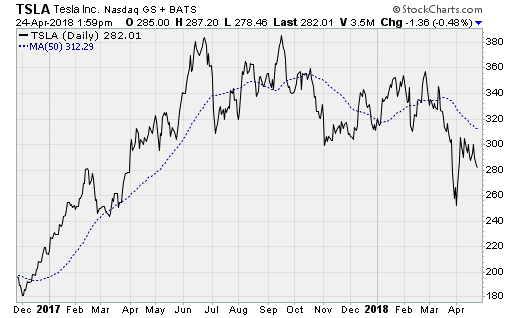 But things have taken a turn for the worse in recent weeks. And I'm not talking just about his ill-advised April Fool's Day prank featuring a fake bankruptcy announcement and a picture of Musk, who tweeted in early April that he's back to sleeping at the factory,
passed out drunk
against a Model 3.
Tesla Goes Bankrupt
Palo Alto, California, April 1, 2018 -- Despite intense efforts to raise money, including a last-ditch mass sale of Easter Eggs, we are sad to report that Tesla has gone completely and totally bankrupt. So bankrupt, you can't believe it.

— Elon Musk (@elonmusk) April 1, 2018
It's hard to overstate just how critical a juncture this is for Tesla's future and Musk's dreams. No wonder its stock price is down more than 26% from the high set back in September.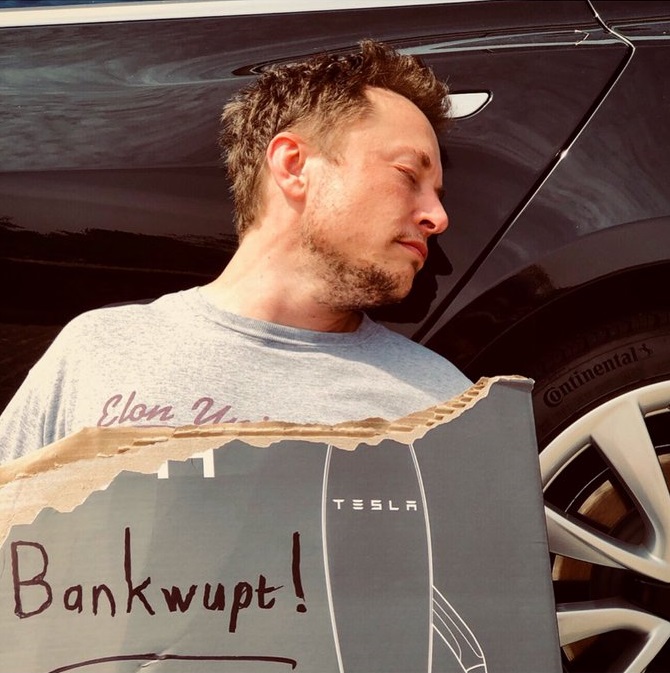 Let me count the woes: Model 3 production stoppages and missed production targets, quality control issues, an admission of an over-reliance on manufacturing automation and a growing realization on Wall Street that the company will need to raise more capital—despite Musk's promise of improving financials.
That's not all.
Workplace safety regulators in California have launched a probe amid allegations that the company is underreporting incidents in its California factory, where form (and Musk's alleged aversion to yellow, used to mark hazards) seems to follow function. The company's accounting practices look questionable, with a deferring of capital expenditure costs amounting to an unfunded liability of $2.1 billion, according to Vertical Group analyst Gordon Johnson, with $1.4 billion due immediately. This is a risk that Johnson doesn't believe is well-known to the company's investors at present.
On top of this, he believes Tesla faces another $2 billion in Gigafactory 1 spending needs, bringing its total capital expenditure needs this year to around $3.4 billion vs. a current cash balance of—you guessed it—$3.4 billion.
Credit analysts at Moody's downgraded the company's unsecured bonds amid concerns over liquidity pressures caused by a large cash burn rate, pending bond maturities, and the shaky aim of doubling Model 3 production to 5,000/week by the end of June and doubling again to 10,000/week by the end of the year. They estimate the company will need to raise more than $2 billion before the end of next year.
Wall Street investment banks are piling on as well, with Barclays publishing an 89-page tome last week wondering if it's "lights out" for Tesla. Barclays ripped the company and the culture of Silicon Valley, which "may be better at PR and building brand," but also noted that premium European automakers and Chinese manufacturers "are quietly creeping up on their Space-aspiring counterpart" in a quip on Musk's other baby, SpaceX.
The first line: "German [carmaker] CEOs don't need to sleep on the factory floor." Burn.
In its own research note from last week, UBS warns of downside risks from gross margin pressure on the Model 3 production ramp, as more hourly workers are hired and the risk of quality problems damaging Tesla's reputation rises. The report also reminds investors of the regulatory action against Tesla's Autopilot system that could result from the ongoing National Transportation Safety Board investigation into a fatal Model X crash. Inclusive of planned Model Y and Roadster rollouts in addition to the Tesla Semi, UBS believes the company will need to spend $25 billion through 2025 and will likely need to raise cash before the end of this year.
As I covered in a post last year
, there is no shortage of interest and capital flowing into the EV space.
But that's also attracting an incredible amount of competitive pressure, from Ford spending $4.5 billion over the next five years to add 13 electric models to the multitude of Chinese EV startups. These include Byton and CHJ Automotive, which in March reportedly raised $474.4 million in a Series B round led by Matrix Partners China and Beijing Shougang Company. German competitors are snapping at its heels, too, with Porsche working on the Mission E and Audi working on the E-tron.
A way out?
Is there a path out of the storm for Musk and Tesla? Perhaps. Kanye West is singing Elon's
praises on social media
. So that's a plus.
UBS believes that, thanks to the mix of initially produced Model 3s (which carry more options and thus come at higher prices), there is a chance the company will have a profitable fourth quarter before profitability normalizes in 2019.
This could provide a window of good news needed for a capital raise—something that Musk tweeted last week wouldn't be needed because of his belief Tesla would be profitable and cashflow positive in the second half of this year. Compare that to a loss of $1 billion and a free cashflow burn of $1.7 billion in the second half of 2017.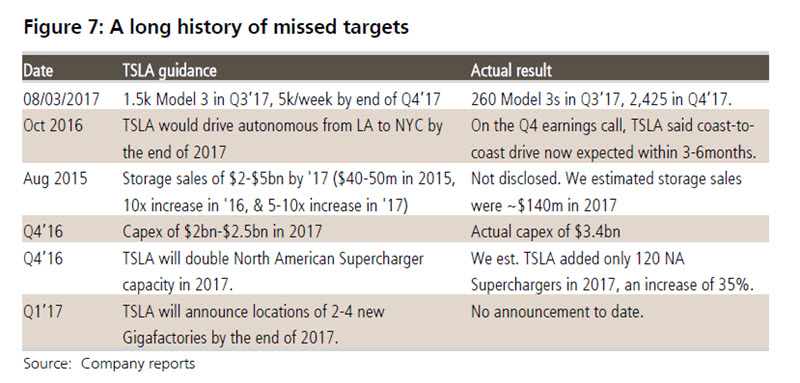 But this could be just the latest in a long history of missed promises from Musk, as shown in the table from UBS above. Eventually, like the villagers in Aesop's fable about the boy crying wolf, investors will stop listening. And the reality distortion field will collapse. Liars, once labeled, are no longer believed. Even when they tell the truth.
That could happen as soon as May 2, when the company next reports results. Analysts are looking for a loss of $3.47 per share on revenues of $3.3 billion.
Related read: VC activity revs up as electric vehicles prepare to go mainstream