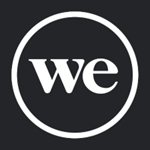 WeWork's latest round, a massive $760 million funding reported earlier this week, has increased the valuation of the co-working space provider by about $4 billion. With VC-backed companies
crossing the $1 billion threshold
at a pace of around one per week, it's easy to take in a jump of that magnitude without batting an eye.
But let's put the $4 billion increase to WeWork's valuation in context with a few points of comparison:
Meal-kit delivery service Blue Apron was valued at $1.89 billion when it went public at the end of June.
Houzz, the provider of a platform for home remodeling and design that's been the subject of recent IPO rumors, reached a $4 billion valuation last month with a $400 million round.
Combine the worth of three hot, fast-growing startups—cybersecurity firm CrowdStrike, fintech company Robinhood and healthcare platform Clover—and it amounts to about $3.5 billion.
Meanwhile, WeWork's fresh funding has pushed its valuation to more than $21 billion and established it as the third most valuable startup based in the US. We've put together a list of the five most valuable VC-backed American companies, created using current PitchBook data.
The top 5 US-based startups by valuation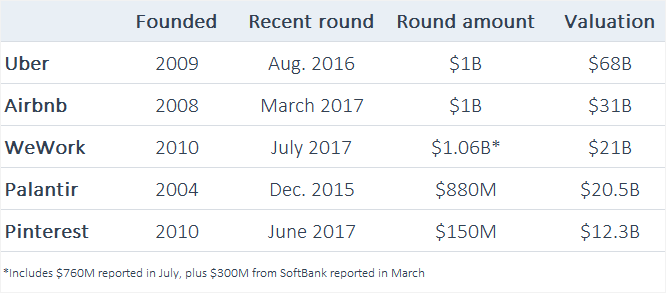 WeWork's $760 million financing, together with the $300 million the New York-based startup raised from SoftBank last month, illustrates its rapid growth. The company's value has increased at a fast clip since it was founded in 2010, from just under $100 million in 2012 to $5 billion in 2014 to more than $10 billion in mid-2015. And now, just two years later, its valuation has doubled yet again.
Related: Why Didi could speed past Uber as the world's most valuable startup