The ABCDs and M&A: Putting 90% of the global grain supply in fewer hands
February 21, 2018
View comments

(2)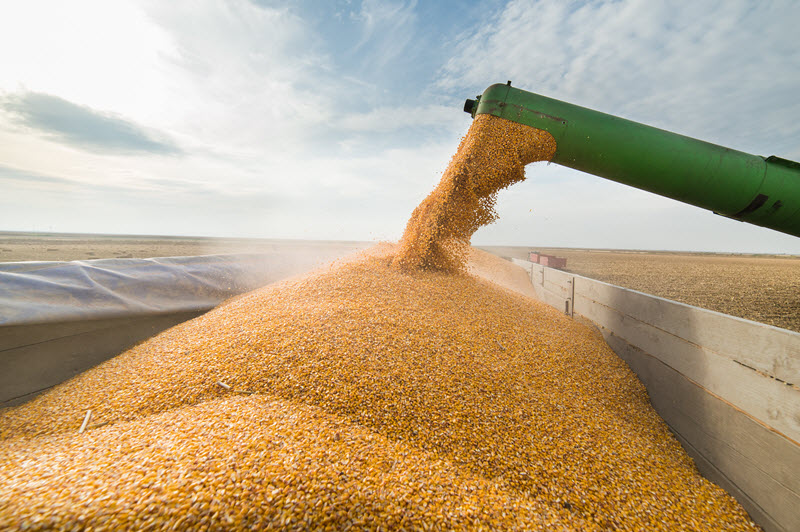 Archer Daniels Midland
may put its grade A credit rating in jeopardy if it pursues a leveraged deal for rival grain merchant
Bunge
, according to analysts. The proposed acquisition of Bunge, which remains in negotiation, could put ADM between a rock and a hard place, as the company might need to dilute its equity to avoid borrowing too heavily in order to get the estimated $16 billion deal done. Like its peers, ADM relies on relatively cheap, reliable credit to pick up the crops like corn and oilseeds that it processes and trades.
But that risk and Bunge's earnings miss last week have done little to dispel speculation that the two could hook up. After all, the pair has already reached the advanced stages of talks on a possible deal that would unite two of the world's four chief commodities traders. That level of consolidation alone merits attention: ADM, Bunge, Cargill and
Louis Dreyfus
—the so-called ABCDs—control by some estimates a staggering
90% of the global grain market
.
So, bringing A and B together would spell a big M&A deal.
ADM's CEO Juan Luciano did little to dispel that possibility during the company's own earnings call on February 6, which followed not long after news about the advanced nature of the talks emerged, remarking that he'd like to "plug holes in our value chain" through dealmaking. It's a strategy that each of the ABCDs has deployed down the years to varying degrees.
Just not with each other. That possibility has come thanks in no small part to Glencore, which put Bunge in play after making an informal bid for the company last spring that was shot down in May.
20 years of consolidation
Fluctuations in commodity prices have forced many traders out of the industry over the past twenty years, leading to a steady wave of consolidation over the past two decades. And the ABCDs have reaped much of the benefit.
Between 2007 and 2017, the group
combined to complete 99 deals
, with nearly half going to industry leader Cargill, per the PitchBook Platform: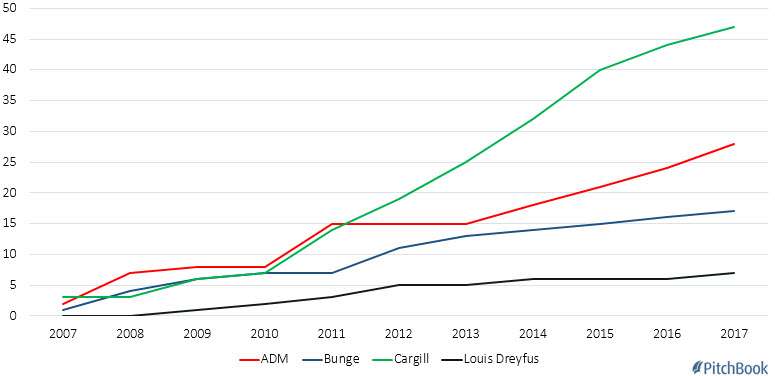 Part of what's significant about the acquisitive activity among the ABCDs in the years immediately following the financial crisis is that M&A activity among the group fell as the demand for raw materials dropped in 2008. That changed when commodity prices started cratering in 2012, at which point many targets called it a day and sold to one of the ABCDs, with Cargill grabbing the lion's share of the deals.
A + B = ?
For ADM, the appeal of Bunge is obvious. Its acquisition would, among other things, help ADM expand in South America, as Bunge maintains the stronger position throughout the continent. But it won't be cheap.
Per a Morningstar analysis based on PitchBook data, the EV/EBITDA multiples on similar deals have hit 10.9x historically, and, given Bunge's predicted EBITDA of $1.53 billion for 2018, that could peg ADM's potential bid at $84 per share. Meanwhile, Morningstar analysts have put Bunge's fair value estimate at $70 per share on the back of its most recent earnings report.
Whether or not ADM ponies up at that price or based on another multiple, the deal would also face serious regulatory scrutiny worldwide. Simply put, even-greater consolidation among the companies that control much of the world's food supply would earn some sustained attention from competition authorities.
In the case of an A-B combination, that's especially so in the Western hemisphere. ADM plays a major role in North America, especially in the US, while Bunge's strong presence in South America is concentrated in Brazil.
Bunge's revenue figures started trailing those of its rivals in 2013, and it has yet to catch up. Its gross profit in agribusiness, which includes its oilseed and grain merchandising operations, sunk some 50% YoY to $236 million in 2017. Nevertheless, its market cap has steadily increased over the past five years to a current level of roughly $11 billion on the back of more than a 5% gain in value over that time.
For 1818-founded Bunge, joining forces with ADM would help it keep up with the narrowing competition for another two centuries.
Not a subscriber to our daily M&A newsletter? Sign up today.

​PitchBook is a Morningstar company.