The changing face of venture capital
October 20, 2016
Venture capital as an industry has seen a rush of innovation in the last decade, at least in comparison to the relatively stagnant model that had been used by the majority of firms since the early 1970s.
Services like AngelList and FundersClub make it easier for startups to find investors, and vice versa. Firms like 500 Startups and Techstars have taken the lead on expanding VC and accelerator models throughout the world. Andreessen Horowitz and Social Capital have built platform-centric firms that service portfolio companies in a variety of ways beyond just providing funding, such as assistance with marketing, recruiting and sales.
A shift that has been happening more recently is a diversification of who is being picked for early positions at venture firms. Classically those jobs have been earmarked for white males who are HBS or GSB grads and have spent time at a top firm in either investment banking or management consulting—a "safe" pool to be choosing from. Lately, we've seen some firms venture outside of that model and bring on people of different ages, genders and backgrounds.
One of the first firms to take a chance on a non-investment banking/management consulting pedigree was Aslop Louie Partners when they hired on Ernestine Fu and Alex Banayan—both then in their early years of college—in 2011 and 2012, respectively. At the time, many questioned the hires, because how much value could "kids" of that age possibly bring to a venture firm?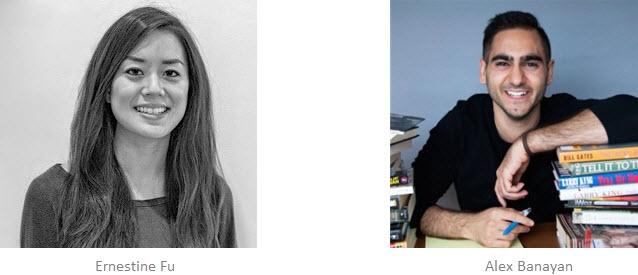 Well, it would seem, a good amount. Banayan worked at Aslop for a handful of years before taking a step back from full-time duties to work on an upcoming book, while Fu has moved up the ranks and now serves as a venture partner leading the firm's investment thesis in 3D printing, among other emerging technologies. She's even rumored to be setting up her own AI-focused VC, which is in the midst of raising a $50 million debut fund.
Other examples of people breaking the mold include Shahed Khan, a tech startup founder brought on at UpFront Ventures as an analyst before being of legal drinking age, and Kyle Russell, who worked as a TechCrunch writer before leaving in June 2015 to join a16z as a deal partner focused on VR/AR, drones, robotics and machine learning.
—
In one of the most recent examples, Binary Capital, a San Francisco-based early-stage consumer tech VC, hired then-18-year-old Tiffany Zhong as an analyst and associate last October. In many ways, Zhong exemplifies the shifting sands in VC; in an industry that has been dominated by white males with MBAs, Zhong stands out as a young, Asian woman who had yet to even start her undergrad program.
Zhong recently moved on from Binary Capital after a year with the firm and has enrolled at the University of California-Berkeley. We caught up with her to ask a few questions about her time at Binary and the future of the industry, as well as what she has planned next.
You had a good amount of experience in the startup scene before joining Binary. Were there any preconceptions you had about VC that were either confirmed or refuted during your time there?
"Before I joined Binary, I really didn't know much about venture capital, which is why I reached out to a bunch of venture capitalists to learn more about what their job entails. Luckily, this ultimately resulted in a meeting with the Binary partners, which then led to my internship and then a full-time job. So going in, I didn't know much about VC but I had an open mind and was just determined to absorb as much as I could from both the partners and the hundreds of founders I met. I knew VCs typically have a broad knowledge of many different sectors, so it was fun spending time learning about all sorts of things. It was really inspiring meeting all these founders working hard on building the future."
Do you think that venture capital will see more young people looking to enter the industry moving forward?
"I have so many friends either interested in getting a job in VC or even starting their own firm. It's pretty awesome but I'm not sure everyone's fit to be a VC, to be frank. And being in a college environment, I can see that there's a big shift in interest recently from investment banking to venture capital. VC's the new cool thing to do, apparently."
Venture capital is known as one of the least diverse industries out there, mostly being dominated by older white males. How was your experience being a younger woman in VC? Are there other female VCs that you looked to for guidance/mentorship?
"I don't have a baseline to compare to since this was my first full-time job, but my experience working in venture was awesome. The people I surrounded myself with were extremely supportive and helpful. As for female VCs, Sarah Guo is one of the best out there—incredibly smart and caring. Two other female VCs who are super awesome are Sarah Tavel and Angela Tran Kingyens."
What's next for you? Do you envision yourself working in VC again?
"I want to start my own company :) But farther down the line, I'd like to do something on the investor side again. I'm also open to a handful of advisory roles and consulting gigs right now. Shoot me a message on Twitter (@tzhongg) or LinkedIn, or even better, get a warm intro :)"
(Correction: This article has been updated to correctly spell "FundersClub")