L1 Retail has agreed to buy Holland & Barrett for almost £1.8 billion from The Carlyle Group. The acquired business, which sells a variety of health food products, operates more than 1,150 stores across 16 countries and has a workforce exceeding 4,200. Carlyle acquired the company's parent, Nature's Bounty, for $3.8 billion in 2010.
The move comes in the same month that cosmetics giant L'Oreal
entered exclusive talks
to sell The Body Shop to Brazilian makeup company Natura, in a deal that could be valued at up to €1 billion.
Throughout Britain, retailers have long been
fighting market encroachment
from online retailers and shopping platforms. In April, for example, PE backed UK fashion chain Jaeger entered administration, while shoe seller Brantano met a similar fate in March. And while UK retail PE deals have risen sharply over past three years, 2017 has gotten off to
a particularly slow start
, per the PitchBook Platform.
Completed PE deals in the UK retail sector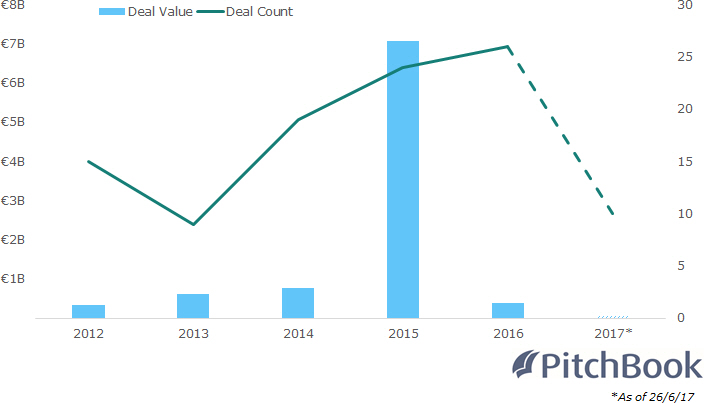 Much of last year's headline activity in PE was for online-based companies, with growth investments for sunglasses seller The Hut Group and ferry ticket retailer Direct Ferries topping the list in terms of size. However, as traditional companies begin to struggle there may also be clear reason for opportunistic purchases, such as this year's £11 million pre-pack administration deal by Endless for Jones Bootmaker.
M&A in the subsector paints a similar picture with a robust level of deal counts throughout 2015 and 2016,
but a sharp decline
during the first six months of this year.
Completed M&A activity in the UK retail sector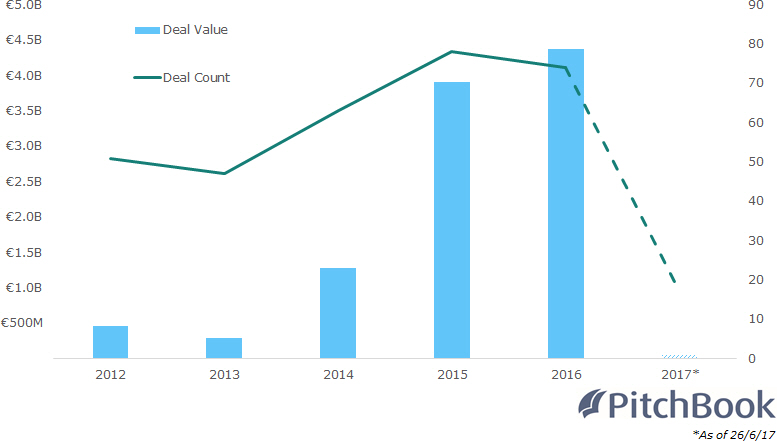 The UK retail sector is facing a perfect storm. Both investors and consumers are having to deal with a decline in sterling, rising inflation, labour costs and taxes, at the same time as consumers, weary of the economic outlook as the UK begins Brexit negotiations, start tightening their belts. Some PE investors it would appear, have taken note and are seeking the exit.