The Geography of U.S. PE Investments
By Garrett Black
August 7, 2014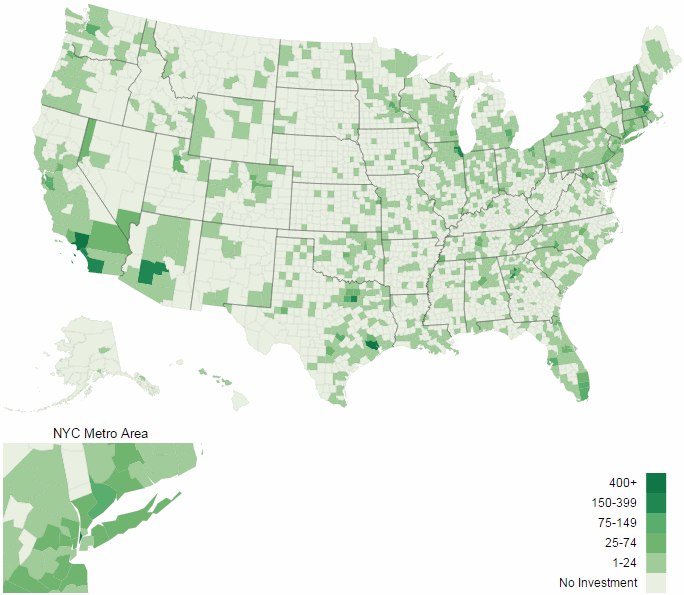 Click here to explore on our data visualization page.
Feel free to browse our interactive graphic containing U.S. PE deal counts by county for a while. It's far more mottled than the landscape of venture funding that PitchBook unrolled a while back, illustrating the country's diversity and depth of PE investment. Hotspots dominated by a metropolis, like Houston-housing Harris County in Texas, take the top spots as expected, but the sheer saturation of the Northeast and Great Lakes regions still surprises. And these deal counts are only the totals from January 1, 2010, through June 30, 2014. A few highlights:
3,140 counties or county equivalents in the U.S.
10 counties, or 0.31% of the total, have racked up 150 or more PE investments.
1102 counties (35.1%) host a company that received a PE investment since January 1, 2010.
10 counties (0.31%) have racked up 150 or more PE investments since Jan. 1, 2010. (tweet this)
That percentage is 2.5x greater than VC's, speaking to PE's maturity as an industry, as well as its wide-ranging industry focus. Of course, as that third highlight shows, major metropolitan areas draw in the vast majority of deals, but the breadth of PE investment is still considerable. Coincidentally, the U.S. BLS recently released a map of major industries with highest employment by state from 1990 to 2013; its graphic helps illustrate the geography of PE investment immensely. Press play on the BLS graphic, pull up our map alongside it and trace the proliferation of PE deals in manufacturing around the Great Lakes, or the widespread scattering of investments in healthcare across the entire U.S.
Looking ahead, it's reasonable to expect the number of shaded counties may increase somewhat, as epicenters of various industries shift across the country. Natural gas plays in the Dakotas may attract more energy investments. Texas may grow even darker as it amasses industrial jobs, while other states like Tennessee may hope to grow as green as Pennsylvania. Tech-friendly regions like Seattle, Austin and Raleigh will most likely keep drawing tech-focused PE investors as companies leave traditional industry clusters like the Bay area. And given the East Coast homes of the biggest PE firms, the whole Atlantic seaboard should thrive. But those are just a few areas. Investigate the map and see where you think PE activity will continue.
All of this data comes directly from the PitchBook Platform, which includes details on nearly 40,000 U.S. private equity deals, as well as tens of thousands of other global private market deals. If you are interested in seeing the underlying companies, request a demo of the PitchBook Platform. Datagraphic by Andy White.