The PE exit crunch
October 13, 2017
Relative to debt contributions, global equity now makes up 57% of enterprise value year-to-date, a significant percentage that will likely water down future fund returns. A second trend, highlighted in our
3Q 2017 US PE Breakdown Report
, also bears mentioning as it relates to returns: a re-aging inventory. Consider, for example, that 38% of US PE-backed platform companies were acquired at least five years ago.
PE returns are in a never-ending race against time, and while the textbook buyout cycle allows for straggling investments to be held for five-plus years, the typical five-year-plus inventory isn't usually
this
high. The last time it approached current levels was back in 2013, right before a massive surge in exits (especially secondary buyouts) over the next three years. But another seller's market doesn't appear to be around the corner in 2017.
So what happens this time?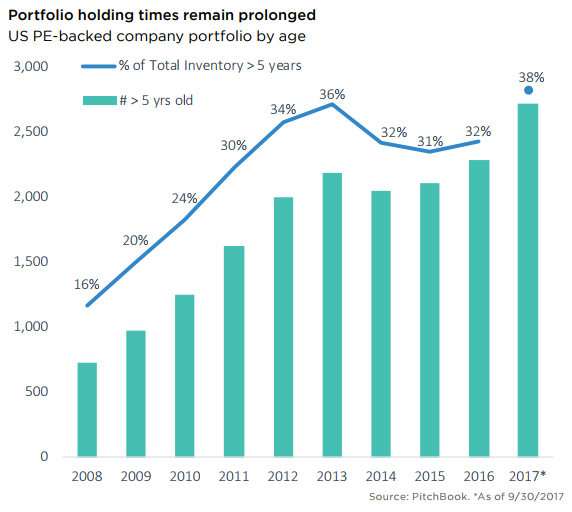 Stalled as it is, the M&A market likely won't play the white knight role; the IPO market is another topic entirely. The more likely near-term scenario is another upswing in secondary buyouts, especially with PE firms flush with new funds and limited deal flow.
A rise in SBOs wouldn't change PE's inventory much, but it would allow aging investments to pass hands and put new capital to work—a solution, albeit less than ideal. Secondary buyouts often short-change the LPs invested in the funds, which can result in LPs effectively selling portfolio companies to themselves if they're invested in both the buyer and seller. They also have additional fees and, on average, much lower returns compared to primary/initial buyouts (about 15% lower,
according to one Harvard study
). SBOs are already well above historical pace this year, accounting for 43% of US exits versus 29% last year. It's looking more and more like a perfect storm for SBOs, which won't thrill investors. However, that percentage has to come down somehow.
Note: This column originally appeared in The Lead Left.

Check out the 3Q 2017 US PE Breakdown Report.
Join the more than 1.5 million industry professionals who get our daily newsletter!