More than $84 billion was invested in the US VC industry during 2017, the highest amount since the dot-com era. That amount represents 16% growth over 2016's total—and more than double the amount invested in the years following the market crash of 2008-2009. The median and average deal sizes grew to a decade high at every stage, with the average late-stage financing surpassing $30 million.
It's safe to say that the venture industry is moving along well, but is it at a peak? Or is there more growth to come? The
4Q 2017 PitchBook-NVCA Venture Monitor
, created in partnership with Silicon Valley Bank, Perkins Coie and Solium, breaks down the data for an in-depth analysis of the industry. The full report is available to download for free, but for a quick look at some of the trends, we've compiled a collection of key charts:
$84B+ invested for the first time since the dot-com era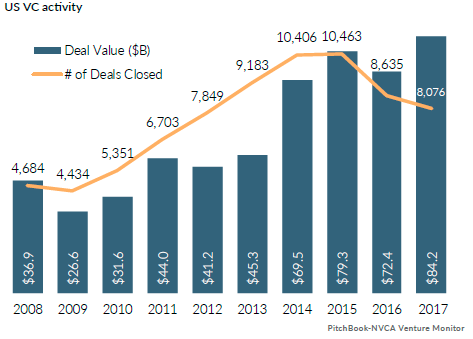 2017 marks a record year in deal value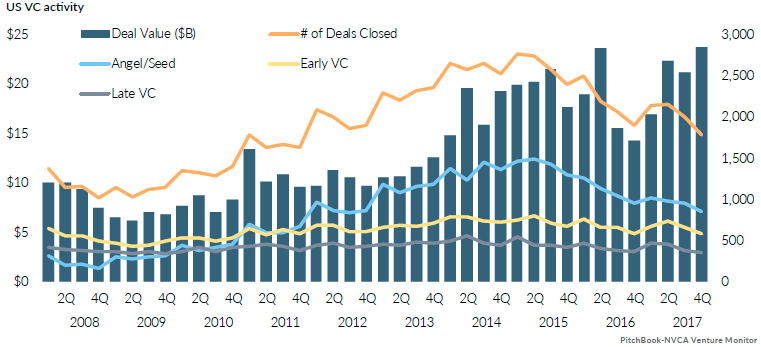 Decline in angel & seed activity has slowed over the past year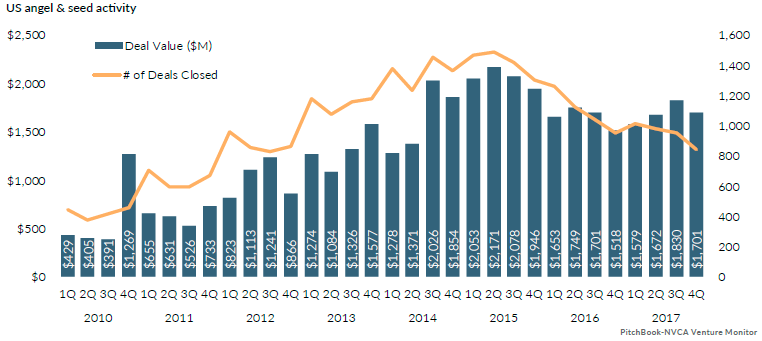 Early-stage VC has shown relatively consistent growth in deal value
By stage, VC investment activity stayed relatively steady year over year. The early stage, however, did account for more than $10 billion in VC investment in 4Q for the first time, exhibiting a QoQ growth of nearly 40% due to several mega-deals.
Late-stage deal value has stayed at historic highs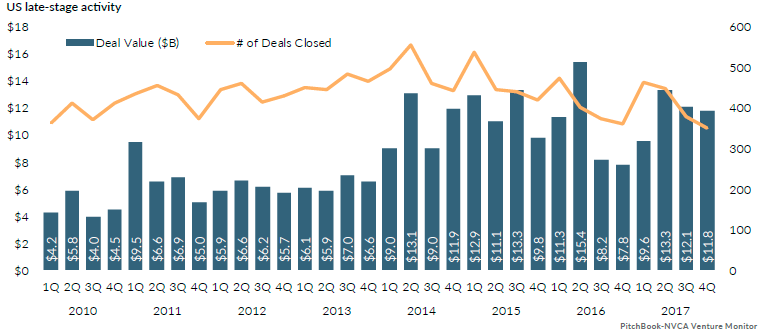 Near-record unicorn activity, with almost 50% of value from deals of $50M+
After seeing activity drop off mightily in 2016, investment in unicorns rebounded last year to nearly equal the number of completed deals in 2015, while also reaching the highest deal value ever. Though unicorns accounted for less than 1% of transactions in 2017, such financings represented more than 22% of the industry's deal value, at roughly $19 billion.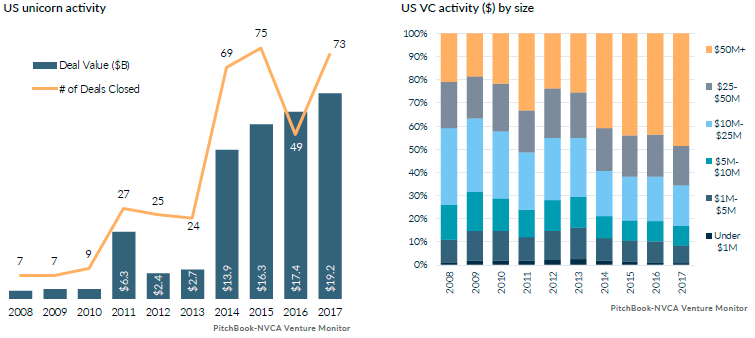 Corporate VC activity ticks up, CVC takes part in a higher percentage of deals
Corporate VC and growth equity have also surged recently. CVC participation resulted in the highest value ever attributed to such deals, while growth equity deal value surpassed $35 billion for the fourth straight year.
​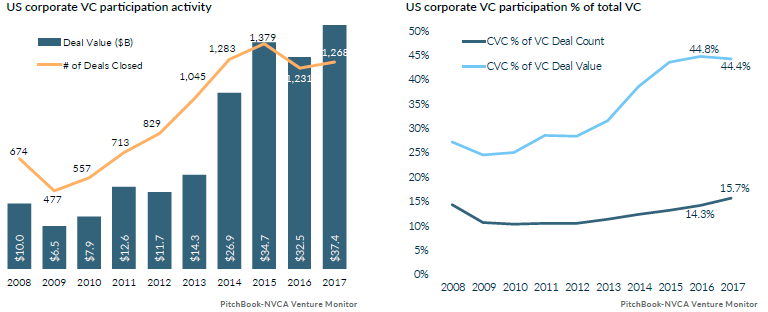 Growth equity continues its strong run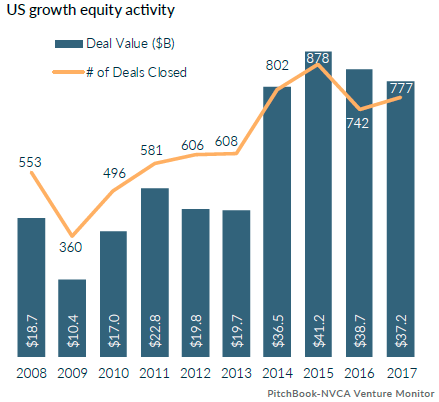 Exits continue to slide, leaving industry in crunch
VC-backed exits slumped in 2017. Exit count fell 10% YoY, marking a decline of almost 28% since the decade high of 1,065 exits in 2014. Exit value stayed historically strong, however, as several outsized exits occurred throughout the year.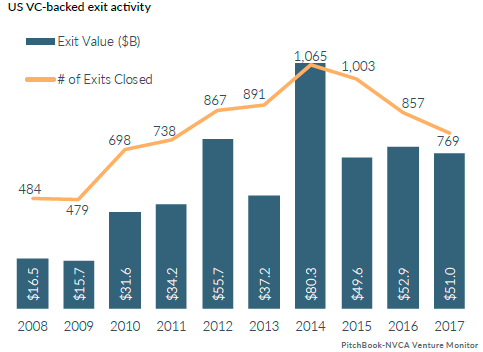 Despite slowing deal flow, exits fall further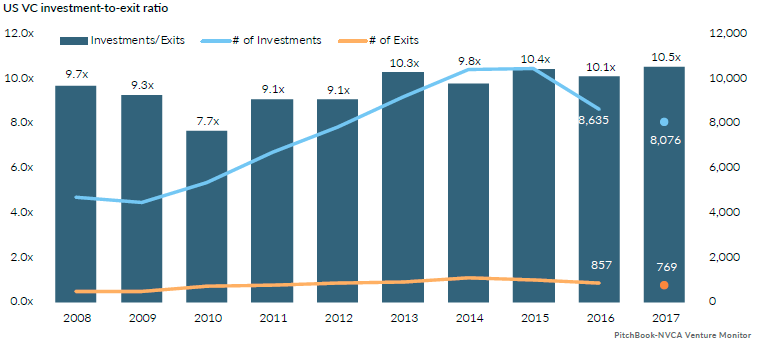 $143B raised since 2014
Nearly all of the trends within the industry trace back to fundraising. Over the past four years, more than $143 billion has been raised by US-based venture firms, supplying the industry with plenty of capital. US dry powder sat at nearly $100 billion at the end of 1Q 2017. While the pace of fundraising slowed over the back half of 2017, more than $30 billion was raised for the fourth consecutive year—and that total doesn't count SoftBank's Vision Fund, which has caused waves through the industry with some of its mega-deals.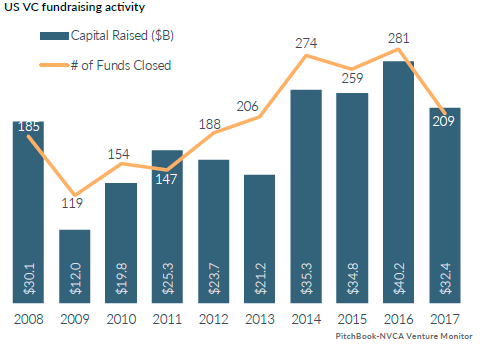 Firms raising next funds faster, follow-on funds grow significantly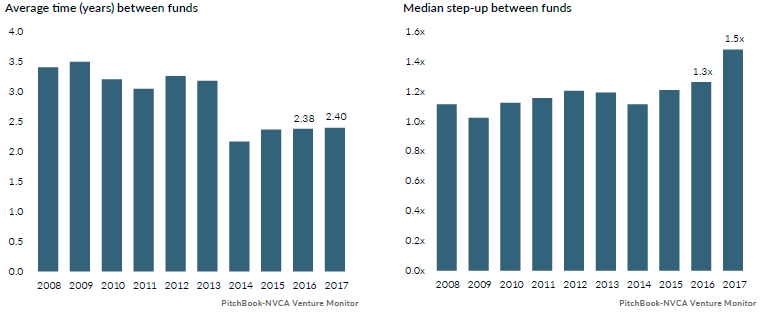 For more detailed analysis of the US venture industry, check out the 4Q 2017 PitchBook-NVCA Venture Monitor.