Zug is a small Swiss town about an hour outside of Zurich with a population of around 30,000. Yet it is home to some of the world's largest companies, such as commodity trading powerhouse
Glencore
,
Johnson & Johnson
and subsidiaries of pharma giants
Roche
and
Novartis
.
It is also home to "Crypto Valley"—a cluster of tech companies and foundations and related associations that are aiming to become the world's leading blockchain and cryptographic ecosystem.
In doing so, it is going head-to-head with places such as Malta, Gibraltar, Singapore and Ireland, the last of which is trying to gain traction with the "Crypto Coast" branding.
However, Switzerland appears to be embracing all things crypto like few other countries. So, why is the government creating such a favourable framework, and why are seasoned bankers leaving their respective employers to either join or create thriving blockchain and crypto hubs?
The answer could be more than 80 years old.
A banking history
The Swiss have decades of heritage and a well-established reputation as discreet bankers and money managers to the very wealthy. Generations of Zurich and Geneva-based financiers have been able to operate under strict banking and tax regulations, which made it a criminal act for a Swiss bank to reveal the name of an account-holder—all due to a banking law that dates back to 1934.
This environment fuelled years of multibillions of asset inflows, as high-net worth individuals sought to circumvent the tax authorities in their home countries and discreetly shield their nest eggs.
The end of secrecy laws
But in 2008, things changed.
UBS, one of the world's largest lenders, got caught out by the financial crisis and needed to be bailed out by the government after a $44 billion write-down related to toxic assets—an eye-watering sum considering the country is only home to a population of around 8.5 million.
But things went from bad to worse when the US decided to crack down on the practices of some of the country's most famous private banking institutions, following revelations that some of them assisted American citizens in avoiding taxes at home.
The result was the de facto end of the Swiss bank secrecy, after the government caved and handed over the details of American citizens who held accounts with some of the country's most renowned institutions.
Embracing crypto
In front of this backdrop, it may seem less curious that the nation—and its financial services sector in particular—appears willing to place a sizable bet on creating an environment in which blockchain- and cryptocurrency-related startups can thrive.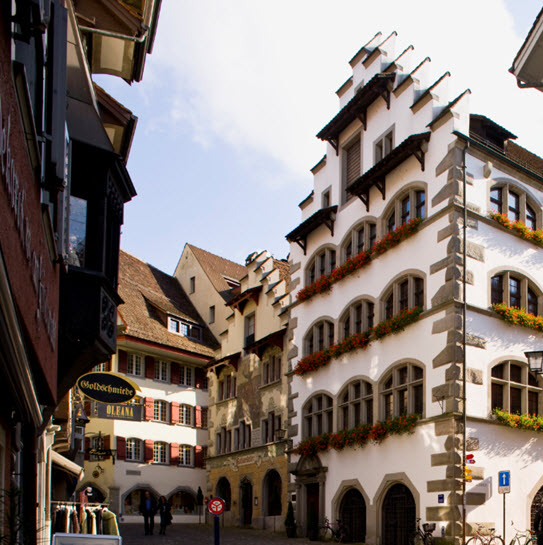 While the likes of bitcoin and ripple have been making headlines due to their spectacular rise (
and fall
) in value, it is the lack of transparency which they enable when making financial transactions and the overall growth potential for the financial services sector that are noteworthy in this context.
Other countries are trying hard to gain traction as cryptocurrency hubs. However, what may end up working in Switzerland's favour is its world-class educational system, which is already beginning to educate blockchain engineers and incubate startups. Add to that, the low corporate tax rate—Zug (pictured) charges just around 12% corporate income tax—as well as a blockchain-friendly regulatory framework and it becomes clear what makes the country appealing to both developers and investors.
The Swiss blockchain startup ecosystem has more than 430 startups with labs, incubators and accelerators, according to the Crypto Valley Association.
But while all of this can, to an extent, illustrate what is currently happening, it does not address why.
Things are changing
It may well be the realisation by politicians and banking chieftains that, looking into the future, it is becoming apparent that a traditional bank may no longer necessarily be needed to carry out many of the tasks some of the private banks and wealth managers have been performing.
This description is perhaps simplifying things a little, but at its core, "Swiss Banking" is about wealth preservation. As such, one of the major appeals has always been the safekeeping of clients' assets and ideally avoiding too much transparency and public limelight. Blockchain and cryptocurrencies enable these custody solutions.
The large banks may not yet be openly embracing the space, but it is noteworthy that SIX, the Swiss main stock market, announced plans to establish a market for cryptocurrencies, particularly for all the tokens that are considered as securities—SIX is majority owned by the country's banks.
Switzerland's international worldview, its highly educated workforce, and a long heritage in (private) banking and wealth management appear to have created a unique space in which these combined factors form an environment from which a thriving crypto ecosystem is beginning to emerge.
Add to this, a government and regulatory framework that is attracting talent and capital, and you may come to the same conclusion as Ueli Maurer, the Swiss Federal Councillor, who at this year's G20 finance ministers' meeting underlined the country's position and ambition on cryptocurrencies, saying that digital assets offer "a great potential for financial services."
Interested in blockchain and crypto? Check out our crypto quarterly analyst note.
Join the more than 1.5 million industry professionals who get our daily newsletter!