The top universities producing VC-backed entrepreneurs
September 25, 2015
For the latest university rankings, go here
Our much-anticipated Universities Report is here. For this third edition of our rankings of top universities producing VC-backed entrepreneurs, we've updated our previous rankings of undergraduate and MBA programs worldwide to track numbers from the start of 2010 through the end of July 2015, drawing from our expanded VC database of 25,000+ valuations, 970,000+ people and 78,000+ VC-backed companies. We also ranked the top undergrad and MBA programs producing founders of unicorns.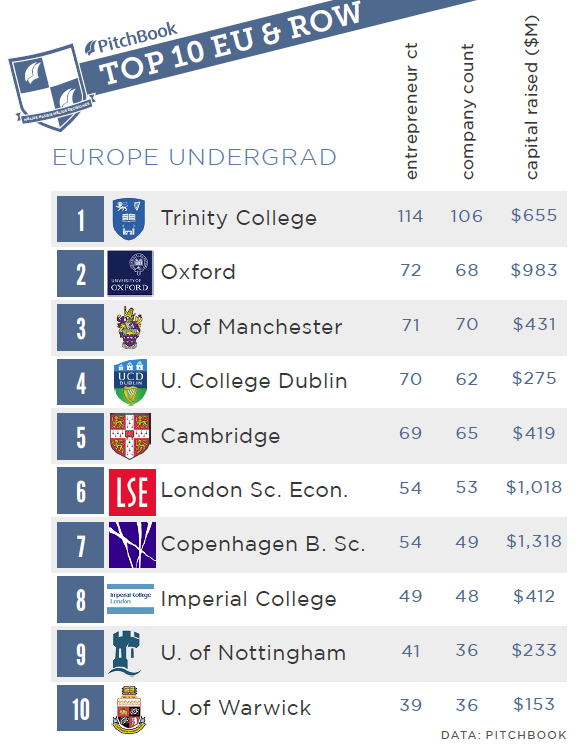 Here's a sample ranking from our regional breakdowns. This table ranks the top 10 universities in Europe by entrepreneur count, as well as the number of companies founded by those entrepreneurs and the total of venture capital raised. Since our last Universities ranking, this table has seen a fair amount of change, with Trinity College grabbing top honors. In fact, that coupled with University College Dublin's total speaks quite well to Ireland's entrepreneurial climate. It should be noted that the report doesn't just contain tables. There's extra venture-related content in there as well, including highlights of our previous unicorn coverage, an exclusive Q&A with University of Washington professor Ben Hallen—who shares his insights and academic research on venture capitalist-entrepreneur networks—and more. Access the full report free: click here.
Join the more than 1.5 million industry professionals who get our daily newsletter!