The US middle market continues to outpace the country's broader private equity industry. Deal volume in the $100 million to $1 billion range last year was about even with 2016, and overall value was up 9%, according to
PitchBook's 2017 Annual US PE Middle Market Report
. The broader PE market, meanwhile, took a slight dive last year, declining by 9% in volume and 12% in value compared to 2016 totals.
Both trends make sense, in that PE players have expected deal volume to decline a bit in today's overpriced environment, at least anecdotally. The middle market, meanwhile, remains a hot destination. Investors who insist there are opportunities in the middle market seem to mean it—and the numbers buttress the anecdotes.
US middle-market PE activity by year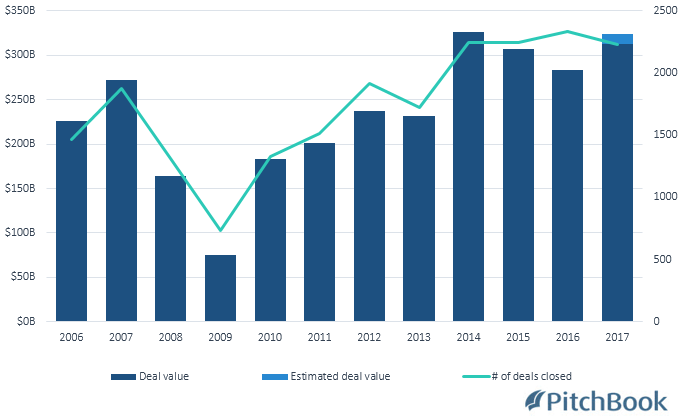 But lower valuations aren't the only reason for PE's massive shift. The middle market is growing on two fronts: The number of companies of that size continues to increase, as does the number of investors targeting the middle market. An estimate from late 2017 hinted that 350,000 companies reside in the $5 million to $100 million revenue range, and another 25,000 companies bring in revenues between $100 million to $500 million. That comes out to a little less than 400,000 targets available. Middle-market deal volume has ranged in the low 2,000s annually since 2014—as a raw percentage, that's a market penetration of barely half a percent.
Realistically, niche investors can expect far fewer targets in specialized sectors, but the number of potential deals is still far higher at the lower end of any market. The typical niche sector probably has around 10 to 20 targets to consider in the $1 billion-plus range. The same space may have several hundred more in the sub-$1 billion category. Almost by definition, those smaller companies tend to offer more opportunity for operational enhancements versus the billion-dollar targets, as investors are well aware.
Greeting the growing number of companies is a growing number of middle-market investors. It's not an accident that the number of new sub-$1 billion funds has grown over the last five years, and much of that growth is due to issues of succession and turnover. Many first-time, middle-market managers cut their teeth at bigger buyout shops, and when first-timers decide to strike out on their own, they tend to target their own sector specialties at the lower end of the market. That's a much more compelling strategy to present to LPs, who sometimes conflate fund size with superior experience. The middle market is the beneficiary, gaining experienced investors willing to roll up their sleeves away from the spotlight.
This column originally appeared in The Lead Left.