Top 5 PitchBook blog articles of 2014
By Allen Wagner
December 23, 2014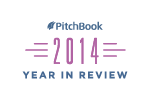 Since launching in August 2013, the PitchBook Blog has published 250 articles, investigating trends in venture capital and private equity, and pushing the boundaries of data-driven analysis with fresh, interactive content. Today, we are taking a look back at some of the year's most popular articles in the first of our "2014: Year in Review" series.
Be on the lookout for more 2014 in Review articles over the next few days.
1. The Top 50 Universities Producing VC-Backed Entrepreneurs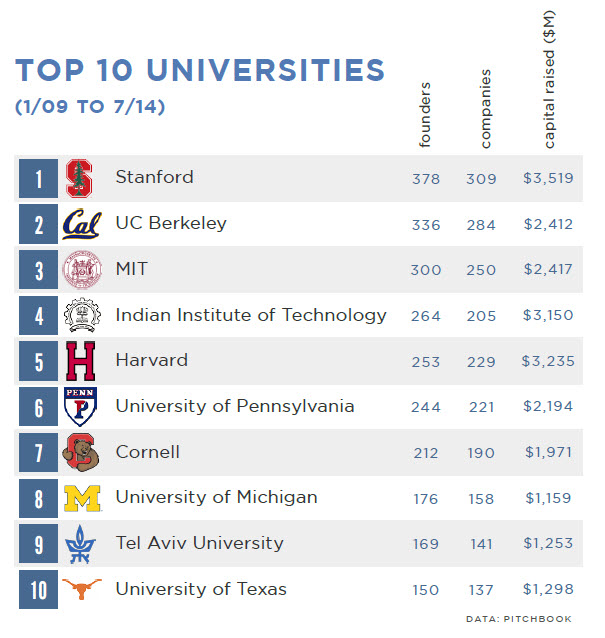 Published: Aug. 26, 2014
Included in PitchBook's August/September 2014 Venture Capital Monthly, our second-annual ranking of universities based on the number of VC-backed entrepreneurs they produce, among other categories, was a major hit. Our data analysts compiled all manner of rankings and categories using the PitchBook Platform's vast people data, which includes educational backgrounds for more than 13,000 founders worldwide. The list also expands on our 2013 rankings in several ways. To find out how, read the article here or go directly to the VC Monthly to download the report.
2. Has the Canary Sung or Are the Pros Crying Wolf Over Burn Rates?
Published: Sept. 26, 2014
We took comments made by Bill Gurley in an interview with the WSJ, where he claimed burn rates of current venture-backed companies have moved back to tech-bubble-era heights, and checked to see if they were backed up by the data. It turns out that Gurley, and others who've echoed his sentiment—including Fred Wilson and Marc Andreessen—are largely right; burn rates for companies at the Series B and later stages have been at their highest levels since the tech bubble. While we don't see much in the way of high burn rates at the Series A or seed stages, it's always nice when the data backs up what the experts are saying. Check out the whole article, with graphs, here.
3. Buy and Build & Growth Deals, New PE Models for a Post-crisis World
Published: Feb. 25, 2014 and April 22, 2014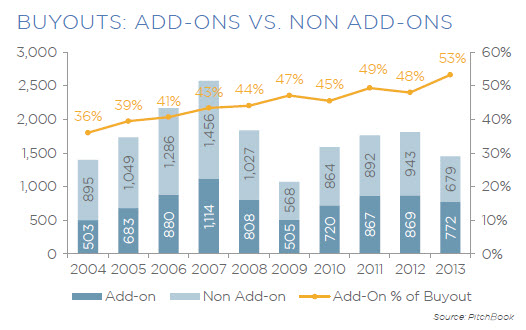 If there is one trend we've noticed in private equity in 2014, it would have to be the greater diversification of PE strategy in recent years. PitchBook highlighted two different models for private equity in the post-crisis era of value creation and risk-aversion: buy and build, and increased reliance on growth rounds. Both have their merits and many firms have employed both strategies, largely at the expense of traditional LBOs. To learn more about why add-ons have been increasingly important to PE firms, click here. To read about the rise of growth deals, click here.
4. Potential Winners and Losers of CalPERS' PE Reallocation Plan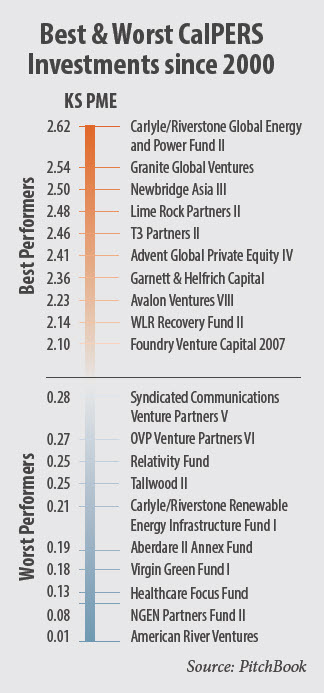 Published: Jan. 2, 2014
Published on the second day of 2014, this article took a look at how the decision by CalPERS to reduce the number of its private equity manager relationships by about two-thirds would affect different general partners. CalPERS would make even more news throughout the year, announcing its decision to cut hedge funds from its portfolio entirely, and more recently, its intent to sell off some of its PE holdings on the secondaries market. With that in mind, we thought it would be interesting to review some of the potential winners and losers of CalPERS' PE reallocation planand keep them in mind for the year to come, as the nation's largest pension fund continues to tinker with its portfolio.
5. How the 20 Biggest Names in VC Invest at Series A and B
Published: April 29, 2014
We return to the venture world for our final top blog article of 2014, which displayed in datagraphic form how the 20 biggest VC firms invest in Series A and B rounds. Whether we're in a bubble or not, most agree that it's a hard environment to raise early stage funding right now—especially worrying for startups since many experts believe that raising an impressive Series B is one of the most important indicators of a company's future success. We decided to share some stats related to both Series A and B valuations in 2013, with a focus on understanding how some of the most recognizable firms in the industry are allocating their capital. View the article and datagraphic here.
All the data featured in these articles was sourced from the PitchBook Platform. Interested in learning more? Contact us here.