Top Universities Producing VC-backed Entrepreneurs
October 23, 2013
With college football season in full swing, it's easy to get caught up rating your alma mater by tallying up the win and loss columns. Between BCS rankings and March Madness, we seem to be constantly ranking our universities on achievements in athletics. Maybe we should also rank our favorite institutions of higher learning based on how they contribute to the nation's economic growth. After all, the core aim of universities across the country is to increase the intellectual capital of society.
In order to get an idea of how universities have contributed to economic growth, PitchBook pulled data that ranks schools worldwide based on the number of alumni who founded U.S.-based companies that received a first round of venture capital funding from 2010 to the end of the third quarter of 2013. The idea is that universities produce outstanding students, who go on to start companies with innovative products or ideas, some of which will be innovative enough to attract the attention of venture capital investors and theoretically generate jobs as the company grows.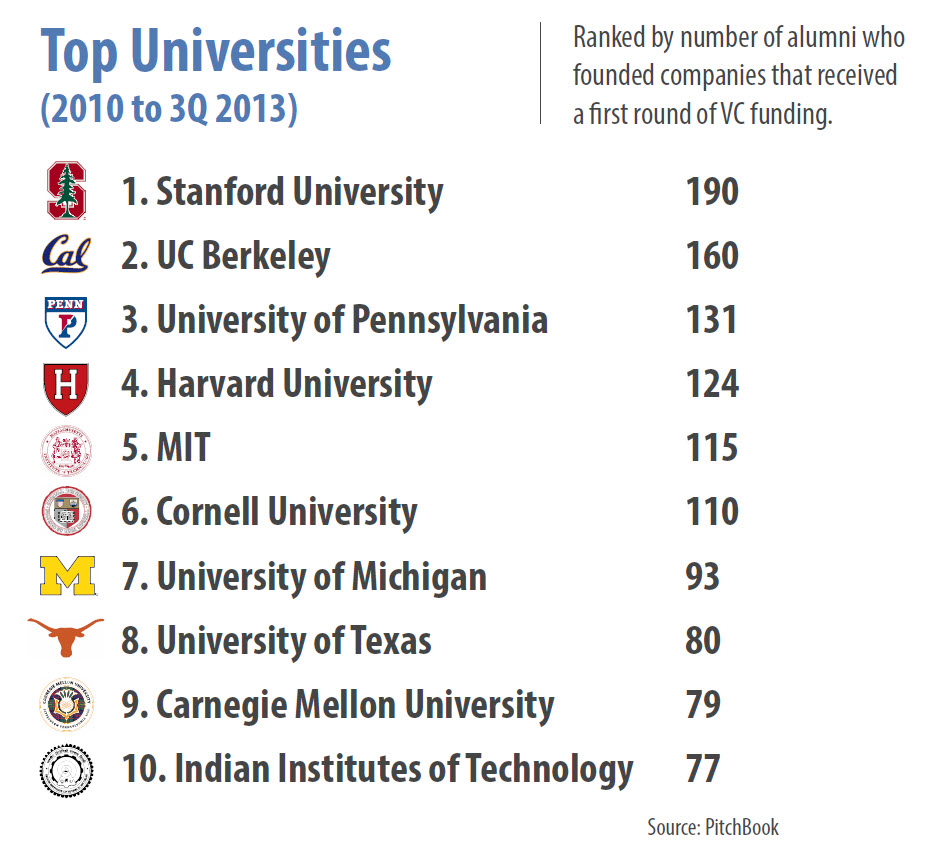 The top 10 contains many of the usual suspects. It is no surprise that Stanford University and the University of California, Berkeley, top the list, given that they are both located in the heart of the Bay Area venture capital ecosystem. MIT, Harvard, the University of Pennsylvania and Cornell are also not shocking names to see in the crowd, being some of the most prestigious institutions in the world.
Perhaps the most interesting, and rather unexpected, entry on the list comes in at No. 10—the Indian Institutes of Technology. India's entry in the top 10 was definitely a surprise, but with that country's boom in the IT industry over the last couple of decades, it stands to reason that Indian schools are producing innovative thinkers to fuel that country's—and the world's—rapidly growing and increasingly technology-reliant economy. Furthermore, many highly successful U.S. companies have been founded by immigrants, as a Huffington Post article from earlier this year points out, proving the value of immigrants to the United States' economy.
As with most rankings, the order is not exactly consistent from year to year, though the top five are usually fairly predictable (a bit reminiscent of Alabama and Oregon at the top of the BCS standings in recent years).
If we're comparing PitchBook's rankings (see below for the year-to-year rankings) to actual athletic conferences, then freshly funded companies then over the past four years have been most often headed by Pac-12 graduates, particularly from the two flagship Bay Area universities. The Ivy League also makes a strong showing thanks to Harvard, Cornell and Penn. Michigan and Illinois also make a case for the Big Ten, with at least one of them cracking the top 10 in each of the last four years, and, in Michigan's case, actually taking the No. 3 spot in 2012. Not to be left out, the University of Texas has also made the list two of the last four years, illustrating a recent surge in the startup community in the Austin, Texas, area.
But if there's one clear dominant force in the VC-backed company world, it has to be Stanford. The West Coast's most prestigious university not only takes the overall prize, but has also won two out of three "championships" since 2010, and is poised to potentially take a third, depending on how the rest of 2013 shakes out. And let's not forget, the Cardinal are pretty good on the football field this year as well (though, as someone who attended the University of Washington, I wish they weren't).
There is, of course, value in collegiate athletics. It's undeniable that college sports are a boon to any local economy, and generate hundreds of millions of dollars for their institutions (I will leave the debate about player compensation to others), not to mention they offer a huge amount of entertainment value. But once in a while, it is nice to give credit to those universities that are actively producing economic value in more traditional ways, such as producing graduates with the tools necessary to create jobs, engineer novel solutions to society's most pressing problems and, of course, develop something to keep my hands from freezing while typing (it's been cold here in Seattle).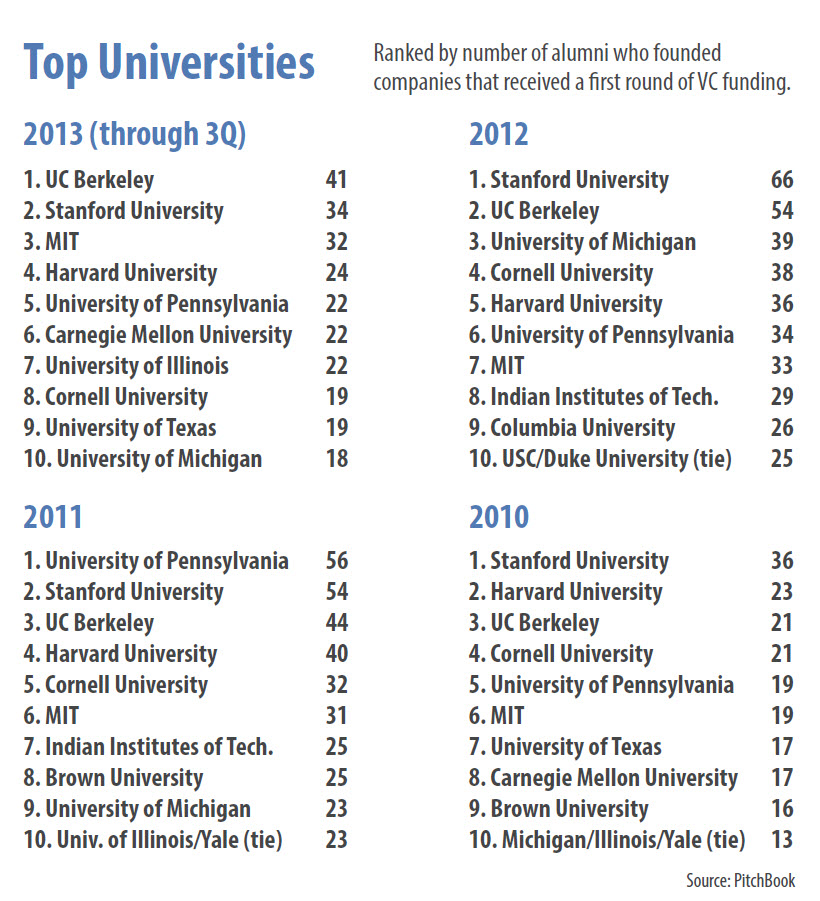 To read a related article ranking the top MBA programs producing private equity and venture capital professionals, click here.
—
Featured image of Stanford arches courtesy of Wikimedia Commons user Jawed Karim.