Opting to raise more funds rather than prioritizing an exit seems to be an increasingly popular route for startups. According to data from the
2Q PitchBook-NVCA Venture Monitor
, the number of US venture capital investments for every VC-backed exit reached a record high in the first half of 2017—landing at 11.3x. For the 3,917 VC investments completed in 1H, there were just 348 exits.
If the trend continues in 2H, the US VC industry will experience the lowest exit levels since 2010. Similarly, but to a lesser extreme, investment count may end the year at the lowest mark in five years—2012 was the last year the total number of financings in the US fell below 8,000.
Why is this happening? Companies are choosing to stay private longer as is evidenced by the data shown below: The average time to exit has hit roughly six years through 1H 2017. More specifically, median time to IPO now exceeds eight years, time to buyout is hovering around six-and-a-half years and time to acquisition has landed at about four-and-a-half years.
Both the number of US VC investments and the number of US-based exits have been on the decline since 2014. That year, capital exited reached a record high of $82 billion with more than 1,000 exits closed. Facebook's $22 billion purchase of messaging platform WhatsApp certainly threw the numbers off a bit, but it was still a landmark year in many ways.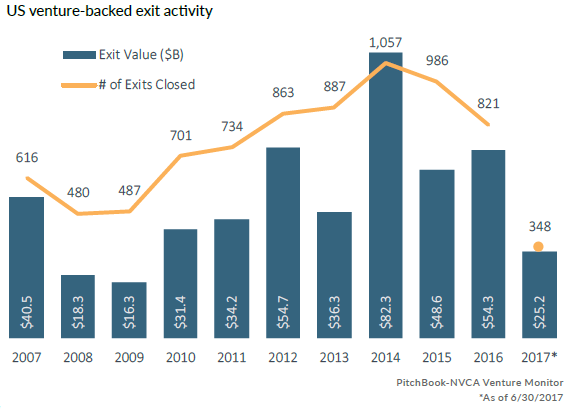 In the first half of this year, roughly $25 billion was returned to investors via 348 plus exits—about 30% of 2014's totals and less than half of last year's.
For more data and analysis on the US VC industry, download the 2Q PitchBook NVCA Venture Monitor.