VC media activity plummets—but round size on the rise
May 26, 2017
The year was 2014. Two darlings of online media in the 21st century, BuzzFeed and Vice Media, had just raised a combined $550 million in two separate fundings, with BuzzFeed reaching an $850 million valuation and Vice's worth soaring to a reported $2.5 billion.
That same year, investors completed 945 new VC deals in the consumer-focused media space, an all-time high. Early-stage investors were entering the entertainment business like never before.
In terms of pure deal flow, it would prove to be a high-water mark. In the years since, the quantity of completed VC financings in the global B2C media industry has plummeted, falling
to just 541 during 2016
, according to the PitchBook Platform, a drop of nearly 50%.
The average amount of capital invested in those deals, though, is trending in the opposite direction. That figure rose from $4.1 million in 2014 to $5.6 million per deal in 2015, with the $4.72 billion in total VC investment the latter year representing an all-time high in the consumer-focused media sector.
Last year brought a dip back down to $4.5 million. So far in 2017, though—with deal count on pace for another notable decline—the average funding size in the space sits at a level that's markedly higher: just about $15.1 million. That leap is driven largely by a $1 billion funding collected by Toutiao, the provider of a wildly popular Chinese news app, but the point remains. While the quantity of VC deals in media is declining around the world, investors remain ready to commit large amounts of capital to the few companies they deem worth the gamble.
Here's a closer look at investment in the space over the past eight years: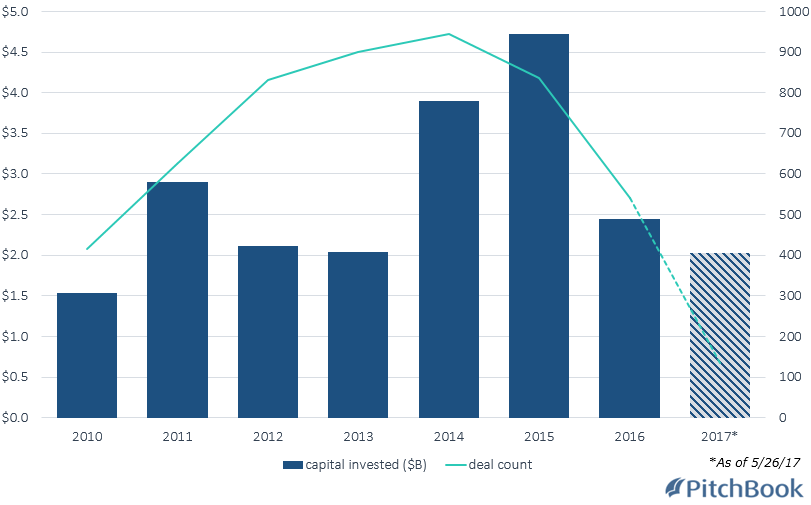 Between the start of 2006 and the end of 2013, no VC financing for a media company reached the $500 million mark. In the years since, four different rounds have reached that plateau: the aforementioned investments in Vice and Toutiao, and a pair of separate financings for Dianping.com, the Chinese provider of a platform for business reviews and information.
To go back even further, only one consumer-facing media company—video game developer Zynga—raised more than $200 million in any VC financing between 2006 and 2010. In the years since, more than 10 different businesses have completed the trick.
Want to know more? PitchBook subscribers can check out the full data on VC investment in the B2C media sector.