Deals
November saw $9.73 billion in funding flow from venture investors to 832 startups, an increase of almost $2 billion from the month prior. Ecommerce companies received the bulk of the funding, accounting for 24% of the capital invested. Notably large rounds include the $500 million financing of India-based taxi-hailing service Ola and the $350 million investment secured by ecommerce site Jet.com. Of the 839 deals completed, nine generated a valuation of $1 billion or more.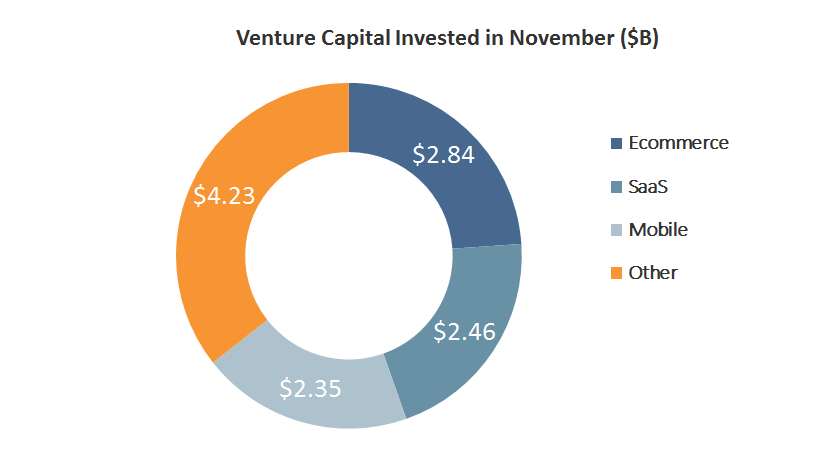 Investors
Over the course of the month, 572 different VC investors participated in at least one financing, with about a quarter of those completing two deals or more. The most active investors were Intel Capital (12 investments) and Accel Partners and New Enterprise Associates (11 investments each). The most active non-U.S. investor was Ballie Gifford with four investments made.
Funds
28 funds were closed, commanding a total of $2.75 billion in capital commitments. The largest fund closed was ICONIQ's $1 billion vehicle, followed by Trinity Ventures' $400 million Fund XII. Other notable funds include Andreessen Horowitz's announced $200 million biotech fund, which will concentrate on investing at the intersection of software and biotech; it is the first dedicated biotech fund in the firm's history. Finnish venture firm Open Ocean Capital also closed Open Ocean Fund Four on $112 million.
Exits
96 companies exited over the course of November, an amount noticeably lower than the 135 that exited during the same month last year. Highlights include Pandora's $450 million purchase of ticketing platform Ticketfly and Square's $243 million IPO. Of the exits, 45% were IT companies, 19% were in healthcare and 18% in B2C. M&A accounted for 82% of the exits logged and 10% were represented by IPOs.
Interested in more data on venture activity, including funds, exits and deals? Click here to request a free trial of the PitchBook Platform.