VC Exits
VC-to-PE buyouts anticipated to continue aplenty in 2020
December 20, 2019
As we roll into the new year, we'll delve into some of the predictions we made in PitchBook's
2020 Private Equity Outlook
. One trend we expect to see more of is VC-to-PE buyouts.
Though they're often mentioned in the same sentence, venture capital and private equity are distant cousins in terms of asset classes and business models. Startups alone are not necessarily buyout targets, but VC-backed companies sometimes are, thanks to an abundance of venture dollars that have helped companies stay private and mature along the way. Stable EBITDA and solid profit margins now justify these deals, which have grown at a 17.9% compound annual growth rate across North America and Europe between 2000 and 2018, according to PitchBook's 2020 Private Equity Outlook.
More than 300 VC-to-PE buyouts were done in 2018. From a venture capital standpoint, LBOs are now a semi-viable exit strategy for companies in certain industries. That's a sea change from prior years, when IPOs and acquisitions were the only options. PE shops now account for a fifth of all VC exits.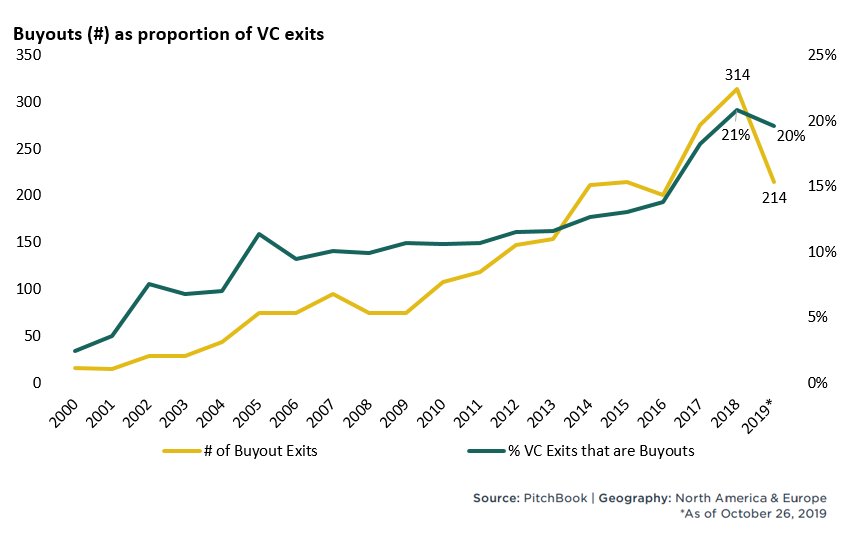 In more cases than not, though, those buyouts are actually add-ons, which have made up at least 50% of control transactions since 2013. In the grand scheme of things, VC-backed add-ons are more like corporate acquisitions than they are platform buyouts, but the numbers nonetheless point to more deals getting sourced in Silicon Valley and other VC hubs.
The add-on wrinkle doesn't minimize an upswing in platform buyouts either. 2017 and 2018 both saw more than 100 VC-backed companies become PE platforms (123 in 2017 and 137 last year) with the stroke of a pen. One has to wonder what the cultural transition is like for employees used to kegs and Ping-Pong tables.
This column originally appeared in The Lead Left.
Featured image via sorbetto/DigitalVision Vectors/Getty Images