The word "drone" may summon thoughts of the unmanned aerial vehicles used for defense and espionage in modern warzones, but the devices have more recently made their way into the personal and commercial markets. Venture capital from investors like Andreessen Horowitz, Kleiner Perkins Caufield & Byers and Google Ventures is helping startups get creative with how to bring drones into the everyday world.
3D Robotics is among the most well-funded VC-backed drone companies, its line of products spanning from personal drones with GoPro attachments to commercial use planes with high-accuracy mapping software that can enable automated flights. The company raised a $50 million Series C financing in February, generating a valuation of $303 million and bringing its total funding to more than $92 million. Its valuation has grown by more than 8x since its initial Series A round in late 2012.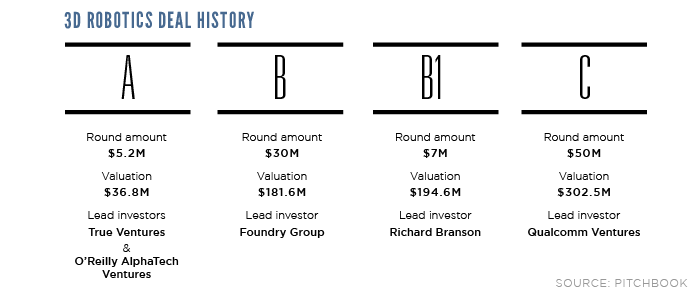 Though it hasn't received millions in venture funding just yet, Clear Flight Solutions may have developed the most creative drone technology yet with its remotely controlled robotic bird, "Robird." With flapping wings, the drone is designed to simulate an eagle or peregrine falcon, scaring away flocks of birds near airports, construction sites and other areas. The company's technology drew a €1.6 million investment from The Cottonwood Euro Technology Fund just this week.
There seems to be an endless amount of non-military applications for drones. Amazon has publicly announced its intention to create a drone-based delivery system designed to get packages to customers in 30 minutes or less; organizations including NASA have begun experimenting with drones to aid in hurricane tracking and analysis; and search and rescue teams have started to use drones to help with recovery efforts. And there's much more. The increase of VC funding going to companies that develop drones will only further support their rise in popularity. It may be just a matter of time until unmanned aerial vehicles become a part of our everyday lives.
Here are some of the drone technology companies that have received VC funding recently: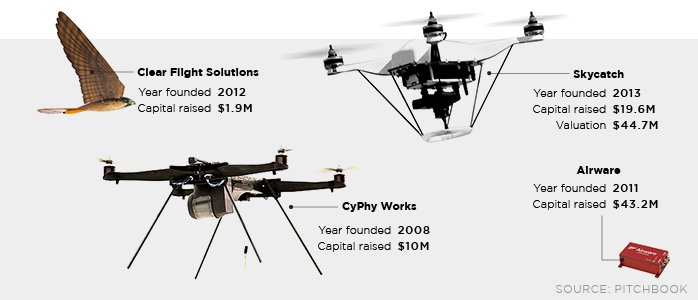 To explore additional startups developing the latest in drone tech and see their financing histories, investors and more, click here.