What Else Is for Dinner? The Future of Food
By Garrett Black
August 14, 2014
Earlier this week, we took a look at PE investment in the casual dining segment of what we dubbed the convenient food sector. Today, we look at how other segments in that space are facing disruption from a plethora of VC-backed startups.
VC: Online and On-Demand In Demand
Food startups worldwide are attracting venture capitalists, even as more and more companies crowd the space. PitchBook data reveal a steep increase in both financings and capital invested in food preparation/delivery startups since 2011, with 2014's $620 million invested thus far in 30 VC fundings already more than tripling 2013's $182 million. The companies receiving these gobs of VC cash generally fall into two categories: 1) delivery services of groceries, meals or ingredients, like Blue Apron; 2) restaurant food ordering and delivery platforms, where Delivery Hero is a good example.
What's intriguing about this space is that it possesses unique challenges unfamiliar to the many entrepreneurs weaned on a steady diet of software startups. Scale, infrastructure and logistics are all more challenging prospects to a food delivery business like Blue Apron than to your average software company. Undaunted, there are nearly 700 venture investors globally pouring cash into these companies, betting that at least a few of them will change the way we eat. It's not a bad bet to make, given that the convergence of the food industry and tech is still in its nascent stages. But in order to succeed, these startups will need to navigate three primary issues currently facing the food industry:
Sustainability: as populations age and swell, and climate change transforms ecosystems, renewable, reliable, cost-practical food sources are increasingly crucial.
Health: with a chunk of the world's population overweight, and another chunk lacking proper nutrition, healthier food options need to penetrate markets further.
Urbanization: most of us will live in cities by 2050, and transporting sustainable, healthy food across urban sprawl will only become more challenging.
Let's break down how food startups are navigating these issues.
Meal-Kit/Subscription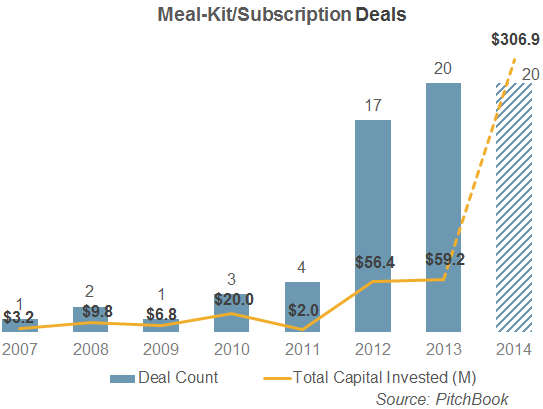 Both categories rack up plenty of capital invested, but the groceries/meals delivery companies have bagged more deals in 2014 to date. Activity has really picked up since 2012 as these business models have matured and proven they can attract long-term customers, evidenced by the later-stage deals we're now seeing (such as HelloFresh's $50 million Series D). Competitive pricing of bulk groceries and the appeal of efficient home cooking, in addition to locally sourced, organic ingredients and groceries provided by many startups like Fresh Nation, are some of the key factors driving growth. Note that most of the companies that are finding success are the ones able to check the three boxes above. Success is not yet guaranteed as continued scaling, food fads, diversification of offerings, increases in competition and margin generation are all challenges facing these companies as they work on becoming a part of everyday life.
Takeout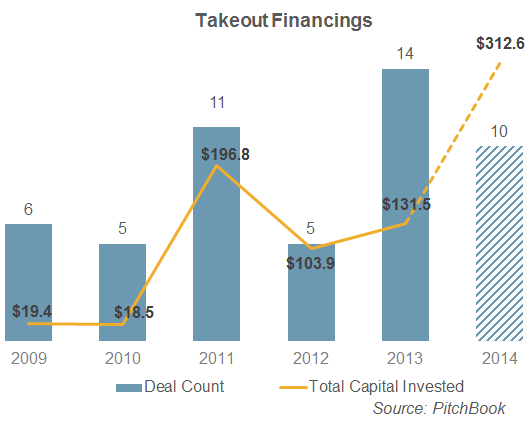 Delivery services are by no means new, but tech-enabled restaurant-focused startups have experienced a little boom the last couple of years. A large number focus on the urban office worker (such as Peach), but that has begun to change as others like the Square-acquired Caviar cater to high-end clientele or the Indian Travel Khana caters to the train commuter. The long-term success of these companies will depend on their ability to reach scale while building and protecting margins, something that newly public GrubHub (NYSE: GRUB) has shown as possible. For example, I'd pay a few extra dollars to get a Chipotle burrito delivered to my door, but despite the powerful emotions a Chipotle burrito can inspire, the price can't get too high.
On that note, these companies might want to pay attention to what private equity investors are up to, sinceas we saw earlier this week, casual dining is poised for the most growth in the restaurant industry. Even considering the issues these companies face, they are definitely attractive investments to VC firms and it's easy to see why when you consider the TAM or just look at GrubHub's $3.5 billion market cap. How do they fare on the trends above? Delivery services mainly take advantage of urbanization, but some are being built to target the health and local niches of the delivery industry.
Future of Food
So where will all this lead? PE firms will continue doing what they do best: buy and build smaller, casual dining chains, surfing the trends of urbanization and sustainable, healthy food by transforming business models and supply chains accordingly. That's on the mature end of the company life-cycle. At the other end, VCs are betting that delivering meal-kits or groceries can supplant the current ritual of shopping at chains like Safeway, or complementing restaurants with takeout delivery. The convergence between casual dining market share and subscription-based meal-kit delivery services will be particularly intriguing. It'll be interesting to see how the space develops, but with probably the largest TAM that exists (everybody has to eat), there will be no shortage of savvy private market investors seeking to be the answer to the age old question: What is for dinner? Click here to request info about how you can get access to the profiles of the underlying food companies and the 700 active investors in the space.