When will all the unicorns exit? VC liquidity lagging behind expectations
March 8, 2017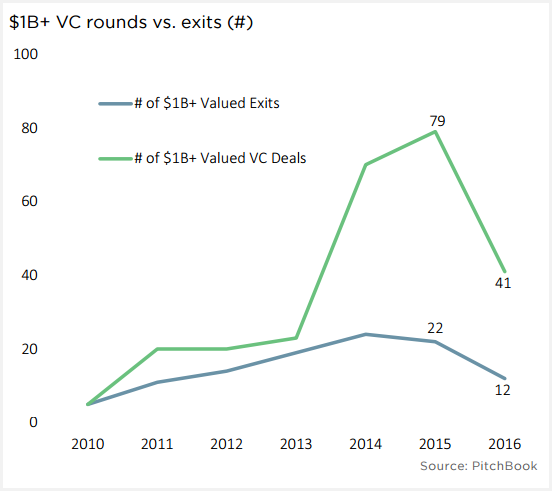 After 2015's flurry of unicorn rounds, expectations for liquidity were set rather high. For the VC model to work, huge rounds need to lead to huge exits. The industry waited with bated breath throughout 2016, watching and hoping for investments to pay off and for money to start flowing back to VCs—and subsequently, to their LPs.
Well, we're all still waiting.
Although 2016 did see a number of larger exits—Jet and Dollar Shave Club were snapped up for $3.3 billion and $1 billion, respectively—the total number of liquidity events didn't wow anyone. In fact, after a small bump from 1Q to 2Q, exits dropped each quarter thereafter. 4Q recorded the lowest number of VC-backed exits in the past six years.
(All the charts in this post come from our

2016 Annual PE & VC Exits report

)
Venture-backed exits have declined steadily for the past two years
What is leading to the falling exit count? It could at least be partially explained by the available capital in the private markets. VC investment in companies based in the US and Europe hit an all-time high in 2015, with roughly
$90 billion being funneled to startups via about 15,000 completed deals
, according to the PitchBook Platform. Although many expected 2016 to see a stark decrease in activity, the drop was relatively minimal, and capital invested hit about $80 billion, the second-highest mark in a 10-year span. With a wealth of VC available in the private markets, startups are waiting longer to either go public or be acquired.
Although the number of completed exits is trending down, the median size of corporate M&A deals jumped sharply from 2015 to 2016, fueling the second-highest total exit value of this decade. So, although fewer deals are being completed, the ones that do are rather large compared to historical figures.
But while corporate M&A exit activity is chugging along, the IPO market is faring much worse. The number of completed public offerings from VC-backed companies in 2016 and the amount of capital raised both sat at the lowest figures seen since 2010. As for the sizes and valuations attached to these IPOs, they fell year-over-year by 20% and 13%, respectively.
Download a free copy of our 2016 Annual PE & VC Exits report for more data and analysis.