Why US PE middle-market activity may set a record in 2018
May 7, 2018
Somewhat predictably, middle-market PE activity got off to a healthy start this year. About $54 billion was invested in 1Q, down from $87 billion in 4Q 2017, per PitchBook's recent
US PE Middle Market Report
. First quarter numbers often decline from fourth quarter finales as investors look to wrap up any lingering deals by the end of the year. It's typical to see increasing activity levels as the year progresses, and 2018 is expected to have another strong showing in the middle market.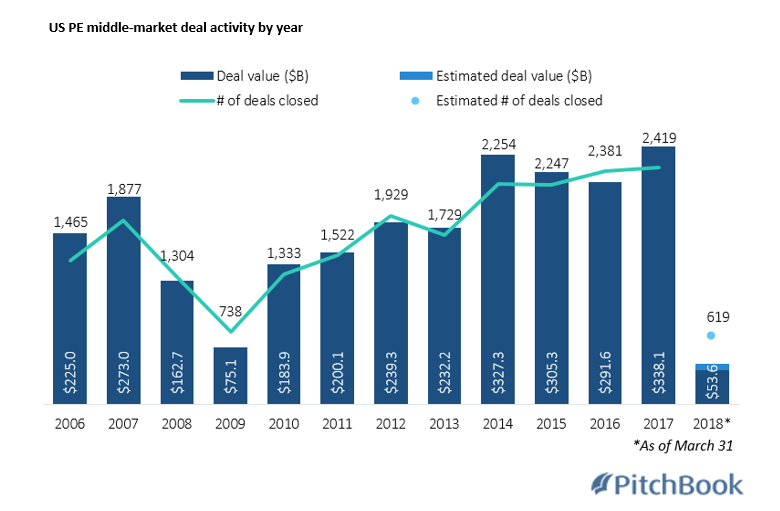 Last year set new marks by both total deal count and deal value. However, it wouldn't be surprising to see a new record in 2018, given the swollen fundraising market and the fact that each of the last four years had at least 180 new middle-market funds totaling upward of $125 billion, per PitchBook data. Market froth is a headache but not a deal breaker, and the funds have to be put to work at some point.
Valuations are high, but so is optimism. The middle market presents one of the best sources of deals in the US, and several factors are contributing to its success, including low interest rates and high dry powder levels. A healthy—and still improving—economy also means many middle-market companies are making more today than in the past. When business is doing well, investors tend to be increasingly active, and those investors have more capital on hand today than ever before.
Even more broadly, the middle market is going to see sustained interest from PE firms as the baby boomer retirement wave picks up. A reported 10,000 baby boomers retire every day, with one US Census Bureau paper estimating that most boomers will be of retirement age by 2029. That presents an almost self-sustaining market for PE buyers, who will find new deal sourcing opportunities from smaller, family-owned businesses for at least a decade.
Brightstar Capital Partners
, which closed its inaugural fund on $710 million in 1Q, indicated in a recent interview that now is a good time to launch a middle-market fund, "against the backdrop of what will most likely be the greatest generational transfer of wealth ever seen." The firm cited an estimated $10 trillion of wealth transference in the US alone over the next decade, and upwards of $30 trillion over the next 25 to 30 years. If that turns out to be true, it certainly helps put today's frothy market in perspective.
This column originally appeared in The Lead Left.
Read more about middle-market activity in our recent US PE Middle Market Report.
Join the more than 1.5 million industry professionals who get our daily newsletter!