The world of software has long been the domain of venture capitalists. It makes sense. While private equity traditionally operates in more stable, sure-thing industries, VCs more frequently focus on up-and-coming sectors, searching for the next big thing.
But as the software industry continues to mature—it seems safe to say these newfangled computers aren't going anywhere anytime soon—PE firms are increasingly extending their tentacles into the space, realizing that software deals can be a consistent way to generate returns.
During the first quarter of 2013, investors completed 89 PE deals in the global software industry, according to the PitchBook Platform. In 2Q 2016, 148 such transactions closed, the culmination of a steady climb in the space—a 66% increase in just over three years.
Global PE deal count in software
There's been a significant increase in M&A transactions in software during the same timeframe, too, with corporate activity growing by 33% from 1Q 2013 to 1Q 2016 before a notable dropoff last quarter. But that's still only about half the rate of the uptick from private equity investors.
One firm is clearly leading the recent PE charge into the software space: Vista Equity Partners, which has logged 58 deals in the sector since the start of 2013, 19 more than runner-up Insight Venture Partners and 20 more than TA Associates. Thoma Bravo and KKR have each completed 33 deals in that span to round out the top five.
Top PE investors in software deals since 2013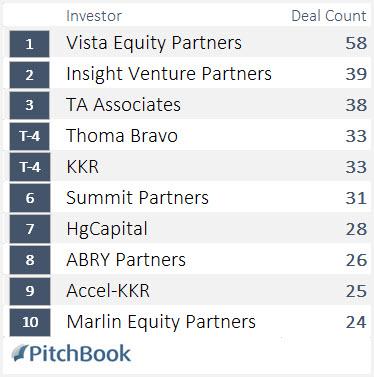 Vista has also been the busiest investor so far in 2016, with 11 deals done (no other investor has more than nine). Among those are two of the most significant software transactions of the year to date. First, in March, Vista closed its $6.5 billion acquisition of Solera, a provider of automobile-claims-processing software, with co-investors Koch Industries and Goldman Sachs. Then in June, Vista partnered with Bain Capital to acquire insurance software provider Vertafore in a deal believed to value the company at about $2.7 billion.
And Vista isn't alone when it comes to deals totaling more than $1 billion. Among the other major software acquisitions of 2016 are Thoma Bravo and Silver Lake's $4.5 billion buyout of Solarwinds, a supplier of IT management software, as well as the purchase by Nordic Capital and Novo of medical data collection business ERT from Genstar Capital at an enterprise value of $1.8 billion.