With or without U.S.: European startups raking in venture capital
By Garrett Black, Dan Cook
July 21, 2015
The European startup ecosystem is maturing, as major cities like Berlin and Stockholm rapidly emerge as tech hotspots. In fact, as our 3Q 2015 European Breakdown Report details, capital invested in European startups in 2Q was the most of any quarter in the past four-and-a-half years. Granted, that was due in large part to mammoth late stage financings of mature companies like Spotify, but the fact that the continent has produced such companies in the first place implies its increasing vibrancy.
Recently, The Wall Street Journal (among other publications) has discussed how many European startups must still court U.S. VC firms to obtain sufficient capital for expansion or runway. Consequently, we've delved into our database to explore U.S. investment in Europe-based startups to see what has been going on.
First off, there's been quite a surge of U.S. venture investment in European startups over the past few years: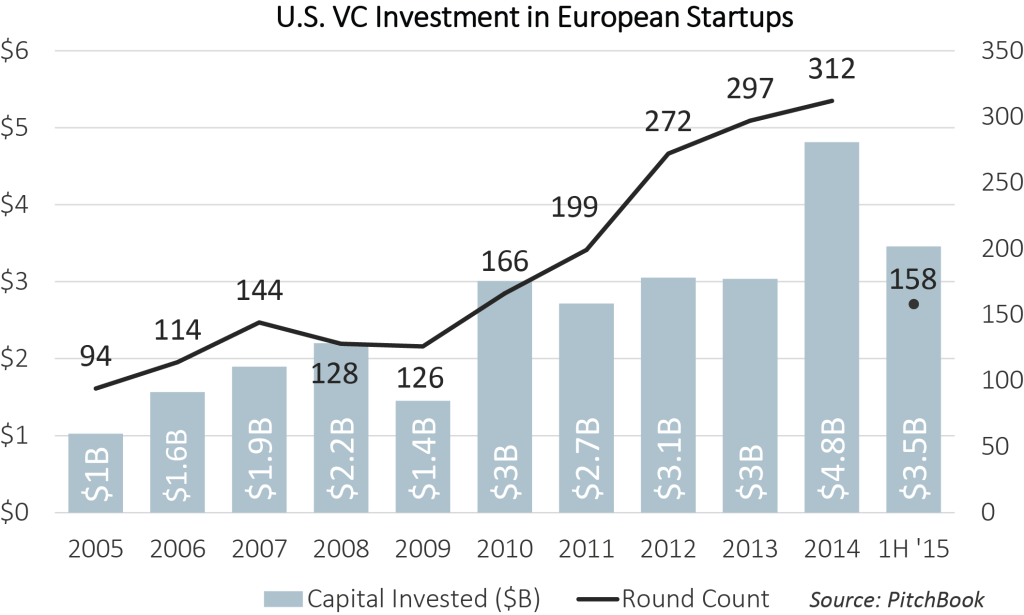 Last year saw a record for the decade in not only dollars invested but also round counts, and 2015 is off to an even faster start. Although Europe may not be at Silicon Valley's heights—even if, ironically, the unicorn is the national animal of Scotland—its startups are clearly attracting more attention from seasoned U.S. VCs than ever before.
But how significant is this level of funding? That is, what's the difference between rounds with U.S. investors compared to no U.S. involvement?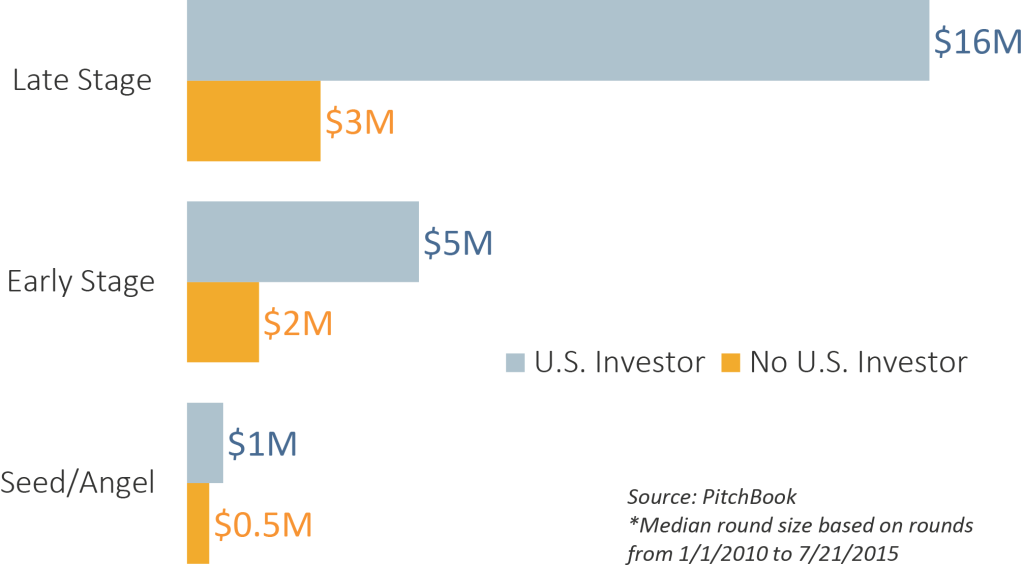 As we might've expected, when U.S. investors participate in financings of European startups, the median round size balloons, particularly at the late stage. Perhaps it's easier deal terms, perhaps even late stage financings of European startups are cheaper than their U.S. counterparts, especially considering the exchange rate as of late. It's most likely some combo of all the above.
Regardless of the primary drivers of the surge, the fact that U.S. investors are ponying up that much cash underlines the flourishing status of the European startup scene, particularly in software: 22.3% of capital invested in rounds with U.S. involvement has gone to European software companies, while without U.S. involvement, the percentage dwindles to 15.8%.
To see the data behind this post, contact us here. For a free copy of our 3Q 2015 European Breakdown Report, click here.
Featured image courtesy of Wikimedia Commons user Emilian Robert Vicol from Com. Balanesti, Romania