This post is part of our ongoing coverage of the TechCrunch Disrupt conference.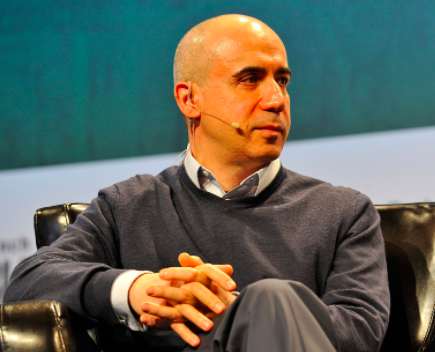 SAN FRANCISCO―Yuri Milner, founder and president of late-stage investment firm DST Global, is regarded as one of the most influential investors in the tech world. He's found big success backing companies including Facebook, Zynga and Twitter, so it's no surprise that his strategy is to continue focusing on consumer internet companies.
After opening with an anecdote about a night spent drinking Chinese vodka with the founder of JD.com (Milner doesn't often drink, he said, but "if you want to make an investment, you have to make a compromise"), the Russian billionaire gave the Disrupt audience his take on the future of the internet.
On consumer internet companies: 'More of the same'
To figure out its strategy for upcoming investments, DST looked at data on consumer internet companies and their technology from the past decade to try to anticipate what will happen in the coming years. The firm predicts that the value of consumer internet companies will increase tenfold over the next 20 years, from about $3.5 trillion to more than $35 trillion.
"We're taking existing trends and projecting them 10 to 20 years forward," Milner said on the Disrupt stage. "[Our predictions] don't assume any revolutionary developments, like flying cars. What we are assuming is more of the same."
The consumer internet sector has room for such a massive increase in value because, while the US and China have both created many extremely valuable tech companies, Milner said, much of the world has yet to create their own companies in the space. Plus, there are a lot of service sectors that haven't been infiltrated by the internet. Take the travel industry as a point of comparison: About 40% of that industry consists of internet companies, according to Milner. But industries like healthcare (currently less than 1% of healthcare companies are internet-centric) and transportation (5% to 10%) have a lot of room for online growth.
Moving forward, DST will continue to invest in consumer internet companies—and we may very well see some of the investment going into untapped sectors and locations.
On increasing the cash flow to female founders: 'Our maneuver here is very limited'
When asked for his take on the relative lack of investment activity and capital invested in female founders, Milner said DST doesn't have the same perspective on the issue as early-stage firms may have.
"We have one focus, which is late-stage investments. ... And I think a lot of the drama is played in the early-stage space," he said. "I think the evolution—or really revolution—has to happen at the early stage. Unfortunately, we don't see a lot of female founders running late-stage companies. Our maneuver here is very limited."
Check out more of our TechCrunch Disrupt coverage here.