Middle Market
7 charts illustrating the US PE middle market in 2Q
September 30, 2019
The US PE middle market had a record year in 2018 with respect to investment activity, setting decade highs for both deal count and total value, and through the first half of 2019, the dealmaking environment is similarly lively. Exit activity and fundraising, by contrast, have been on a downward trajectory, and in the case of exits, the drop is precipitous.
PitchBook's
2Q 2019 US PE Middle Market Report
takes a deep dive into these and other major trends in the space. For a quick look at the highlights, here's a collection of our favorite charts from the report.
Dealmakers keep on keeping on
2018 marked the first time this decade that total middle-market activity had surpassed $400 billion, and 2019 is poised to repeat that achievement. The middle market, representing deal sizes between $25 million and $1 billion, has made up an increasing share of overall US PE deal count over the past five years, and its 69.2% of total PE deal value in 1H was higher than any full-year figure since 2014.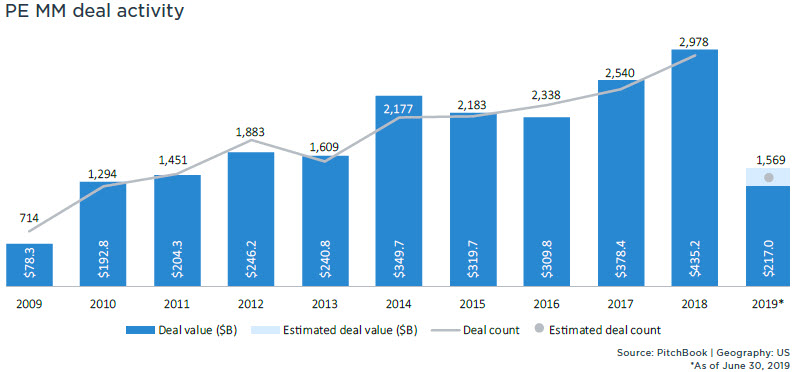 Add-ons add up
As the buy-and-build strategy has gained increasing popularity in private equity, add-ons have grown to encompass more than two-thirds of total deal count in the US middle market, accounting for $111.3 billion through 1H 2019. In 2018, the total deal value of middle-market add-ons peaked at a decade high of $245.8 billion, an increase of 26.4% YoY.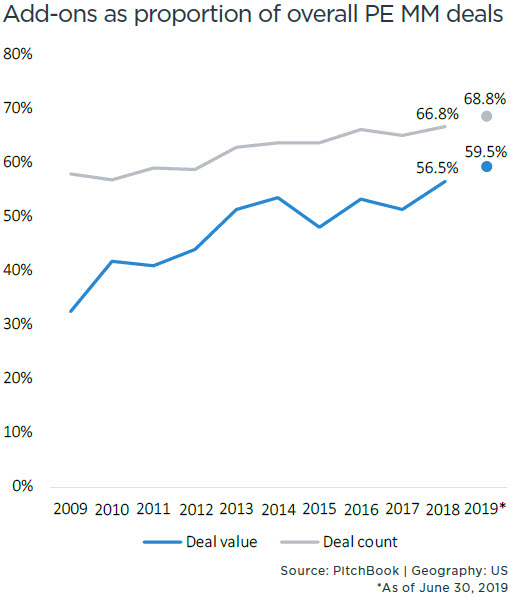 In 2019, fewer investors head for the exits
In 2Q, there were 176 middle market exits, accounting for $31 billion in value, a decline of more than $4 billion over 1Q despite a flat exit count. There was a slight resurgence of PE-backed IPOs in 2Q, as the market picked up following the government shutdown, with
Change Healthcare
's $557.1 million Nasdaq debut coming in as the largest middle market exit in 2Q.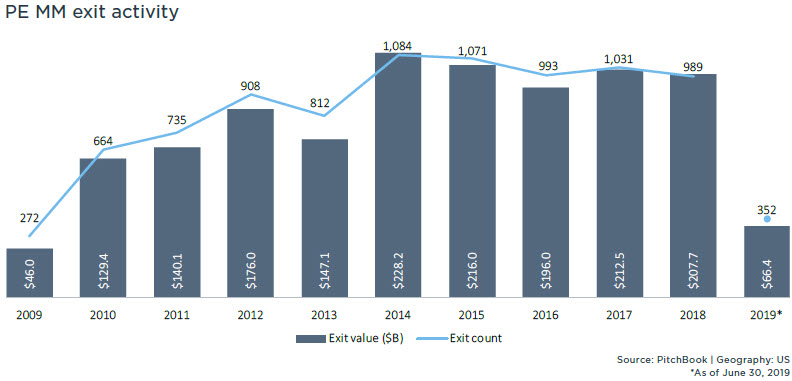 Exits above $500M decline, SBOs rise
So far in 2019, exits below $500 million have accounted for nearly 90% of exit flow in the US PE middle market, surpassing the previous decade highs, with exits in the $100 million to $500 million bucket accounting for around 65% of the total value. Meanwhile, secondary buyouts have steadily increased their share of exit value, accounting for 58% of the total through 1H, after surpassing the 50% threshold in 2018 for the first time this decade.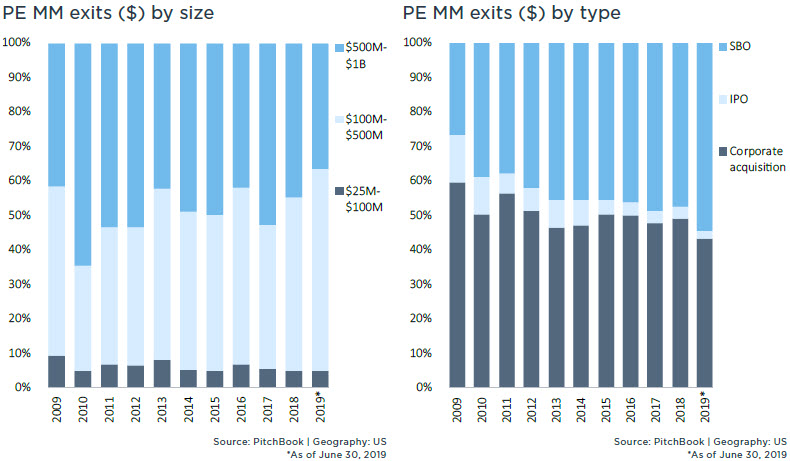 Fundraising falls
This year, the "fewer but larger" fundraising trend has been on full display in the US PE middle market. There were just 19 funds raised in 2Q—the lowest since 3Q 2012—totaling $17.2 billion, and through 1H, fund count and value have fallen 35% and 19.5% YoY, respectively. As mega-funds become more common, middle-market funds are accounting for a declining share of total US PE fundraising value, a trend that's likely to continue.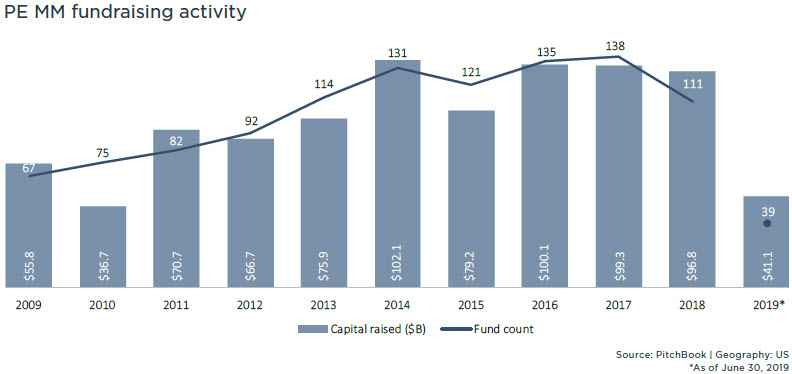 Billion-dollar funds are booming
In 2Q, the median fund size in the US middle market reached its highest level on record, topping out at $500 million. Funds of $1 billion to $5 billion, in particular, accounted for more than 77% of the total fundraising value, an increase of roughly 7% over 2018's previous high of 70.4%.