After a slower pace of deal activity in the first quarter of this year, European private equity transactions picked up in 2Q, with 804 completed deals worth a total of €88.5 billion, according to our 2Q 2018 European PE Breakdown. Those figures represent QoQ increases of 19% and 20%, respectively, and can be compared to the 841 deals worth €83.2 billion that were conducted in Europe during 2Q 2017.
What about the rest of the region's PE landscape? Here are eight key charts from
our latest European PE Breakdown
:
Current deal values on track to near 2017
While the number of deals completed in 2018 is unlikely to reach the level of 2017, capital invested is on track to approach the same heights, helped by several large 2Q deals, including the €4.6 billion acquisition of a 57.8% stake in hotel investor
AccorInvest
by a consortium of backers. Across the board, deal sizes are continuing to grow: 6.6% of all PE transactions took place in the €500 million-plus range in 2018, compared with 3.7% in 2013.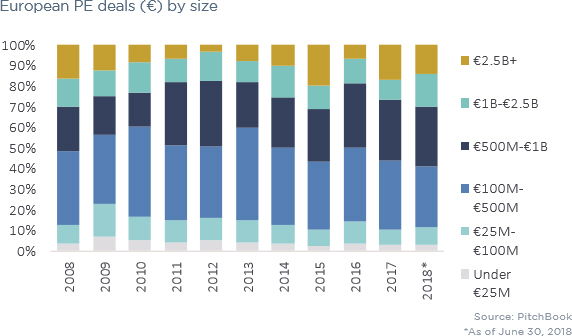 UK and Ireland lose share of PE capital
Deal value in the UK and Ireland has fallen to its lowest level in a decade, a dramatic shift from last year, when companies in those regions were the targets of a higher rate of all European PE investment than any other year in the past decade. However, being only halfway through the year, the figures for 2018 could still revert to historic norms.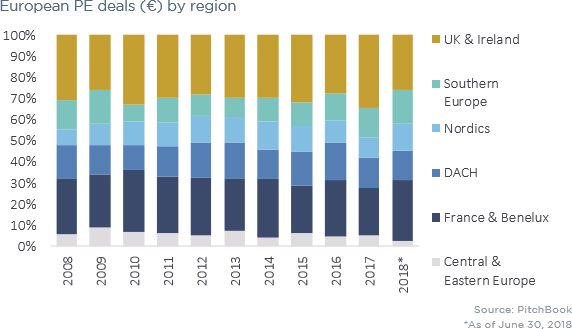 Robust PE activity for France and the Benelux region
France, Belgium, the Netherlands and Luxembourg are experiencing strong activity so far this year. While deal count has plunged, following the global trend, the size of those transactions is much larger than average. Private equity investors completed three deals worth more than €2.5 billion in the region during 1H, including
Refresco Group
's €3.3 billion takeover by
PAI Partners
and
British Columbia Investment Management
.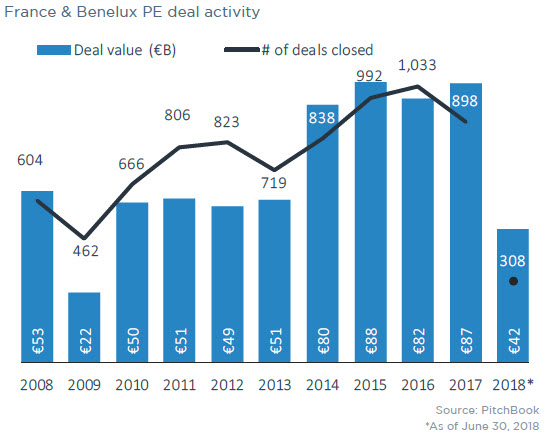 France and the Benelux region see first mega-fund
France and the Benelux nations have also experienced an increase in fundraising, with
PAI Partners
raising the region's first vehicle with more than €5 billion in commitments. Smaller funds may be falling out of favor, as demonstrated by the fact that no funds under €100 million were raised in the region during 1H.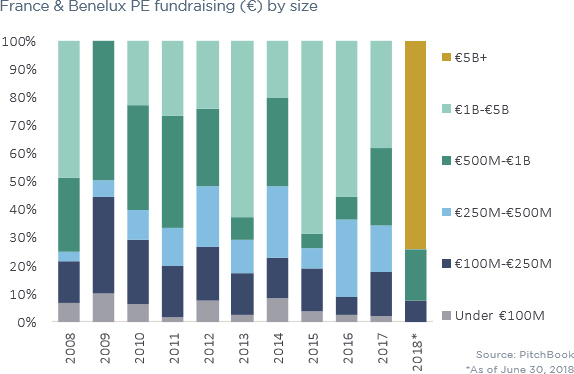 Exit activity fails to rival 2017
Despite multiple prominent exits this quarter, including
AVAST Software
's €723 million IPO, PE exits in Europe remained lukewarm overall, with 219 divestitures in 2Q worth €27.8 billion. The number of exits could be in line to pick up in the next few years, however, due to an uptick in PE investments between 2014 and 2017.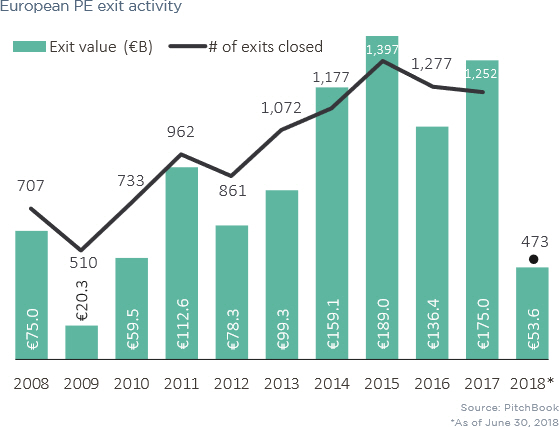 Corporate acquisitions eclipsed by SBOs
An increasing number of European exits in 1H came in the form of secondary buyouts, which are also becoming larger. Between January and June, private equity firms executed 12 exits via SBOs worth over €1 billion, while 2017 recorded 17 such deals for the whole year.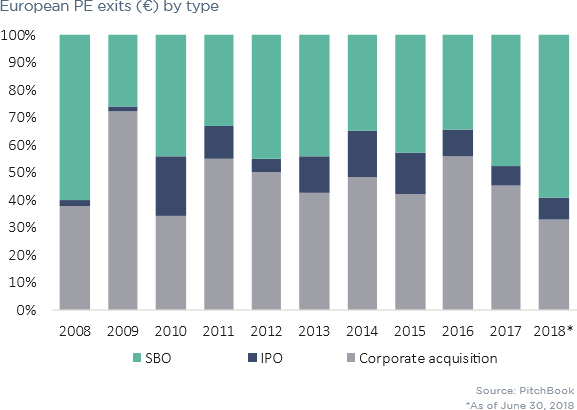 Fundraising drops in 2Q
European firms raised some 20 funds in 2Q totalling €13.1 billion, falling behind a record amount of capital that was raised in 1Q. However, five buyout vehicles are currently open and have targets of over €3 billion, which means last year's decade-high mark for European fundraising dollars could still be in range.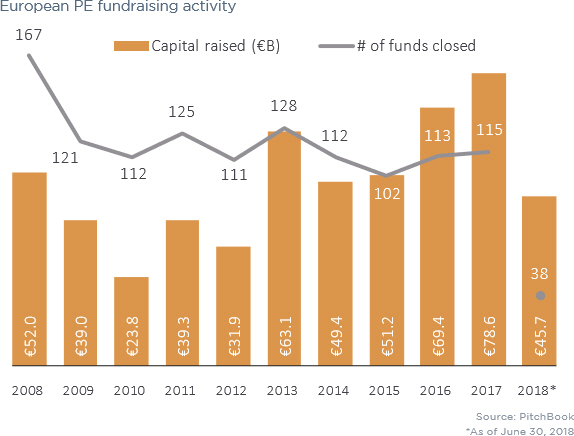 Mega-funds claim more
The proportion of capital raised by mega-funds has been growing every year since 2014, with this year being no different. Vehicles worth over €5 billion claimed half of the total amount raised in Europe during 1H.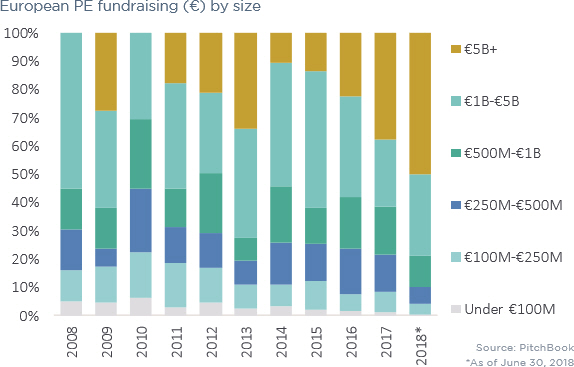 For a more in-depth analysis of Europe's private equity landscape, check out the 2Q 2018 European PE Breakdown.