Brexit
A Brexit refuge: The Baltic nation offering hope to UK startups
January 13, 2020
View comments

(2)
When the British population went to the polls last month, they were voting on not only the next prime minister, but also on the broader issue of whether the country's exit from the European Union would take place and, if so, in what form. Now, with a Conservative majority government in power, Brexit appears all but certain.
Prime Minister Boris Johnson's mantra of "get Brexit done" does not mean that the UK will leave with a deal, however. Members of Parliament are likely to approve the Withdrawal Agreement Bill at the end of this month, but the UK must still agree and ratify a trade deal by December 2020 to avoid a cliff-edge exit.
If there is no deal, most accept that the consequences could be disastrous, especially for small businesses. Free trade in goods, services and labor across the continent will change, hampering the opportunity to scale and grow. Yet, if the worst were to happen, there is a ray of hope some 2,000 miles away for those British businesses looking to maintain EU access: Estonian e-Residency.
A Brexit sanctuary
Arguably the most developed digital society in the world, this small country nestled along the Baltic Sea is letting people from across the globe claim residency from afar, with the added benefit of domiciling their business there without the need for a physical presence.
The e-Residency program celebrated its fifth anniversary last month. In a recent interview with PitchBook, managing director Ott Vatter recalled its origins: "The initial idea was to open up Estonian digital services and make it possible for foreigners to benefit. The main motivation was that there were quite a few companies registered to Estonia that had business interest in the Baltics, and the board members of these companies had to sign documents in Estonia to do business, but citizens could do it online. So, the first idea was to make their life easier."
Vatter continued: "After that, we actually discovered that we were solving a much bigger problem, and the amount of people who are actually interested in the program was much wider than just these already existing companies and the board members of the existing companies. We saw that there was interest outside and inside of the EU from countries where it was difficult to incorporate or people who weren't in their citizenship country all the time. And it grew from there."
It sounds almost too good to be true, but by attaining e-Residency, companies can establish and manage their EU-based, location-independent company completely online. The benefits include straightforward administration with minimal cost, remote management, lower cost of business services, access to the EU market and access to a wider range of e-services.
It may seem odd that there is essentially a back door into Europe's single market, but most EU countries already allow nonresidents to found companies. It's just the digitization that sets Estonia apart, which has made it a popular choice for people who need to manage their EU operations on the go or outside of the union. So far, more than 60,000 people have signed up for the program, and in excess of 10,000 businesses have been created, around 440 of which originate from the UK.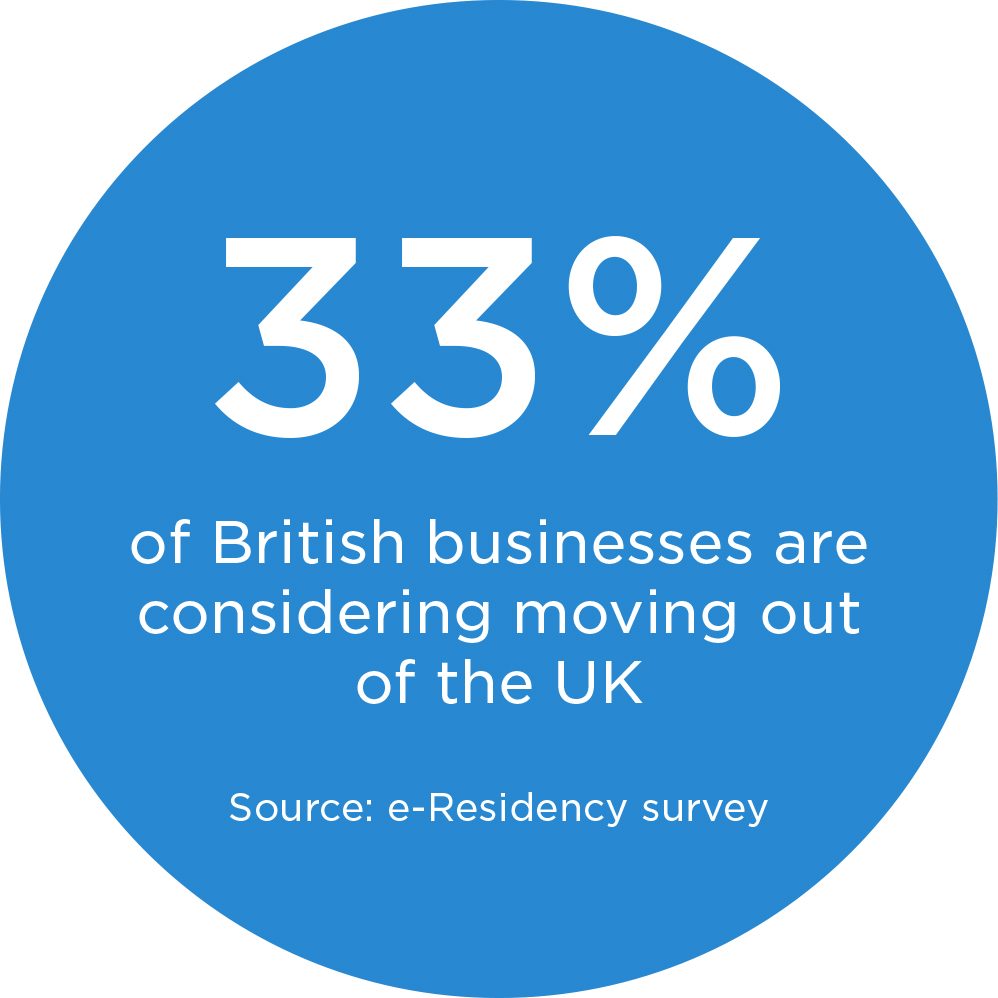 Now, that number is expected to rise. A survey from e-Residency with British companies has shown that 33% of respondents are considering moving out of the UK, most likely due to dissatisfaction with the government's approach to protecting them from the fallout of Brexit. In fact, the survey found that British businesses are more scared of a no-deal Brexit than their headquarters catching on fire.
"It is not surprising that there is still a great deal of confusion and apprehension three years after the UK chose to leave the EU. Companies simply have not had the support they need to prepare adequately for Brexit, and this in turn is affecting their sense of security and stability in doing business in the UK," Vatter explained. "Staying in the UK can help the country's economy through this period of uncertainty, but by becoming an e-Resident they don't have to fear a no-deal Brexit or an end to access to the free market."
A startup nation
Having the e-Residency program further cements Estonia's position as a true haven for startups. While small, the country benefits from a vibrant ecosystem that is getting bigger, thanks to the creation of startups from abroad. Last year, companies based in Estonia raised $86.6 million in VC financing across 21 deals, the second-highest deal value of the decade, behind 2018's $227 million, according to PitchBook data.
The country has been home to some of Europe's most recognized and successful businesses. Perhaps the most notable is
Skype
, whose founders and employees have since gone on to create more than 40 startups. Among those include fintech startup
TransferWise
, which is now based in London and was co-founded by Skype's first employee,
Taavet Hinrikus
. Another is ridesharing business
Bolt
(fka Taxify), which reportedly raised €60 million (around $67 million at today's conversion rate) last July at a valuation of more than $1 billion.
"We have really turned our size to our benefit. I mean, it's like a small testing port for all kinds of innovative, new and fresh ideas," Vatter said of the startup ecosystem in Estonia. "I think it's very easy to turn things back, something goes wrong. You can very cost-efficiently test if your business idea works, create the company very quickly and with no substantial cost, which means that if you fail, then you can't go wrong," he pointed out.
"In Estonia, there's a big hunger to achieve. We were lucky to have made some good decisions and invest in digital services, kind of like a startup government," said Vatter. "There are a lot of initiatives coming from Estonia, but also pressure. You know, people are always asking what's next and we have to keep it up."
Featured image via scanrail/iStock/Getty Images Plus